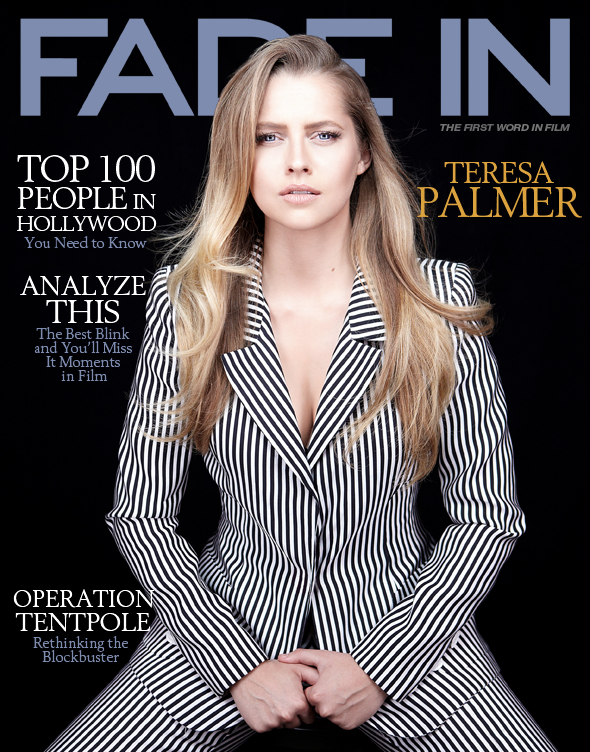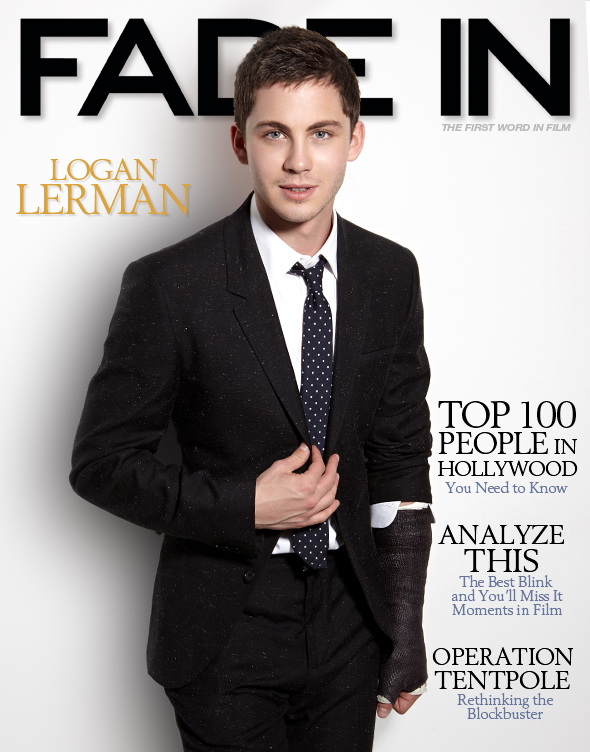 STEPHEN AMELL
ACTOR | @AMELLYWOOD
Amell's chiseled looks and knack for playing multiple characters have made The CW series Arrow a hit and resurrected a DC superhero once hopelessly buried in the archives behind Batman and Green Lantern. He not only makes this feat look easy, but inevitable. Filmmakers have taken notice: there was a close call with the Die Hard franchise, where he almost played the son of Bruce Willis; he also shares with our list's Matt Bomer the distinction of being frontrunner on the Internet to play the lead in Fifty Shades of Grey. (His stance is one of friendly demurral until somebody shows him a script.) The burgeoning action hero — who, like Tom Cruise, does all of his own stunts — is getting offers but is waiting for the right vehicle. In the meantime, he is happy to concentrate on Arrow, for which he has just returned from a promotional tour of Europe and China. Each episode balances present-day intrigues with an "origins tale" — flashbacks of the hero's lost years on an island, where he honed his amazing archery skills — putting Amell in practically every scene of every show. He takes to heart Malcolm Gladwell's prescription that to become proficient at anything, you need to do it in a focused, concentrated manner for 10,000 hours. (He laughingly calculates the sixty hours a week, nine months a year that he puts into the show will land him in mastery territory before he knows it.) He had a passion to perform from an early age, and made his first effort to crack Hollywood at age nineteen, but returned to his native Toronto. For two years he made a go of becoming an insurance salesman. This grounded him — and might have become a career — but he realized acting was what he needed to do. The experience in sales polished his audition chops, and since returning to L.A. he's enjoyed nothing but steady work: a series regular on HBO's Hung, New Girl, Vampire Diaries and now Arrow. Staying grounded is vital. With that in mind, he recently married actress Cassandra Jean — they are expecting their first child later this year — and with his friend Andrew Harding has founded a vineyard, Nocking Point Wines, based in Walla Walla, Washington. He also spent his last hiatus gutting his house in California to build a steam room and a media room (with three TVs) for the optimal football viewing experience
Book you're reading: Average American Male, a novel by Chad Kultgen
One person, dead or alive, who's inspired your work the most: Actually, two — Paul Newman and Robert Redford. I've been building a library of their work, studying the development of their careers.
Band or singer you're obsessed with: I focus on individual songs rather than bands. For a while last year I was constantly listening to "Crystal Blue Persuasion" by Tommy James and the Shondells — I heard it while watching the show Breaking Bad. The same went for "When We Were Young" by Janelle Monáe.
Pastime or hobby you've taken up between takes: In addition to the Vineyard? I love to sing. Never been in a band, but I did musicals in high school and have properly trained my voice. The talent is lurking in there.
Reared with a strong arts background — a passion for classical music, an early love for documentaries and foreign-language films — shaped by experience as an agent and in film production, he brings a 360-degree perspective to his present role as a specialist in global finance and distribution at WME, where he helps distributors both to pre-buy and to platform a film out of a festival. Ankner also works closely with Martin Scorsese and M. Night Shyamalan in the mentoring of younger filmmakers. It's a win-win: helping the newcomers also offers these veterans fresh portals of entry for their own work in a perpetually shape-shifting business. He's also busy with Vice — the fiery culture magazine turned viral-video producer — to develop its filmmaking capacities. As Ankner sees it, his job is to maintain an ecosystem in which all talent – especially new talent – can not only be discovered, but launched. The San Diego native was majoring in Broadcast Journalism at San Francisco State when a chance invitation to Skywalker Ranch changed his focus. After a brief agency gig, followed by several years as an exec in indie production (where he worked on such offbeat hits as Hard Candy and Half Nelson), he joined Endeavor, where his prime task was to find interesting films at festivals (or, in Ankner's own wheelhouse, passion projects nobody else could figure out) and sign directors. In the case of 2013's Sundance Jury Prize and Audience Award winner Fruitvale Station, it was Ankner who ignited one of this year's biggest bidding wars at the festival. When he's not working, the self-proclaimed music nerd can be found reading music blogs and attending concerts.
Favorite restaurant for schmoozing clients: Bäco Mercat, downtown L.A. Actually, I don't schmooze. I go there to get away from work! [Laughs
Daily website visit: Vice, or course — but I checked them every day well before I ever started working with them. I also love Pretty Much Amazing.
Secret creative talent you possess: I played piano for years, when I was younger. I went to a performing-arts high school.
Askarieh knew he wanted to make movies from the moment he saw Star Wars at age seven, but his parents made him agree to master at least one practical, non-creative skill. A B.A. in political science from Cal State Long Beach and a law degree from California Western gave him a solid foundation for the work of moving characters from one medium to another. After his 2007 videogame adaptation Hitman made over $100 million worldwide, Askarieh shifted into serious empire-building mode under his Prime Universe shingle. Several projects go before the cameras this year, including Agent 47; a reboot of Hitman starring Paul Walker; Peter and the Wolf, a hyper-upgrade of the classic Russian folk tale, Americanized into a Disturbia-like suburban neighborhood; and a thriller written by Scott Derrickson, Deus Ex. The latter is just one of several projects Askarieh will produce with Roy Lee, renowned for The Ring and The Departed. The duo has also set up an action-adventure epic at Warner Bros., Leonardo Da Vinci and the Soldiers of Forever — in which the great artist and thinker is re-imagined as a 15th-century Indiana Jones — as well as Red Brick Road, a TV series (also for Warners) in which the world of Oz is re-imagined in the swords-and-sorcery mode of Game of Thrones. A passion for traveling to ancient civilizations — Rome, Egypt and Greece — might explain Askarieh's fascination with reshaping Da Vinci as a daredevil.
Favorite restaurant in the world: Café de Louvre in Paris.
One thing people don't know about you: I'm not as serious as I always look.

FRANK BALDWIN
SCREENWRITER
For several years Baldwin has been one of the hottest writers in town, the go-to guy when your protagonist is either a dedicated criminal or a decent person perched vulnerably over the abyss of big crime. In 2012, Branko Lustig (Schindler's List, Black Hawk Down, Gladiator) and co-producer Daniela Cretu brought him aboard The Godmother, the story of Griselda Blanco, a Columbian mob boss responsible for scores of murders — possibly as many as 200, depending on your source — in her mostly successful climb to the heights of the cocaine cartels. (In an adventure that would make a movie unto itself, Baldwin, Lustig and Cretu traveled to Medellin long after many thought her dead, and in a face-to-face meeting secured the rights to her life story. Before Baldwin could meet Blanco again one-on-one for an in-depth interview, she was assassinated.) But the project is alive — the script is done and being shown to directors. Most recently, Baldwin has signed to adapt John Grisham's latest novel, The Racketeer. Baldwin came to screenwriting in a roundabout fashion. He was born in New York, but from ages nine to eighteen lived in Japan, where his father was a Fulbright scholar. He'd always wanted to write, but didn't give himself a chance until a copy editing gig with an oil company suddenly fell through after he moved to San Francisco with his new bride, Laura. The result was two novels — Balling the Jack and Jake and Mimi. An option on Jack by Miramax led him to screenwriting, and a move to Southern California with Laura and their two sons. His first spec, Pure, won the 2006 Fade In Awards, made the Black List, was optioned by Castle Rock and led to plum assignments: an Americanized, futuristic retelling of The House of Flying Daggers for director Sam Raimi, and The Art of Making Money, about a counterfeiter, for DreamWorks (now at Paramount), which has attracted top directors but at present occupies that green-light limbo between low-budget comedies and big-budget superhero epics. Closest to production is When Corruption Was King, also at Paramount, about a lawyer taking on the Chicago mob, for Mark Wahlberg. One way or the other, it will be a while before he finds time to write a third novel — but Baldwin is content to pursue family life, play basketball with pals on Sunday nights and nurse a laughably hopeless passion for the New York Mets.
Favorite way to procrastinate: Reading and watching movies — I can fool myself that it's research.
Book that changed your life: Bright Lights, Big City, by Jay McInerney: Gave me the sense for the first time that somebody my age, who knew the New York I did, could write something of value.
Best place you've found to write: A windowless, 150-square-foot room in a Mom & Pop office in Garden Grove — I don't know what it is, but something about switching on a single lamp in that place just helps me to concentrate.
Band you're obsessed with: The Pogues.
RYAN BARLETT
AGENT | PARADIGM
He's made his mark handling the hottest young talents for Paradigm. He guided Shailene Woodley to her breakthrough in The Descendants, and to starring parts in The Spectacular Now and Divergent and The Fault in Our Stars — each based on one of the three top-selling Young Adult novels in the world at the moment. In addition, Bartlett works with Jake T. Austin, star of the ABC Family show The Fosters, produced by Jennifer Lopez, and Israel Broussard of Sofia Coppola's The Bling Ring. Other clients include Jackson Rathbone, Peter Facinelli and Nikki Reed of the Twilight saga, and Megan Park, who is set to receive the Rising Star award at this year's Toronto Film Festival, which will debut her latest film, The F-Word, costarring Daniel Radcliffe. (The "F" stands for "Friendship," an unwanted alternative to romance in this comedy.) Bartlett knows a good deal about nurturing and assessing early talent. At age fourteen, he left his native England — where he was born in Basildon, in 1977 — first for Arizona, later for Carmel, California, to develop his precocious tennis skills. He played the National Junior Circuit for several years before entering the tennis program at USC — where the competitive levels were so imposing that he decided to switch to business instead, with an emphasis in finance and marketing. The case studies he examined in his junior and senior years were from the world of entertainment. Examples of accounting problems in Hollywood were so much more dramatic and fascinating than other businesses that on graduation Bartlett chose Tinseltown over a more traditional path with an East Coast brokerage firm. When deciding whom to work with, he refuses to generalize. But he's adamant that to compete in today's environment, it's critical for every artist to think in terms of hyphenating and multi-tasking with whatever their talents are. He takes his own advice. As a single guy, he makes time to pursue salsa dancing at clubs every three weeks. He also has rekindled a childhood passion for painting, concentrating on small portraits in acrylic of friends and colleagues.
Favorite restaurant to schmooze clients: Porta Villa in Beverly Hills.
Hobbies: I love salsa dancing. I've been taking lessons — that's how I decompress. Every few weeks or so, I go out to salsa clubs. It's a great way to meet women apart from the biz.
Secret creative talent you possess: That I paint has usually come as a surprise to people. Less so now that I'm showing my work more.
Daily website visit: CNN. I'm keenly interested in the world of events outside movies, and their coverage is fairly balanced.
DAVID BEAUBAIRE
EXECUTIVE VICE PRESIDENT OF PRODUCITON | PARAMOUNT
Beaubaire started his career working for President Bill Clinton, from his 1992 campaign through both terms in the White House. He now serves the presidency of Paramount's Adam Goodman. Over the past half-decade, starting when he was a V.P. at DreamWorks, he has had a hand in several sophisticated projects with blockbuster appeal: Dreamgirls, The Lovely Bones, Up in the Air, The Adventures of Tintin, No Strings Attached and Flight. On the way are Jason Reitman's Labor Day, Kenneth Branagh's Jack Ryan and the action thriller Agatha (think Sherlock Holmes meets Romancing the Stone) about a real-life puzzle in the early career of mystery writer Agatha Christie. Beaubaire's White House knowledge proved useful when Branagh needed to know what a U.S. President's outer office looks like. Just one example of the authenticity he brings to the table thanks to the heady experiences of his previous career. Although Flight is tough on the airline industry, the fundamental virtue Beaubaire supported is that an experienced pilot can watch it and not feel credibility has been compromised. For him, that extra effort is vital to the reach of any good movie. The dream of making them was born when he was about ten years old, living in the suburbs of Chicago. In the heart of John Hughes country — literally — he visited the set of Sixteen Candles in the early '80s. (A poster from that film, a gift from his attorney wife Lisa, now graces the wall of his office.) Drawn to politics after graduating from Emory in Atlanta, he helped prepare large-scale productions that told a story by means of an event, the better to shape the narrative of the evening's news cycle to the benefit of the Clinton campaign. When he arrived in L.A., he was approached by  The West Wing, but turned it down. He had no desire to relive any previous glory. And though the ambition to write has never quite died, he is quite happy to help others tell their own stories, fueled by the conviction that grown-up fare can be hugely successful for budgets of $25 to $30 million — provided everybody on board is in clear agreement about the movie they're making. When he's not working, he spends invaluable time with his wife and kids.
Most prized office possession: A caricature by my desk of my dad, working the phones as I do now.
Daily website visit: The New York Times, The Daily Beast, all of the trades. As many as I can, really: I'm a voracious consumer of information.
She radiated such warmth and intellect as Jackie Robinson's wife Rachel, in this year's 42 — a role vital to revealing the heart of her sphinx-like husband — that it is all the more satisfying to look back and realize that she was the co-worker who accompanies Michael Fassbender on his tragic tailspin in Shame, as well as the fiery waitress defending her honor (and family) against a trumped-up drug charge in American Violet. With fame has come gossip — she and Fassbender were an item, for a minute — but Beharie's work elsewhere has kept the focus on her exceptional versatility. Onstage she won raves for her country girl dazzled by 1801 New Orleans in John Guare's hit play, A Free Man of Color. In the film Apartment 4E she plays a suicidal woman who bitterly holds her would-be rescuer hostage, and in My Last Day Without You, a songwriter with — by the way — a beautiful singing voice, a gift she had only previously shared with friends and loved ones. Born in Florida, raised in South Carolina and educated on a four-year scholarship to Juilliard, she loves to test herself in whatever roles she chooses. As a woman and African-American she is particularly wary of the traps in prefabricated types, and so makes a deliberate effort to steer past anything that bores her. Instead, she listens for a spark of the imaginative life inside a character, measuring her interest against the examples set by her parents. Her father, an American who lived in Nigeria for a time, is a lawyer — involved in politics but with a flair for telling jokes — while her mother, of Jamaican roots, is a homemaker who writes poetry. Both abound in creative fire, and Beharie looks for that spark when finding her way into a character. Come fall, she will have a lead role as a New York state cop in the new Fox series Sleepy Hollow, a playful updating of Washington Irving's supernatural legend. The series commitment has meant — to her keen disappointment — she had to let go of a prominent role in The Keeping Room, a Civil War story she was particularly eager to do. But she refuses to complain. Opportunities abound, including more theater — and perhaps more singing.
Director you hope to work with one day: Sorry, I don't keep a list of names! I look at the part. The director and the other artists involved are always crucial — but my approach is to stay wide open.
Band or singer you're obsessed with: Nina Simone, James Blake. Music is extremely important to me.
Pastime or hobby you've taken up between takes: I've gotten interested in genealogy and recently discovered that I have a great-great-great-great grandfather who fought in the Revolutionary War.
His starring role as the con man-turned-FBI consultant on the USA drama White Collar made Bomer a sensation with viewers of quality TV, but a chameleonic series of supporting roles in recent films are repositioning Bomer for big-screen stardom. Andrew Niccol's In Time (2010) cast him as a 105-year-old man preserved to look twenty-five, outwardly registering ten out of ten on the JFK, Jr. scale but inwardly as broken as a bone-tired Methuselah. Steven Soderbergh coaxed him to strip alongside Channing Tatum, Matthew McConaughey and the horde of hunks in Magic Mike. He didn't disappoint, delivering a memorably layered performance as a competitive climber who succumbs to the corrupt bait that Tatum is fighting to resist. This year he'll be seen as a high-tech dad with a mechanical hand in the sci-fi spoof Space Station 76, which imagines the 21st century à la the 1970s, and will be unseen, so to speak, in the animated Superman: Unbound, voicing the Man of Steel. Texas-born in 1977, he was geared for acting in his early teens and graduated from Carnegie-Mellon, alma mater of stars ranging from Holy Hunter and Ted Danson to Zachary Quinto and Megan Hilty. His model good looks and aura of mystery — not to mention that he was born to wear a three-piece suit — have lately made him a front-runner in the speculation sweepstakes over the sexy, sadistic lead in Fifty Shades of Grey. Fans cut viral trailers that proliferate on the web. When Bret Easton Ellis kicked up a ruckus by blaring in the Twitterverse that he isn't hetero enough for the public to accept him in the role, fans fought back by creating more passionate trailers that — fantasy-league style — steamily intercut Bomer with Kristen Stewart, Alexis Bledel and Lucy Hale. His Cary Grant-like stance is a firm "No comment." Although he meets questions about his sexual identity head-on — he and his power-publicist partner Simon Halls are raising three sons, an eight-year old and five-year-old twins — Bomer prefers to maintain a low profile regarding his private life. Not because he's hiding anything, but in order to better disappear into whatever character he plays. It's a tricky stance, especially as Bomer takes on the role of the tragic love interest of Mark Ruffalo in the forthcoming HBO telefilm adaptation of The Normal Heart, Larry Kramer's trailblazing 1980s play about denial and the AIDS epidemic. Parts that scare him interest him most. He embraces the Kramer drama — which he's long admired — as both an artistic debt and a moral necessity. But he found a greater challenge in the small but resonant role of Colin Farrell's Russian immigrant father in the forthcoming magic-realist epic A Winter's Tale.
Director you hope to work with: Alexander Payne, Lynne Ramsay, Nicolas Winding Refn, Jeff Nichols.
Band or singer you're obsessed with: Jake Bugg, James Blake, Karen O of the Yeah Yeah Yeahs.
Hobby or pastime that you've taken up between takes: Here again, it's listening to music — but I explore music that feeds what I'm working on at a given moment. I'm not going to listen to jubilant music if the scene we're shooting is dark! But the necessity leads me to interesting places.
Although she feels distant from Crazy Heart, having produced three features since — with eight more going into production over the next eighteen months — Cairo agrees it was a game-changer. The success of that modestly budgeted drama set in the world of country music, capped by a Best Actor Oscar for Jeff Bridges, turned Informant Media, the company she runs with husband Michael Simpson, into a hotbed of activity. Two years ago they produced Hysteria, a Victorian-era comedy about the invention of the vibrator starring Maggie Gyllenhaal. This year they're bringing out Erased, a thriller in which Aaron Eckhart must defend his daughter against a gang of assassins led by Olga Kurylenko, and Stuck in Love, a romantic drama laced with comedy in which Greg Kinnear and Jennifer Connelly head a dysfunctional family of writers. As a native of Forest City, North Carolina, Cairo acted in local theater before shifting into local TV production after completing her studies at Chapel Hill. Her first producing credit was The Boy King, an acclaimed TV movie about young Martin Luther King. She went on to produce nineteen telepics, a highlight of which was the Golden Globe-winning saga of a very different King, Elvis. Four films a year will emerge from Informant in 2013 and 2014. The aim is to build what she calls a micro-studio — to fill that niche the big studios neglect. Even in the present marketplace, she's sure there's room for a broad range of movies, even within individual movies: that the Three Days of the Condor-like premise of Erased is deepened and made new by the relationships and the depth of characterizations drawn; that even the most raucous comedies can be filled with emotion; that action pictures can appeal to adult women and other viewers who no longer need braces. Recently, while strolling through Berlin with her husband, Cairo was struck by a realization: Visible in the architecture of that war-torn, much-transformed city was something basic to why she does what she does: The politics and historical forces that shape a place are not what lasts. What endures is the art — what people conceived and created when they were alive. Building things to last is Cairo's goal.
Daily website visit: IMDB — and I'm Googling every five minutes.
Most unusual place you've found material: A true story that was told to a friend of mine, by a fellow who worked in a veteran's hospital, about one of his patients — that became Her Deadly Rival.
ANDREW CALOF
V.P. OF PRODUCITON | NEW REGENCY
Ever since he became Vice President of Production at New Regency late in 2011, Calof has worked with zeal to take the company back to its creative roots by concentrating on intelligent, provocative yet commercial pictures. Two decades ago, the firm was home to such risk-taking classics Once Upon a Time in America, The King of Comedy, JFK, Natural Born Killers and The New Age. Calof and his team are recapturing that adventurous spirit with a trio of films slated for late 2013/2014 — Steve McQueen's much-anticipated 12 Years a Slave, starring Chiwetel Ejiofor, Michael Fassbender and Brad Pitt; Alejandro González Iñárritu's Birdman, starring Ed Norton, Naomi Watts and Emma Stone; and Brad Furman's game-of-wits thriller Runner Runner, starring Gemma Arterton, Ben Affleck and Justin Timberlake. Further ahead are Assassin's Creed — based on the ultra-popular videogame — with Michael Fassbender attached, and another videogame adaptation, Splinter Cell, with Tom Hardy currently in place. Calof sees these projects as filmmaker-driven, offering quality at a reasonable cost in direct defiance of the prevailing madness that dictates $100 million budgets. Back to the Future was the movie that rocked Calof's world when he first saw it, growing up in Minnetonka, Minnesota. To this day, he would love to produce a film that achieves that ripe balance of fantasy (time travel) with everyday reality (a boy coming of age, saving his family). While majoring in finance and communications arts at the University of Wisconsin at Madison —where he says he was a violin-playing jock in love with movies — the fusion of creative and business drives felt natural and pulled him west. Upon moving to L.A., he got his first break working as an assistant at writer-director Todd Phillips' company Green Hat. From there, he went to Dimension, where he worked for exec Brad Weston. When Weston moved to Paramount, Calof joined him, and acquired invaluable experience working on such diverse big-ticket vehicles as G.I. Joe, Mission: Impossible, Rango and the early development of World War Z. Married eight years, with two small children, Calof dedicates himself to photography in his spare time, as well as tennis, music and calligraphy.
Most unusual place you've found material: A script called Dubai came to me quite by surprise, through a friend, and it's now being developed at Paramount as the next Jack Ryan picture.
Favorite vacation destination: Ojai, right here in California.
Most prized office possession: A Mont-Blanc fountain pen that I bought myself after my first big deal.
GUILLAUME CANET
ACTOR-DIRECTOR 
Long a romantic idol in his native France, memorable for his role in Danny Boyle's The Beach opposite Leonardo DiCaprio, Canet became a director to watch with the 2006 thriller Tell No One. Its international success — coupled with the acclaim accorded his more intimate Little White Lies in 2010 — paved the way for an American crime drama, Blood Ties, set in 1970s Brooklyn, which premiered at Cannes and will be released in the U.S. later this year. Co-written with James Gray (director of We Own the Night and the forthcoming The Immigrant), it stars Clive Owen, Billy Crudup, Mila Kunis and Marion Cotillard — with whom Canet has a son. For period accuracy, he shot it in the The French Connection–Serpico aesthetic of his idols Lumet and Friedkin. (There are also bows to Peckinpah, Coppola and Scorsese.) Canet, who was born in 1973, regards the American movies of that era as formative influences, as essential to his imagination as the horse-breeding French countryside where he grew up with dreams of becoming a professional rider. Movies were just a fantasy back then. He filmed friends with a Super-8 camera but remained firmly on horseback until a serious accident at eighteen led him to try the Cours Florent drama school instead. He went to study directing, but his leading-man looks launched him as an actor. Given the outcome, he now trusts accidents. Horses served him well, he believes, as both performer and director — they taught him humility, to trust instinct and passion, to go at life aggressively, to work fluidly with others (be they human or animal) and above all to stay upright at unexpected turns. An intense perfectionist, he nearly worked himself to death making Tell No One — after coming down with a virus that led to septicemia, he was hospitalized for a month —which turned out to be another fortuitous accident from which he learned to live more in the moment. Canet is committed to directing more, in France or America, as circumstances permit, but values his freedom, so he will continue acting until the right opportunity emerges. He still rides horses to relax. Since finishing Blood Ties, he has not only climbed back into the saddle to play French riding champion Pierre Durand in the biopic Jappeloup, in April he competed at the International Jump Bost in Barbizon, France.
Digital or film: I have to admit — digital. On Blood Ties, I was very impressed — we were able to create the same grain of '70s cinema that we were after. Before? Digital struck me as having no life, and I hated it. But now you can make an image.
1:33, 1:85 or 2:39: 2:39.
Ritual you adhere to once your film's wrapped: No ritual, but I do let my hair and beard grow.
LOGAN LERMAN
ACTOR | @LOGANLERMAN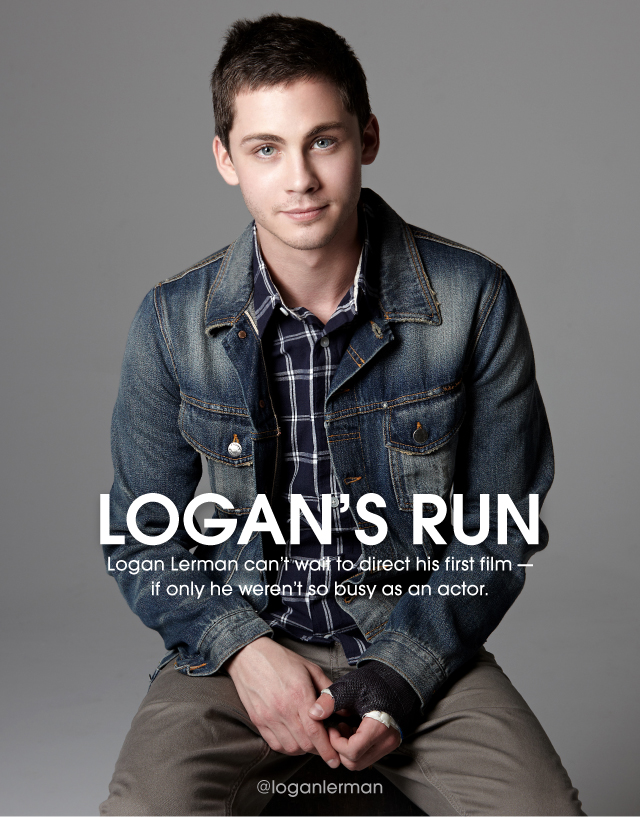 It's possible to admire Logan Lerman in any number of films without always realizing that you're looking at the same actor. The Butterfly Effect, 3:10 to Yuma, the Percy Jackson franchise (the second of which, Percy Jackson: The Sea of Monsters opens this month) and The Perks of Being a Wallflower have each put Lerman on the map from a fresh angle. Taken as a whole, they trace a powerful development.
From the beginning, Lerman has been frank about his ambitions to direct. With his tremendous success in Perks paving the way toward such exciting projects as Darren Aronofsky's Noah and David Ayer's World War II action picture Fury, it would seem that the only thing standing in the way is his demand as an actor.
You really shined in The Perks of Being a Wallflower. What's more, that picture has been a huge touchstone for many teens. Growing up, was there a book or a film or a piece of music that you held close as a kind of a reliable emotional companion at certain points? Yes, definitely: Eternal Sunshine of the Spotless Mind. It's the greatest love story. I saw it when I was — what? — thirteen, maybe twelve? I was just being introduced to movies; that was one of the first movies I ever saw in a theatre. It inspired me to be in movies, to want to be a filmmaker. It made me seek out Michel Gondry's other work as a director, and Charlie Kaufman's as a writer. I love Kaufman's choices as a writer. Adaptation blew my mind: like, "How did you think of doing this?" Being John Malkovich sparked an interest in Spike Jonze's work. All those guys — it's a related group. I'm also passionate about [David] Fincher, and Fight Club.
How did Perks change the types of projects you're being offered? Only in small steps: it's just opened doors to more of the people I really want to work with. If not for Perks, I probably wouldn't have done Noah. That's what I mean by small steps. A lot of filmmakers and producers have me on their radar a little bit more.
When you judge an offer, is the script more important, or is the director? How do you balance those in your mind? The director's an obvious yes for me, usually. You cater to their vision. At the same time, it's about the material — if that's strong and has value, if the character's complicated, then I'm attracted as well. That's the balance. But I can't really invest myself in a project if it doesn't have a director I can trust.
What are you looking for when assessing a director that you may or may not choose to work with? I just ask a lot of questions. I try to grasp their taste and what they technically like to do. I definitely value someone who technically has a distinct style or taste. Then I talk with whomever else they're working with. If you're working with a filmmaker that you're not familiar with, or they haven't done enough for you to be sure about, the next best person with whom you can immerse yourself aesthetically is the cinematographer.
Is there pressure to take jobs fearing that the script you turn down will make a star of someone else? Yes. Yes, definitely. Above that is the main fear of turning down a job and not having anything. I like to have a few options: an A and B and C and D. But you have to trust your instincts, and sometimes I haven't. It's a tough thing to do. I've made mistakes in the past where I've done films that I didn't quite trust, that I didn't really want to do, but felt like I had to, because it might help me — even help me a lot. At the same time, those are not creatively fulfilling choices. What I do now instead is trust my gut that, a year from now, or whatever, this or that project will make me the most comfortable or happy when I'm out having to promote it.
There was a moment, when you were ten, that you balked at acting, and refused to pursue it for a while. Since then, you've made twenty films in thirteen years. What drove you away, and what brought you back? I wasn't interested in films, originally. I liked movies, but I wasn't interested technically. And I did this movie, The Butterfly Effect, and that was a horrible experience. Not horrible, but it was pretty bad. I was a kid; I was barely conscious. I was like, "What the fuck is going on?"
What was bad about it? Part of it was probably the shock of going from the big-budget world to the indie world. My first film had been The Patriot [starring Mel Gibson]. That had been huge and fun, from a seven-year-old's perspective — there was all this madness going on, and it felt great to be part of it. Then along comes Butterfly Effect, this dark little picture that required a level of intelligence I just didn't have yet. I'm plunked into this role that's just disturbing and weird. I couldn't comprehend what was going on, so I didn't like the experience. I was like, "I'm done, I don't want to do this anymore." And then I got back into it with an interest in film and filmmaking. I began to wonder, "Okay, how do you make these films?" Really, from the basics: How does the camera work? How do you load film? So I got lucky, I got on TV show, and it was a cool TV show [Jack and Bobby, 2004-2005], and it was great learning experience. Fortunately, it only lasted a year or so, and that was the start of film school for me.
Since you basically worked through your teen years, you no doubt missed some things. What would you like to go back and make up, if you could? I was always trying to get out of high school. I always wanted to leave. I'd get anxiety sitting in that classroom just one semester into the year. If I could re-do anything? Had there not been so many chances to act and pursue movies coming my way? College is definitely something I would like to have experienced. A lot of my friends went, so I got a vicarious dose of what they were going through. It sounded more interesting than high school and is something I probably would have enjoyed.
You had a chance to enroll in the directing program at NYU, but decided against it. In a sense, you're already in a master class as a busy actor, because you're working with so many directors. What do you take away from the ones you work with? Everybody's different. There's no distinct similarity. I learn so much from all of them. I admire a few in particular in terms of their style, some more for the way that they work day to day.
What was your takeaway from working with Darren Aronofsky on Noah? I went in as a huge fan and was just devoted. He turned out to be just a very, very humble filmmaker. He definitely has the family mentality. He works with a group of people that he's worked with for years and years. It's a very close-knit set, very comfortable, and that feeling was great for the creative juices. He loves that guerilla-style filmmaking; he loves that spontaneous feel. He comes up with ideas and goes with them on the spot, even if they're not on the page. We'll be shooting, and all of a sudden he'll get a brainstorm and run with it. We won't even shoot what we laid out for that day. We'll shoot this brand-new thing that he came up with. It's all very loose, and a really cool atmosphere to work in. A lot of the movies I've been on have been very structured and set in advance. Darren's just like, "Pick up a camera and let's shoot what we think would be cool," you know? Just open and a really, really fuckin' cool filmmaker.
It's a fresh step for you to be in a period piece — and a Biblical period, at that. What were the challenges creating the character? I play Ham, one of the last children. I don't want to give away too much of the story — I'm sure people who know their Bible know who he is and what happens. In terms of creating a period, and a myth, it was an intimidating set. We were definitely trusting Aronofsky and figuring it all out as we were going. We'd ask a lot of questions, working hard to be on the same page.
The cast includes Russell Crowe and Jennifer Connelly and Emma Watson, all of whom you've worked with before. Did this new context change your interactions, or did having a familiar feeling help? It was definitely more comfortable for all of us. I can't really speak for Russell and Jennifer — but I know Emma better than them, because we're closer in age and did a film [Perks of Being a Wallflower] together more recently. It was an intimidating set for both of us.
What was intimidating about it? Only that it's a big movie on a big scale. We had a very ambitious schedule; we had a lot to do in a very narrow period of time. A lot was riding on each scene and getting the day done. It was about performing and getting it done, and giving Darren good options, and that was scary in the first couple of weeks. Yet all of that was definitely made more comfortable because of the familiarity between Emma and me and Russell and Jennifer. Having those friends there helped a lot.
When we think of Aronofsky in relation to films like Pi or Black Swan, actors are called upon to live at extreme heights of intensity. Was that part of the intimidation? Very definitely. I mean, it's intimidating until you're doing it. Then you just immerse yourself. My best analogy is first-day-of-school jitters, only this school is filled with people you really admire.
You worked with Russell Crowe on 3:10 to Yuma, when you were a very young boy, and now you're working with him man-to-man. Is there something particularly memorable that you took away from working with him so long ago? Russell taught me a lot about respect — and by that I mean respecting other people on set. Not that I wasn't respectful, but he very definitely guided me to be conscious, and professional, even though I was young, in relation to all the people working around. That's very important, and I learned a lot about that being mentored by him. He's such an interesting guy. Another thing I learned a lot from him is giving options — that is, giving your director options for the editing room. Constantly asking yourself questions on set, seeing what you can do differently: spontaneous choices, or maybe places inside yourself that you've thought about, visiting options inside and choosing which ones, all to support the filmmaker later, when they pull it together.
You're about to work with director David Ayer on Fury. It's hard to tell from the description whether it's an intimate war picture or if it has a more epic dimension. Epic and intimate at the same time: five guys in a tank towards the end of World War II, and a lot of crazy shit goes down. We've only just started prepping. I signed on a week ago. The first things we're going to shoot are fight scenes, and I have a broken arm — so I can't really spar at the moment, which sucks. There's a lot of reading for me to do about the time period, though, and David Ayer is so insightful and well-read on the topic that he's got a lot to offer on the material. I've seen the tank, and am learning how to operate that, so I'm really, really excited.
Is that how your broke your arm, in rehearsals? No, I had a dumb accident. Backstage at an awards show, there was a skateboard. I'd had a few beers with friends and was like, "Let's go skateboard!" Then fell and broke my arm — it was stupid, man. But this Fury thing came up, and even with my arm this way, I'm like, "I can do it!"
Has the injury given you more time to enjoy your massive DVD collection? Is there a particular film you love to relax with? Step Brothers! Love it. That's a great relaxing film. I love ridiculous comedies. Movies that look easy to write, but they're a lot harder, I'm sure. Step Brothers definitely tops the list. I put it on more than most, just to relax to. I watch it a lot.
From the outside, it would appear nothing stands in your way. But from your perspective, are there obstacles? You've directed a few short films but have you set a goal that, say, by the time you're thirty you'll have directed a feature film? For now, my only obstacles are trying not to get sucked into the black holes of projects I don't want to do. There are things you get pressured into doing from many different angles, you know? I fight that by keeping a minimal amount of people around. The trick is to make your own decisions, creatively, and trust the people you're working with. I have a very small group that I work with. I'm not in a position to be arbitrary about what I pick and choose. Most of the time you choose a part based on the filmmaker or the character or both — trusting your instincts in terms of your taste and what you like. As for specifically getting behind the camera and directing — that was actually why I got into acting. It's something I've always wanted to do — and still do. But I've decided to almost take it slower than I have. It's not that I'm less ambitious than I was a few years ago. But I want to make a film the way I'd like to see it. To do that, you need the proper group of people. You have to attract a good crew and fellow actors. I'm not there yet. That's kind of where I've stopped — and so I'm deliberately taking my time in the acting world.
Do you have a specific game plan in terms of moving forward with that? I definitely do a lot of reading. I'm trying to plan ahead, but most of the great projects I've been involved with have come about in a spontaneous way. Step one is just finding them, and then fighting hard to be a part of them. –F.X. Feeney
ELIZABETH CANTILLON
EXECUTIVE VICE PRESIDENT OF PRODUCTION | COLUMBIA PICTURES @ECANTILLON
People who research her before a first meeting often bring up her past as an actor, because she's been mistakenly billed online as "A Dancer" in the 1985 film Déjà Vu. This is a mirage driven by IMDB, which takes for granted that more than one Elizabeth Cantillon in showbiz is a statistical impossibility. She merrily would prefer to do the same. The rest of her resume is no mirage. Armed with a degree in Film Theory and Criticism from UC Berkeley, Cantillon decided against law school, took a job working behind the scenes in TV commercials and in the 1990s made her first mark as a hands-on producer — Sunset Park, Galaxy Quest, The Banger Sisters. Since then she has risen through the ranks as an executive, first at DreamWorks, now at Columbia, where she has been crucially involved in every Daniel Craig 007 film, as well as Eat Pray Love, The Social Network and The Girl with the Dragon Tattoo. She views her role as akin to a book editor. Although she well understands the day-to-day grind of filmmaking from her own years in the trenches — and treats each producer the way she wanted to be treated, back in the day — different projects, as with authors and their manuscripts, present unique challenges and levels of engagement. Creatively, this means keeping out of talents' way, while listening, resolving problems and promoting projects within the studio, in concert with fellow execs Andrea Giannetti and Amy Pascal — the latter a longtime friend and fellow L.A. native. Married to her high school sweetheart (a real estate man) and mother to two grown children, Cantillon regards empathy and foresight as defining traits at her level of the game. In addition to the next as-yet-untitled Bond, this year she will usher in George Clooney's The Monuments Men, a World War II action adventure about a true but little-remembered Allied mission to rescue art treasures from the Nazis, and the forthcoming Captain Phillips, a contemporary adventure based on the Somali pirate rescue that Tom Hanks has just completed in collaboration with writer Billy Ray and director Paul Greengrass.
Most prized office possession: Apart from photos of my family, I've maintained a big board — one that long predates the rise of Pinterest — filled with images that inspire me. Barack Obama, Newman and Redford, Bill Murray on the cover of GQ, Tom Hanks and Javier Bardem, a one-sheet for Taxi Driver.
Hobbies: I'm passionate about tennis, and play every chance I get. I'm also a voracious reader — but for pleasure, as opposed to work.
Favorite restaurant in the world: Pizzeria Mozza.
DEREK CIANFRANCE
WRITER-DIRECTOR
He got such strong, raw performances out of Michelle Williams and Ryan Gosling in his 2010 breakthrough Blue Valentine that it would be tempting to peg Cianfrance as a Cassavettes-like poet of intimate relationships. But The Place Beyond the Pines defines him as a prodigy of linear suspense and thrilling action. Bank robberies and motorcycle chases kick off an intricate story of crime, and treachery that spans a decade and a half with such spontaneous intensity and authenticity (Gosling again, this time opposite Bradley Cooper, Eva Mendes and Dane DeHaan) that scenes feel lived-in rather than acted. One clue to Cianfrance's aesthetic is that he directed half a dozen documentaries between his first dramatic feature (Brother Tied) and Blue Valentine. This detour began, he says, as a means to support his family (he and wife-fellow filmmaker-performance artist Shannon Plumb are raising two boys), but to his surprise, catching reality on the wing radically altered how he sees filmmaking. A native of suburban Denver, Cianfrance grew up making short films and studied at the University of Colorado with experimental filmmaker Stan Brakhage. He long thought of filmmaking as an art, but his model was C.B. DeMille, giving orders through a megaphone. He now sees it as turning the megaphone to his ear, and listening. One anecdote from Pines illustrates his method. Gosling felt his character should have a tattoo on his face. Cianfrance was skeptical, but the actor's choice of a dagger-shaped teardrop was such an interesting surprise that he approved. Immediately after they began filming, Gosling had regrets and asked to remove the tattoo. Cianfrance refused, telling him the movie was about choices having consequences; the ink was his choice, so he would have to live with it inside the character. Thus, when the hero attends his son's baptism, rather than sit in the front pew and seethe with outrage as the script called for, Gosling retreated in shame like a marked man to the back of the church and shed heartfelt tears: an indelible moment. Trust in such discovery has deepened another Cianfrance film-in-progress, Metalhead, which began as a documentary about a musician losing his hearing but is evolving into a poetic exploration of the inner world of deafness. He began it before Blue Valentine, and is unsure when he'll complete it. Instead, he has just acted with his sons in Towheads, a feature directed by Plumb that he describes as a slapstick version of A Woman Under the Influence, and is more focused on Muscle, a television project he is developing about an unlikely bodybuilder. He and HBO are in talks. Gosling wants to play the lead, but his career is too hot for him to spare five TV seasons — so it will require some skinny but intrepid newcomer who doesn't mind putting on ninety pounds of muscle over the course of a few years. Come what may, for Cianfrance, the play of reality is the thing.
1:33, 1:85 or 2:39: You left out 1:66 — that's the European ratio that I shot Blue Valentine in. I have no set preference, because what you choose is always driven by story. But I like what Fritz Lang says in Godard's Contempt: 2:39 is good for snakes and coffins.
Daily website visit: The New York Times, NFL.com — to keep up with my Denver Broncos.
Ritual you adhere to once your film's wrapped: No ritual. I just stop when it stops, though I do get into habits. I wore the same white pants day after day while we were shooting Blue Valentine. I wore a camouflage hat on The Place Beyond the Pines. I'll skip shaving to save time — but these things are spontaneous.
Band you're obsessed with: My kids are obsessed with Metallica — the way I used to be — so I'm reliving that obsession a bit. Left to my own devices, I'd say Lower Dens — particularly owing to the work of songwriter Jana Hunter.
Competitive zeal is the marrow of Clafin's talent. At 16, in his native England, he broke both ankles playing soccer. Dreams of playing pro broke with them, but that cleared the field for acting, his other youthful passion. Three years of intensive study at the London Academy of Dramatic Arts led to a strong debut in the miniseries Pillars of the Earth. Then came his breakout as the idealistic missionary trying to save a mermaid in Pirates of the Caribbean: On Stranger Tides, where he more than held his own opposite Johnny Depp and Penélope Cruz. This won him the key role of Prince Charming in Snow White & the Huntsman, where — if Claflin didn't exactly steal the heart of the heroine — his good looks and athletic bearing sure offset the romantic spell being cast by the sexy Huntsman. Later this year, in Catching Fire, the Hunger Games sequel — as the probably villainous, but possibly heroic, Finnick Odair —he'll vie for attention with Jennifer Lawrence and the others in the arena. Comparing himself to actors he admires, who've worked years for their success — Michael Fassbender, say, or Tom Hardy — twenty-six-year-old Claflin regards himself as plucked from obscurity, and impossibly blessed. He jokes that he cries himself to sleep studying the work of everybody else and imagining how he might have played this or that role. As a departure from his recent string of studio roles, Claflin would relish a more intimate, character-driven project like the 1920s-era love story The Laureate, still in the planning stages, in which he would play the war veteran, poet and scholar Robert Graves. When Claflin is not pretending to be someone else, he is expanding his horizons by expanding his knowledge of film.
Greatest extravagance: My fiancée — I'm joking. But we're planning our life together, so furniture is my grandest extravagance at the moment. Another is family and friends. I enjoy sharing the benefits of this success with people I love.
Book you're reading: The Book Thief by Markus Zusak.
Soccer, baseball and football were his passions growing up, so sports naturally pepper Cohen's analogies when he speaks of the teamwork at UTA, or advancing downfield in the most efficient way for his clients. These include Owen Wilson and Corey Stoll, the most valuable players in Woody Allen's Midnight in Paris; Nicholas Hoult, the lad in About a Boy who is now scoring afresh with leads in Jack the Giant Slayer and Warm Bodies; or Jon Lajoie, whom Cohen discovered on YouTube and helped groom for success on the FX comedy The League; or Chris D'Elia, the funny foil-guy on TV's Whitney, now about to head up another NBC comedy, Undateable. Cohen specializes in clients with a competitive streak — primarily comics, self-starters — who are multi-talented and poly-ambitious. As an example, he cites Kevin Hart's mastery of the Internet and social media spaces. In the few years since Cohen first discovered him working small clubs in New York, Hart has become one of a handful of comedians whose presence can get a picture green-lit. His following on Twitter made smash hits of both his concert film Let Me Explain and his feature Think Like a Man, which opened to $32 million. Cohen's path to success grew out of similarly alert coupling of enthusiasm with opportunity. He was born in New Jersey and raised there and in Mississippi. He majored in history and journalism at Emory University in Atlanta, and thought he would either be a sportswriter or go to law school and become a sports agent. While in L.A. as a summer intern with the creators of the sports show Rome Is Burning, he made connections in entertainment. He met with UTA and its rivals and discovered a form of agenting better suited to his nature —more immediate, less reliant on a law degree and built more on relationships and transactions. Mentored by UTA partner Jim Berkus, Cohen pursued what on the surface seemed a naïve trust in hyphenation — that if a talent does more than one thing, there are more jobs you can send them out for. This has proved to be the heart of the current paradigm. Cohen is particularly enthused about Stoll, who — having made a splash as Hemingway and as an alcoholic congressman in House of Cards — is aimed at writing and directing, and likely will do so if The Strain, the FX pilot he is shooting with Guillermo del Toro, takes off. When Cohen needs to relax, he returns to his first loves — weekend games of softball and football in league with other entertainment players.
Fave restaurant to schmooze clients: Dan Tana's!
Hobbies: Other folks have yoga, I'm part of a softball league run by a dear friend, attorney Alan Wertheimer.
Daily website visit: ESPN.com.
TANYA COHEN
AGENT | VERVE
Born in South Africa and raised in Australia, Tanya Cohen grew adept at representing herself early and often, if only to explain what she refers to as her "muddle" of an accent. A love of singing attracted her to the performing arts, but it was an inspiring stream of tragic, triumphant African-themed pictures — Power of One, Hotel Rwanda, Black Diamond — that prompted her, as a college student in Sydney, to transfer to UCLA and seek a life in the movie business. Her student visa allowed her to intern in the Paradigm mailroom while wrapping up her studies, and she ascended from there. Since jumping to Verve early this year, she has specialized in representing top storytellers in the Pixar-esque arena of visual effects: Simon Rippingdale, of the acclaimed animated short A Cautionary Tail (voiced by Cate Blanchett and David Wenham); Canadian VFX wizard Patrick Boivin, who has just made the jump from shorts to direct Awaken for Disney; Peter Candeland, who will direct How the Grinch Stole Christmas for Christopher Meledandri's Illumination Entertainment and Universal Pictures; and Black List writer-director Natasha Pincus (Clive). Cohen is passionate about artists who are seeking new forms of expression and keeps a close daily vigil on Kickstarter, YouTube and every other content incubator on the Internet. To unwind, she enjoys long-distance running.
One thing people don't know about you: As a teenager I was in a gospel choir. While in Sydney, I sang in a production of Rent.
Favorite restaurant to schmooze clients: Mastro's Steak House.
JAUME COLLET-SERRA
DIRECTOR
Unknown, the 2011 thriller in which Liam Neeson wakes from a coma to find an impostor living his life, launched this Barcelona-born filmmaker into the front ranks. His talent was evident in three prior features: a remake, House of Wax; Living the Dream, also known as Goal II; and, most notably, Orphan, a disturbing "family" horror picture that won few friends among critics but cleaned up at the box office. Every Collet-Serra picture has been commercially successful; Unknown also scored with critics, drawing comparisons to Polanski. He and Paranormal Activity's Oren Peli collaborated on a short-lived but well-regarded network series The River. In addition to directing and planning his own next pictures — Non-Stop, a thriller starring Neeson and Julianne Moore; Run All Night, also with Neeson — Collet-Serra is producing Mindscape for fellow Spaniard Jorge Dorado to direct. He hopes to mentor younger directors on a further host of other projects. His goals are more selfish than they appear, he says with a smile. He learns a lot, with greater detachment, watching and helping other directors solve problems. Growing up in Catalonia in the 1970s, inspired by American movies, he knew by age 11 that he would become a filmmaker, and that he would end up in the U.S. He arrived at Columbia College in Los Angeles in his late teens, in the early 1990s. Not long afterward, using the single moniker "Jaume," he was directing music videos and commercials. By 2005, he had joined forces with producer Joel Silver and made the jump to features. Apart from traveling a bit with his girlfriend, Collet-Serra has no hobbies or pursuits other than movies. One project he hopes to take on is Akira, from Katsuhiro Otomo's popular series of postapocalyptic graphic novels. He insists he has never had a master plan. Instead, he says, "Projects choose me. My goal is to work non-stop.
Digital or film: Film. It's more forgiving, in terms of the lenses. Digital breaks down. On film, if you've got ten minutes left to get the shot, you get it.
Ritual you adhere to once your film's wrapped: I don't cut my hair or shave when I'm filming. I don't remember to. I become quite hairy. So I shave and get a haircut — but not on the set.
Most unusual place you've found material: Facebook! It didn't get made. Many interesting ideas come in many strange ways.
BENEDICT CUMBERBATCH
ACTOR
His John Harrison is the charismatic antagonist magnetizing the action in the latest Star Trek, while his soulful, solid, stoic shouldering of an impossibly difficult marriage made Parade's End the intimate epic to watch as it unfolded across five nights on HBO — and that was just the first half of 2013. In the second half, we will see him as Wikileaks founder Julian Assange in Bill Condon's The Fifth Estate; as one of a crowded and embattled family headed by Meryl Streep in August: Osage County; as a slave owner afflicting the life of a kidnapped man in Steve McQueen's Twelve Years a Slave; and giving Shakespearean movement and voice (the rest is digital) to both Smaug the Dragon and Necromancer in The Hobbit: The Desolation of Smaug. Part III will come in 2014, alongside Morten Tyldum's The Imitation Game, in which he will play Alan Turing, the brilliant nonconformist who broke the Nazi code. When we caught up with him he was wrapping what he described as the second block of the third season of Sherlock, his — oh, yes — transatlantic hit TV series. His use of the Dickensian name Cumberbatch (inherited at birth) was a conscious career choice. As a son of two hardworking actors, he was encouraged by mother, Wanda Ventham, to use Carlton — the middle name he shares with father Timothy Carlton — but a rebel instinct led him to prefer the rumble-and-thistle of their family heirloom as being, for all its oddity, both memorable and new. He was seriously tempted to study law. Painting and drawing are other passionate ambitions he continues for his own pleasure, using observation and expression akin to acting, but self-directed. His way into any character is to find the one hidden thing — often a secret, always masked — that he can most truthfully confide ("without demonstrating") to the audience. This makes him an ideal fit for fictional espionage, as in Tinker, Tailor, Soldier, Spy. How does he inhabit a real-life Hotspur, like Julian Assange? With more acute moral awareness than usual, he says, about the consequences of a false step. Asked if there's anything people don't know about him, and he admits to being a light sleeper — the slightest noise wakes him — otherwise, he is pleased to invoke the phrase private life and mean it. Single now after a longtime relationship with actress Olivia Poulet, he recently confronted and — peacefully — foiled a neighbor who was recording his every move on Twitter. His love of privacy extends to not studying his own inner-artistic workings too closely. Working with Streep in Osage, he marveled at a manic meltdown she nailed and, admittedly star-struck, asked about her process. I don't have one, she replied: Do you? He laughed and shook his head, enormously relieved.
Pastime or hobby you've taken up between takes: Skydiving — which I love — makes the insurance men nervous, so let's just say scuba diving, which is similar but a somewhat safer passion of mine.
Band or singer you're obsessed with: Thom York of Radiohead, Nick Drake, Dylan and the Stones: What music may I not be obsessed with?
One person, dead or alive, who's inspired your work the most: Stanley Kubrick: I would love to have worked with him, but that moment has passed. Among the living, I would have to say Daniel Day-Lewis.
Director you hope to work with one day: Michael Winterbottom, if the material's right. Otherwise, I've already been working with my dream directors!
His performance as the son of Ryan Gosling's biker-bandit in The Place Beyond the Pines was a breakthrough in public and critical recognition, and playing pal-turned-nemesis Harry Osborn in Spider-Man 2 should boost his stock even more. But top filmmakers have had Dane DeHaan on their radar for years. In 2010 he was an adopted son agonizing over the identity of his birth parents on HBO's In Treatment and a romance-minded American soldier in John Sayles's historical film Amigo. Alan Ball, creator of True Blood, cast DeHaan in a trio of 2011 episodes of the HBO vampire saga after seeing his work off-Broadway in Sixty Miles to Silverlake, End Days and The Aliens, the latter of which won DeHaan an Obie Award. When he graduated from the University of North Carolina School of the Arts in 2008, the Allentown, Pennsylvania native thought he would spend his life acting in regional theater. Instead, his career accelerated the instant he set foot in Manhattan. This may be a byproduct of sheer dedication. Asked whom he admires, he can furnish a list (see below), but adds with emphasis, stresses that above all, he is a fan of acting. Married since 2012 to actress Anna Wood, with whom he shares a long, exploratory kiss in Chronicle — the couple wed after six years together in a ceremony atop the Blue Ridge Mountains — DeHaan prefers to keep the rest of his private life private. At his most open, he is armored with a dry, laid-back sense of humor. Comfortable in a superhero yarn or a painstaking period recreation (he had special shoes built to play a boy with rickets in the Depression-era drama Lawless), he'll inhabit another memorable historical moment as Lucien Carr, a key figure of the Beat Generation, opposite Daniel Radcliffe's Alan Ginsberg in Kill Your Darlings (he says their onscreen snog is a shameless bid for the MTV Movie Awards "Best Kiss" prize). Also on the way are roles in Atom Egoyan's The Devil's Knot and the zombie comedy Life After Beth. With his sharp stare and facial structure he often evokes comparisons to a younger Leonardo DiCaprio (the two could be taken for brothers). But on his present trajectory, soon very few critics or fans will be comparing DeHaan to nobody but himself.
One person, dead or alive, who's inspired your work the most: Al Pacino, James Dean and Philip Seymour Hoffman.
Band or singer you're obsessed with: I have Nick Cave and the Bad Seeds on my iPhone. I really like the Avett Brothers and the National.
Pastime or hobby you've taken up between takes: If I could do anything in the world other than act, I would be a professional golfer. I love golf. I'm just not good enough, so I'm an actor.
BRYAN DIPERSTEIN
AGENT | ICM
A self-described "Jew from the East Coast," Diperstein, who was born just outside Philadelphia, developed an interest in show business early on, especially TV comedy. As a communications major at Hofstra University, he would stack all of his classes across two days of any given week so he could commute to Manhattan for internships at 30 Rock, The Daily Show with Jon Stewart and Late Night with Conan O'Brien. The producers at Conan clocked him as a future agent when they noticed his backstage skills — not just at keeping high-maintenance guests happy but cheerfully soothing the anger of late-arriving audience members turned away at the door. In his mid-twenties, Diperstein is already repping a list of promising talents — among them Black List writers Brad Desch and Patrick Aison (authors of spec scripts Fathers and Daughters and Wunderkind, respectively). He is also shepherding five other new scripts into what he views as a resurgent spec market. Life as a ten-percenter suits Diperstein both literally and figuratively. He loves the profession's centrality within the showbiz matrix, and he confesses to a "suit-buying addiction" and "an enormous luxury tie collection." When he's not negotiating, you can find him hitting the tennis courts and, as an "F.I.T. — foodie-in-training," some of L.A.'s best restaurants.
Favorite restaurant to schmooze clients: Nate & Al's, Barney Greengrass and Mastro's Steakhouse.
Book you're reading: The Racketeer by John Grisham.
TIMOTHY DOWLING
SCREENWRITER-ACTOR
Dowling worked steadily as an actor after he co-wrote and played a role in the hit 1999 USC short George Lucas in Love, but his screenplay for the 2008 buddy comedy Role Models decisively redefined him as a writer — and ever since has kept him occupied behind the cameras. Just Go With It provided fresh dynamics not just for Adam Sandler and Jennifer Aniston, but a fiery and funny supporting role for Nicole Kidman. This Means War, about a pair of close friends in love with the same woman, was developed by other hands for years before he came up with the winning suggestion that the pair be super-spies with lethal skill sets — as if two James Bonds suddenly woke up trapped inside a romantic comedy. Mixing genres is catnip for Dowling. As a kid in Boston, he was smitten by Star Wars and Raiders of the Lost Ark and dreamed early of showbiz. His favorite movie as a teenager was Midnight Run, a mash-up of action-romp, depth of feeling and bantering humor that informs his present work. Outsourced, a satirical comedy about a pair of blue-collar gringos who follow their lost jobs to Mexico, remains unproduced but made the Black List and caught the eye of Robert De Niro. Fast forward to a meeting where, in a twist that might as well have been scripted, Dowling successfully pitched the two-time Oscar winner an as-yet untitled follow-up to … Midnight Run. It won't be a sequel: rather, as The Color of Money did for The Hustler, it builds a fresh story around the same characters, twenty years later. De Niro and Charles Grodin are givens, but there are other major roles (thus new casting considerations to be navigated) but all are confident it will come to pass. In the immediate pipeline is Uptown Saturday Night, an updating of the 1974 Sidney Poitier-Harry Belafonte hit that this time will star Denzel Washington and Will Smith, the latter of whom got to know Dowling when he was considering This Means War for himself. Still, he hasn't given up acting entirely: Sandler has insisted he write a role for himself in their next picture, Pixels, a comedy franchise à la Ghostbusters in which Manhattan is overrun not by ghosts but by characters from '80s videogames. Chris Columbus will direct. He has hopes for Outsourced, which Vince Vaughn and Owen Wilson flirted with prior to Wedding Crashers. It was too similar in tone then — but now? Dowling's personal favorite among his specs is The Treehouse Gang, a Goonies for grownups about a band of boyhood pals, disappointed in their thirties, who are revived by a cliffhanging adventure. He may direct this one.
One thing people may not know about you: I'm a big politics buff.
Favorite way to procrastinate: When I'm stuck, I go online and read about other people's movies.
Dream job: To write Indy V. I own the Indiana Jones desk from the last movie.
MARK DUPLASS & JAY DUPLASS
WRITER-DIRECTOR | @MARKDUPLASS @JAYDUPLASS
Back when they were starting out, a decade ago, the Duplass brothers would pitch ideas to anyone who would listen — and if the answer was no, they'd go out and make the film anyway, as a short. This practice led to a half-dozen always interesting, sometimes prize-winning entries at Sundance and South By Southwest: The New Brad; This Is John; Scrapple; The Puffy Chair; The Intervention and Baghead. When they made the jump to features in 2010 with Cyrus, starring John C. Reilly, their success amplified. Mark penned a solo script Black Rock, a knife-edge thriller that pays an open debt to his favorite novel, James Dickey's Deliverance. He also partnered with Jay on such films as Jeff, Who Lives at Home and The Do-Deca-Pentathalon. Together, the brothers are deft chroniclers of everyday reversals and embarrassments. Natives of Metairie, a square-gridded suburb of New Orleans whose mind-numbing tedium — they claim — drove them to become artists, they graduated from the University of Texas at Austin, where Jay majored in Psychology while Mark studied Music and English. They were inspired to become filmmakers by the local examples of Robert Rodriguez and Richard Linklater, whom they admired from a distance for their handmade, homespun approach to making films. As children of the 1980s, their minds were blown open by the wealth of movies they caught on HBO — Kramer vs. Kramer, Sophie's Choice, the films of Robert Altman. It's only fitting that their next venture, Togetherness, is a series for…HBO. They look forward to seeing how much weirdness and subtlety they can get away with, and how much calamity can befall their characters, when liberated from the 90-to-120-minute convention of a feature.
Digital or film: Mark & Jay: Digital
1:33, 1:85 or 2:39: Mark & Jay: 1:85!
One thing people don't know about you: Mark: I love modern country music, its purity and lack of cynicism make me cry. Jay: I can't see. I'm the primary cameraman of the pair, but I suffer astigmatism keratin CK and am legally blind. Mark: All true! Jay needs to get disability, free rides to the set.
Favorite way to procrastinate: Mark: Convince myself I'm doing research as I surf the Net. Jay: Sitting in my office, convincing myself the place needs a thorough cleaning — after which it gets spic 'n' span, real fast! If that fails, I look for other people's offices to clean. I once procrastinated — and I'm not joking — by reading a book about writer's block called The War of Art.
BEAU WILLIMON
SCREENWRITER | @BEAUWILLIMON
<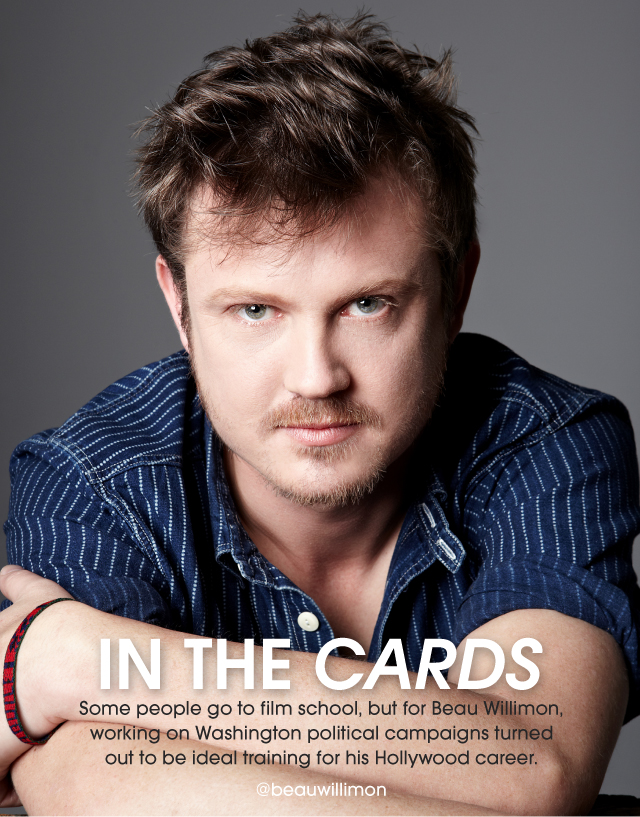 Drawing and painting always came easy for Beau Willimon. Writing…not so much. But his experience working on political campaigns inspired him to pen the play Farragut North, which became the film The Ides of March, directed by George Clooney, who starred along with Ryan Gosling. Now Willimon is a key member of the creative team on the Netflix original series House of Cards, along with Kevin Spacey and David Fincher. Unfortunately, making it big as a theater, film and TV scribe hasn't made stringing words together any easier. "But that's what I enjoy about it," he says. "The struggle.
You've hit such a home run with House of Cards that it's easy to imagine you're still caught up in promoting it and planning its next moves. Right now I'm in the midst of season two. We're in preproduction. The big difference is that, whereas in season one I could write the entire sequence of thirteen scripts prior to shooting anything, this time we'll be breaking and writing stories in the midst of production. We'll be halfway through the script process when the cameras start rolling.
You were in the arts from high school on, but then you took a detour through politics, which has informed your work. How hard was it for you to translate out of politics? I never translated into politics. First of all, I was a painter long before I was a writer. I didn't start writing until after college. Not in any serious way; I was drawing before I could read and write. That's what I thought I was going to do.
A painter with a career in galleries and museums? Yeah! I'm a much more facile draftsman and printmaker than I am a writer. Drawing comes naturally, but I really have to struggle as a writer. What facility doesn't necessarily give you is a sense of discipline. If something comes too easily, you're at risk of being less truthful — perhaps even dishonest. You don't test yourself. Writing has really challenged me that way, and that's taught me discipline. It's not a natural talent of mine. I know people that are naturally talented — writers that actually boggle my mind; they somehow came into the world fully formed as a person that knows how to string words together. I don't have that. I have to fight for every word, every sentence. But that's what I enjoy about it — the struggle.
Politics started out as a lark. Between my junior and senior year of college [at Columbia University in New York, in 1998] — coincidentally, the summer I wrote my first play — I was taking some summer classes in accelerated ancient Greek. I was failing miserably. My best friend, Jay Carson, said, "Hey, I'm working on Chuck Schumer's Senate campaign, you should join me." I thought to myself, "That sounds a lot better than these classes." It was an incredible experience. I have yet to repeat a campaign that felt like that one. Schumer came out of complete obscurity. An unknown congressman from Brooklyn, he defeated Geraldine Ferraro in the primary, then in the general election beat Alfonse D'Amato, a major Republican incumbent, by double digits. Everyone was young, everyone was optimistic, idealistic, filled with incredible drive. It was an adrenaline-pumping experience, and — we won. I was addicted. Jay went on to have an extraordinary career in politics. My play, Farragut North, and its film adaptation, The Ides of March, are largely based on him. I never would have written those if he hadn't given me an entrée into the political world. If I wasn't up to something more important, which was rare — and it was even rarer that I was gainfully employed [laughs] — he would say, "Come work on a campaign." I worked for Bill Bradley [when he ran for President] in the spring of 2000, Hillary Clinton [for her Senate run] in the summer and fall of 2000, then Howard Dean for President in '04. Never did I pursue politics as a career. I was always pursuing writing, or a life in the arts. Working campaigns was something I did as a sidebar, an escape. Those were years when I didn't know how I was going to pay the rent each month. I had a whole string of odd jobs — barista, factory work, teaching SAT-prep courses, detailing cars — anything that wouldn't consume too much of my time, yet leave my mind clear for writing. At the time, I had no inclination of writing about politics. Never have I worked on a campaign where it was "research." I never said to myself, "I want to turn this into a play someday." But after Dean pulled out, I went back to New York pretty devastated. I hadn't written anything for six months. I was desperate to write something. I thought, well — politics are on the brain. I know this world. I started formulating what became Farragut North. It took me awhile before I knew what the story was going to be. I tried a lot of different stuff. And then, one day, I was on the Long Island Railroad, coming back from teaching some SAT-prep course out in Great Neck — I was waiting at the station — and it just hit me: these half a dozen or so scenes, lines spelling out exactly what happens in each of them, and I just quickly jotted them down. One line each. Got home, started working, and by the end of the following week I had my first draft. There were years of rewrites after that before it finally got produced. Emotionally, it came out of a need to let that world go. It's always a huge anticlimax when a candidate pulls out. I tried to find a productive way to take that experience and make it a positive one, as opposed to a simply disappointing one.
You wear so many different hats. Tell us about life outside House of Cards. I have a play that just started rehearsals this week at South Coast Rep, down in Costa Mesa — The Parisian Woman, starring Dana Delany. It's an adaptation — actually, it's not fair to call it an "adaptation" — it's inspired by Henry Becque's La Parisienne, staged in 1885 in France. I'm excited that Pam MacKinnon, a Tony Award nominee extraordinaire, is directing. I've got a small production company [Westward Productions] with a producing partner, Jordan Tappis, and we're working on a couple of documentaries. We just finished filming one, about legendary Australian surfer Peter Drouyn — an iconoclast in his time who was on the cutting edge of the sport but disappeared and resurfaced years later as a woman named Westerly Windina. We document the story of her life, and her journey not only as this extraordinary surfer, but as this man who discovered that he identified as a woman. Our other one is about a former British paratrooper named Karl Bushby who spent the last fourteen years walking from the southern tip of South America to Alaska on foot — and then crossed the Bering Strait, also on foot — the only recorded crossing in human history. His goal is to walk across the rest of Asia, and Europe, back to his hometown of Hull, England, in Yorkshire. By the time he's done, it'll be two decades of his life — 40,000 miles, four continents — the longest walk in human history.
Will he walk through the Chunnel? That's the idea! [Laughter] The harder part was walking across the Bering Strait. If you can imagine, it's never completely frozen over. When he got to open water, he would swim, in an immersion suit, towing a 200-pound sled floating behind him in the water, then climb up onto the next ice-floe. It took him fifteen days. He's also crossed the Darién Gap [a tangle of deadly jungle separating Columbia from Panama] on foot, been shot at, robbed. He's nicked arteries accidentally and had to suture himself in the middle of the desert. He's fallen in love. Everything that could happen to somebody in the course of a life has happened to him on this journey, and he's only halfway through. [Laughs] The final thing I'm working on — well, I'm not really working "on" it; Jordan and I are exec producing; we're just helping with a bit of the funding — is for Jonathan Demme. That's a film version of Wallace Shawn and Andre Gregory's The Master Builder, by Ibsen. They've been working on it for twelve years. Demme wanted to shoot it. Our production company helped provide some of the funds. They just finished the eight-day shoot, and that's it. Shot in this townhouse where they've performed the play over the years, for audiences of twenty-three people at a time. That collaboration of Wally Shawn and Andre Gregory is extraordinary. Four decades!
My Dinner with Andre, Vanya on 42nd Street. Forty years, three films — this will be the third. Andre's in his eighties now. They worked on Vanya for eight years. Master Builder was twelve. Talk about going your own way. Those two guys don't compromise. They find a way to make it happen. And, of course, Demme as a filmmaker shares that same wonderful sensibility. Recently he showed us a director's cut up in Nyack [New York], where he lives. The first film of his I ever saw was Swimming to Cambodia, with Spalding Gray. I had a great fortune, in that I later interned with the Wooster Group when I moved to New York. Their space, The Performing Garage, is where Spalding Gray's monologues all began. I swept the stages and answered the phones, but Spalding came in after he'd had his accident [the 2001 car crash in Ireland that fractured Gray's skull and left him battling depression and chronic pain until his suicide in 2004]. He performed for two nights only, Swimming to Cambodia, which he'd first performed there in that spot, which is also where Demme's film was made. Here he was, doing it again years later, and struggling — that accident had altered his life and his being — yet it was incredible what a good performance he gave. He was older, he had clearly been through a lot, and because of Demme's movie, you had a younger and more vigorous Spalding in your mind's eye. The movie is running simultaneously in your memory as you're sitting there watching him. Within a year, he was dead. [Silence: then a laugh] Sorry: this is a very off-topic thing! But thank you. I never get to talk about that stuff. Everybody wants to know about House of Cards!
In a way, though, the theme of a dramatist and his work, evolving in front of your eyes, is very much on-topic. You went into House of Cards with thirteen episodes fully written. Yet as you began to shoot, you've said there was — if not improvisation — a need to shape-shift. Certain actors, like Corey Stoll, proved to be so great that you expanded their roles and reconfigured plot lines. Before we got started today, you mentioned that for season two, you are actually looking ahead and preparing portals for yourself to make ampler room for such changes, mid-flight. You have to approach everything that way. Look, you need to have two contradictory goals when you make a television show. One is to be as absolutely prepared as you can possibly be: build all the right sets and maximize every dollar. Then there's the flip side, which is that you have to be open to the jazz of it; you have to be willing to toss something out and create something better. Or? Listen to your collaborators and respond to them. Those two things are diametrically opposed. One is about certainty. The other is about uncertainty. The making of any successful show is in finding the balance. You want to do everything you can do on the "certainty" side so you can delve into the "uncertainty" — without it being a scheduling or budgetary disaster! [Laughter] What it comes down to is, you become a well-oiled machine when you're working with collaborators you trust, and who trust you. When that's working well, it actually speeds up the process. You find the ways to improve things faster. You develop a shorthand; you begin to anticipate one another's way of thinking. By the end of our first season, I could read a new script and already have a sense what David [Fincher] might say about it, or Kevin [Spacey] — I can do the necessary work, if such is needed, before I even get it to them. Then, when I get their feedback, it usually confirms the things I was already anticipating. And vice-versa: Kevin will sometimes say to me, "I think I know the answer to this question. But let me ask it." And I would say, "That's what I thought you'd have in mind." Your brains get to all wire together.
When you're planning season two, do you round out the story altogether? Or do you leave certain ideas in reserve, keeping a door open toward a season three? Never think about open doors! Certainly anybody who got through the end of season one will think it looks as if we left all these doors open that we can walk through. It looks like we're anticipating where the story might go. And we have some thoughts about that. But the first thing I said to my writers last year, and the first thing I said again when we sat down to plan this next one, is this: "I want to exhaust every good and every bad idea that we have."I want to feel, at the end of the season, like we've wrung the towel dry and have nowhere to go. We should be baffled if we get the opportunity for a season three, or beyond, as to what we're going to do. We should feel like we've spent everything. And of course what that means is, you've spent everything you have for those six months — but six months later, you'll be new people, you'll have had more input, and the world will have changed. New things will fill up the well. But never hold anything in reserve. I'd rather risk running out of ideas than feel like we're holding off the precious ones to save for later. Make every season a grand slam. Make it so you can say, "If that's the one I have to walk off on, I can live with that."
Before we sat down, you said House of Cards isn't a TV series, it's a thirteen-hour movie. I see no difference anymore between television and film. Anyone who tries to separate the two? That's a purely formal exercise and no longer accurate in relation to how the two mediums are now approached.
Are you going to direct? I would love to, but not just yet. I won't be directing anything in season two. I'm too focused on story and producing. My time is best spent for now behind a computer at Video Village, and not behind the camera. Directing is certainly something I plan to pursue in the not-too-distant future. I have enough experience working with actors, not just in theater, but for television and film, that I certainly take a visual approach to storytelling. I've definitely learned a lot in this past year while filming down in Baltimore.
Drawing and printmaking are already great forms of training. There are so many facets to directing. One is telling the story with clarity and sophistication. But in order to do that, you have to get great performances from your actors, you have to cast great people. You have to make it visually engaging. Big screen or small, or popping up on some tablet device, magic needs to happen. You need to believe that what you're seeing — photons on an inanimate surface — is emotionally real. A big part of that power will be the visual spell you create.
Last night you said, "Videogames are the art form of the 21st century." I was being a bit of a provocateur. But I do believe that's probably the case — in some fashion. I don't know exactly what it will look like. But! If we were walking around in 1913, and someone had said to us, on the way to our horse and buggy, that the movies — the nickelodeon flickers — would become the primary art form of the 20th century, you would have thought they were out of their mind. Movies were something you'd pay a nickel for, to watch somebody slip on a banana peel. It wasn't literature; it wasn't opera. It wasn't ballet or theater. Those were the primary art forms. You would have thought it crazy that these could ever be eclipsed by something as low and vulgar as moving pictures. Or, look at it another way. If somebody had said to you in 1953 that in fifty or sixty years, television would be a serious art form, you'd have said, "Hey, these variety shows are a hoot, The Honeymooners is a lot of fun, but they're lowbrow entertainment, they're there to sell soap."I look at The Honeymooners now and see what people saw in Chaplin: a perfect template for what would become situation comedy. The writing was brilliant, and the acting, in terms of its physical and comedic craftsmanship, it's outstanding. Here we are now, in what people call a golden age for television, and — well — videogames have only been around in a serious way since the 1970s.
They used to be just sharp-shooting arcade stuff, blasting asteroids. Now they're approaching narrative. The change in technology — the mere fact that we can now incorporate moving images — alters everything. Now we have the Internet, now we have computers that process data faster. Every month it seems the speed doubles. Videogames have, in a very short time, become incredibly sophisticated. We have independent game developers the way we had independent filmmakers in the 1970s. I'm not talking about Call of Duty or Modern Warfare. I'm talking about games like Meat Boy or Don't Look Back, which is a perfect little game you can play in an hour. Very simple: eight-bit, sixteen-bit 2-D platform stuff that's not about spectacle or snazziness. These game developers will talk about how their games are an expression. When you read the reviews of them, the questions are now: "What did this game make you feel?" "What memories did it evoke?"The point is no longer to win. The point is the world you are exploring. We now see eight-year-old children creating these worlds on their tablets — and then shooting YouTube videos where they're creating dialogue and soundtracks for these worlds.I foresee a huge gain for the storytelling craft, as well as financial gain. The next step is a certain degree of audience participation: I develop a game, and the audience then modifies it. Or adds to it, or uses it in such a way as to create something that is their own. That might lead me to modify the game in turn, or create a new one. We typically think of art as something that the artist makes but that the audience receives. What if we rethink that? Consider a mode of art that is more of a dialogue — where the role of the artist is to simply begin the conversation, and the role of the audience is to continue it.–F.X. Feeney
JOEL EDGERTON
ACTOR-WRITER-PRODUCER-DIRECTOR
With his flinty smile and brooding stare, Edgerton has been making his mark as an actor in a string of high-profile pictures. In this year's The Great Gatsby he stood out as Daisy's cruel husband, while in last year's Zero Dark Thirty he was a team leader taking down Osama bin Laden. And in 2011 he was a leading man in the prequel to John Carpenter's The Thing. Over the previous decade, Edgerton has been a Skywalker uncle in the Star Wars cycle; Gawain in King Arthur, opposite Clive Owen and Keira Knightley; and the tragic pal forced to betray Heath Ledger in Ned Kelly. His career gathered serious heat when he played a more poignant figure in David Michôd's 2010 Animal Kingdom, and broke through thereafter when he played Tom Hardy's brother and adversary in Warrior, directed by Gavin O'Connor. His soulful edge in those two international successes positioned him for his present prominence, which is likely to only ascend. His next films include The Double Hour, a thriller with Michelle Williams; a gangster picture, Black Mass, opposite Johnny Depp; and Jane Got a Gun — which Edgerton successfully lobbied for O'Connor to take over when Lynne Ramsay left the production two days before principal photography — and Felony, which he wrote himself, and will star as a rising police detective desperate to cover his tracks in the sudden wake of a lethal accident. This transition to creating and wielding influence is no surprise. Born in 1974 in Blacktown, a suburb of Sydney, Australia, Edgerton took early to acting, focusing on drama at the local university. Meantime, his brother Nash became a stuntman, then a director. Together they joined Michôd and Kieran Darcy-Smith in the formation of the Blue Tongue Collective, with whose support Edgerton has written and directed two short films and scripted several features, including Square, for his brother to direct. He plans to direct his own feature down the line, but for now, he's content to reap a whirlwind of acting opportunities. When he catches his breath, he spends his time surfing, relaxing with girlfriend Alexis Blake and her daughter. He's also devoted to the Fred Hollows Foundation, a nonprofit dedicated to the prevention and treatment of blindness and other vision problems among aboriginal people and the poor in developing countries throughout the world.
Band or singer you're obsessed with: Mumford and Sons.
JONATHAN EIRICH
SR. VICE PRESIDENT PRODUCTION | DREAMWORKS STUDIOS
Literate and ambitious, with wide-ranging taste, Eirich fits well with the team organized by DreamWorks partners Stacey Snider and Steven Spielberg. At any given moment, he supervises twenty to twenty-five projects. What he loves most about working at DreamWorks is that no one is branded the comedy person, or the tentpole person or the intimate-drama person. What you're passionate about dictates what you contribute. For Eirich, that means Need for Speed — which, although derived from a videogame, will be character-driven (screenplay by George and John Gatins) and directed (by Scott Waugh) "practically" as opposed to digitally, using actual cars at speeds of 200 miles per hour rather than CGI.  It means Glimmer — written by Carter Blanchard, directed by Ringan Ledwidge — a time-travel movie focused on the impact among characters who have tampered with their own histories. Eirich's own history shaped him well for such a varied slate. Born in Baltimore, he grew up in St. Louis, Juneau and Boston — his father was neither military nor Mafia, he jokes: just an in-demand computer expert. A shared love of movies anchored him and his older sister amid all that moving around. When the family settled in Boston for his years in high school and at Harvard, his ambition was to write. That faded once he moved to L.A. in 2004. When he landed a job at CAA and began to work with established writers, he recognized a knack for thinking through story problems and helping others unlock their narratives, and embraced it. A meeting with Stacey Snider (who was then at Universal, but about to make the jump to DreamWorks) set his present course. When he told her his studies at Harvard centered on literature and history, she stopped him and asked: What was your favorite historical period? The warmth and curiosity in the question echoed his closeness with his older sister. (His answer? The American Revolution.) He and Snider clicked immediately and have been working together ever since. When he's not building blockbusters, Eirich hits the golf course.
Most prized office possession: Cover pages from the screenplays of every film I've worked on, autographed by the principal talents.
Toughest part of your job: Working on projects you love that don't come to fruition.
Best part of your job: Making a suggestion, giving a note, recommending a small touch, a tiny cut that makes a good project even better.
True Grit, Zero Dark Thirty and The Master may be unique in themselves — not to mention striking departures from the stampede of super-franchise pictures. What they have in common are the adventurous tastes and deep pockets of Megan Ellison, who wrote the checks that got them made. In general, she gambles on directors she believes in and gives them final cut. For this, she has been mocked and attacked and, in a dig at her relative youth (she's twenty-eight), dismissed by rivals as a parvenu who used Daddy's money to buy a seat "at the big kids' table." But Ellison is too busy to care what others think of her. This year alone, she'll be the underwriting force behind the latest from Wong Kar Wai (The Grand Master), Spike Jonze (Her), Bennett Miller (Foxcatcher) and David O. Russell (American Hustle). As the daughter of Silicon Valley billionaire Larry Ellison, she spent her childhood competing as an equestrian in the North American Young Rider Championships. These days, she rides Harley-Davidsons or drives a 1989 Aston Martin. An autodidact by nature, Ellison enrolled at the USC film program but dropped out after a year. She leapt into producing low-budget indies in 2010 with Waking Madison, Main Street and Passion Play. When those didn't quite light up the planet, she course-corrected by directing her attention to top-line but offbeat directors and rescuing projects that had stalled inside the system — John Hillcoat's Lawless, Harmony Korine's Spring Breakers. With an eye toward protecting future purchasing power, she is currently planning Terminator 5, the rights to which she shares with her brother, David Ellison. His equally deep pockets fund big-ticket productions at Paramount through his company, Skydance. He's the bank favoring tentpoles like Mission: Impossible — Ghost Protocol, Jack Reacher and World War Z, while Megan is drawn to more classical, psychological and personal cinema. Her company, Annapurna (Hindu for nourishment), is named for a stretch of the Himalayas she once backpacked. Based on her track record thus far, she looks poised to conquer whatever summits she faces in the years to come.
Singer or band you're obsessed with: Kanye West is as good as he says he is. Can't stop listening to Yeezus. Also, it's not a song, but I'm obsessed with Game of Thrones.
Engle's 2011 screenplay On a Clear Day scored the former exec a prominent spot on that year's Black List and launched him, as he says, like a Roman candle. Since then he's been booked solid. In the pipeline are Rampage, based on the 1980s videogame, and his own post-apocalyptic spec The New West. He's doing rewrites of an untitled Ben 10 project (adapted from the hit Cartoon Network show) as well as Non Stop, the 2013 action thriller starring Liam Neeson and Julianne Moore and directed by Jaume Collet-Sera — who brought Engle aboard because they'd come so close to making On a Clear Day together. A native of Bainbridge Island, just west of Seattle, he knew early on that he wanted to be a storyteller. After struggling Engle struggled unsuccessfully to write a novel in his teens, a high school teacher showed him a screenplay. The present-tense immediacy of the format freed him, and by eighteen he was a student in the film & television program at USC. In 2000, his senior year, he won both the writing and directing competitions, which allowed him to direct a school-sponsored short of his own screenplay, East of West. Engle spent most of the ensuing decade working in creative development at Kopelson Entertainment — starting as an assistant, working his way up to president of production and building a stable life for himself, his wife and young daughter while nursing On a Clear Day and other ideas in his spare time. As fantastic as his premises can be, he's not a Star Wars or Lord of the Rings guy. District 9 and War of the Worlds are in the vein he seeks to mine: a sense of ordinary worlds and people in outlandish jeopardy whose wildest threats are consistently anchored by authentic observation. Where some writers crave music, or the clatter and offstage noises of a coffee shop, Engle needs absolute quiet. He does his best thinking and imagining, he says, while hiking the canyons between his home in the San Fernando Valley and the ocean. This must be the secret of his productivity: he hikes at least seven miles every day.
Favorite way to procrastinate: Videogames!
Favorite vacation spot: Hawaii, but my favorite city on earth is Rome.
Book you're reading: Gone Girl by Gillian Flynn.
Her first name is pronounced Meh-RAY, to get that straight at the outset. With World War Z — in which she co-starred as Brad Pitt's wife — climbing near $200 million at the domestic box office, just as she wrapped season three of her AMC series The Killing, Enos has earned the luxury of choice, and she's making the most of it. Both of her next pictures will be directed by Atom Egoyan: In The Devil's Knot, based on the infamous Arkansas case of the West Memphis Three, she plays Vicki Hutcherson, who is pressured by the police into bearing false witness against three local boys accused of an occult murder. The part is a cameo, but Enos and Egoyan bonded so well he cast her in Queen of the Night, filmed immediately afterward, in which she leads an ensemble as a mother whose child is kidnapped. Given the uncanny balance of iron strength and soft magnetism in her bearing, Enos often gets cast as youthful matriarchs — think of her virtuous wife in Gangster Squad. Which is why she is particularly enthused about her role in the forthcoming Sabotage, written and directed by David Ayer, of Street Kings and End of Watch. In a departure from her more recent work, she plays the lone female on a team of undercover DEA agents, a sexually complicated woman who makes amoral choices while battling a drug addiction she picked up on the job. Enos' sensitivity to such dualities may be bred in the bone. She is the fourth of five children born to a pair of schoolteachers in Houston, Texas; her American father met her French-born mother while on a two-year mission for the Church of Latter-Day Saints. Although no longer a Mormon herself, she respects what the faith gave her in terms of a perspective regarding humanity (it certainly nourished her breakout performance as the Marquart twins on HBO's Big Love), but is wary of becoming a poster child for belief or unbelief. Her mother had been a dancer, her father a devotee of the arts, and creativity was encouraged in the household, and so acting was a natural path. Married and raising a daughter with Alan Ruck (costar of Speed and Twister, and forever beloved as Cameron Frye, best buddy of Ferris Bueller), Enos says she has inherited her dad's manual dexterity and love of gadgets. When not acting, she's an ace at building furniture.
One person, dead or alive, who's inspired your work the most: There are so many — but the two who come most to mind are Katharine Hepburn and Meryl Streep. Both combine such strength with such grace.
Director you hope to work with one day: Hmmmmm? I like being surprised.
Band or singer you're obsessed with: No band or musician, but there's a piece of music I can't get enough of right now — Rachmaninoff's Vespers. A friend got it for me because I have a daughter named Vesper, and I've just fallen in love with it for its own sake.
Pastime or hobby you've taken up between takes: Tai Kwan Do: I have a black belt, and train three or four times a week when I'm in town. When I'm away I hodgepodge it, but I stay dedicated.
Safe House established him in America as an action director with a soulful edge. Movie lovers have been especially aware of this Swedish-born Chilean exile since Easy Money, the tale of a working-class economics student who turns to crime to fund his love affair with a wealthy heiress. Espinosa's love of layered character studies amid electrical currents of violence and treachery led to such success with Denzel Washington and Ryan Reynolds in Safe House that he is now in Prague shooting Child 44 with Tom Hardy, Gary Oldman and Noomi Rapace. The 36-year-old director is taking pains, with Czech help, to recreate the Soviet Union during Stalin's reign of terror. Hardy plays a cop tracking a serial killer, who cannot persuade his tyrannical bosses that such a crime exists. This theme resonates deeply with Espinosa, whose aunt and uncle were killed by the Chilean junta before his father fled in 1973. Entertainment is the muscle of his movies, but society's repressions are at their heart. Secrets of the State burn through Safe House; class prejudice governs Easy Money. As a working-class kid growing up in Stockholm, Espinosa watched movies with his father and was moved by the work of Ettore Scola. As a teen he discovered Lars von Trier's Europa — which so blasted his imagination that he emerged feeling anything was possible — and Godard's Masculin Féminin, which he disliked but found inspiring for its sheer energy. Movies seemed an impossible dream, but his only other ambition — opening a café where he could hang out with friends — was mocked as impossible by those very friends. As a troubled teen getting into scrapes he was rescued by a social program and wound up at Sigtuna, a small well-to-do boarding school where his roommate was the son of director Lasse Hallström. Suddenly Espinosa's desire to make movies didn't seem quite so abnormal. From there he applied to the National Film School of Denmark and was immediately accepted into its director's program. Beyond Child 44, he is looking ahead to A Gang Story — a remake of the French film Les Lyonnais —starring Liam Neeson, and The Racketeer, based on the novel by John Grisham. After its dictatorship gave way to democracy, Espinosa visited Chile once, and hopes one day to deal directly with its tragic history. In the meantime, dealing suspensefully with the world's other organized brutalities in whatever picture he's working on remains, as he puts it, the core destination.
Hobbies: I play chess — and I read comic books. Those are my two pastimes. Otherwise, I love to hang out with my friends. When you come from a working-class area, sitting at the café, where you can play chess and bullshit? That, for me, is the picture of complete happiness.
1:33, 1:85 or 2:39: 2:39 — that's mostly now 2:40. I prefer scope. I shoot all my things on film. I was the absolute last generation who did all my film school movies on film — whether shorts on Super 8 or Super 16. I've actually never shot anything on video, or digital.
Number of languages you speak: Six. That's because I grew up in different places — it's not because I ever studied — it's purely from a survival instinct.
Her beauty and talent are so evocative of her sister, Vera Farmiga (The Conjuring; Up in the Air), she can almost seem like a twin — a twin twenty-one years younger, with a generation's worth of kindred career potential ahead of her, that is. Her acting debut took her by surprise. When Vera was directing her first film, Higher Ground, in which she also starred, she needed someone to play herself as a teenager. Who better than this youngest of her sibs? Vera is second, Taissa seventh, in the New Jersey-born brood of Ukrainian immigrants Michael and Lyuba Farmiga. After Taissa botched her one line in a grammar school Thanksgiving play — made self-conscious by Vera's busy snapshots from the auditorium — she preferred the study of sign language (in which she's fluent) to any further thought of acting. She was wooed into Higher Ground at age fifteen by the promise of her sister's used pickup truck. After a taste of acclaim at Sundance, there was no turning back. Her splashiest follow-up came as Emma Watson's partner in crime in The Bling Ring, for writer-director Sofia Coppola. Her most widely seen work has been in American Horror Story, the hit FX series from Glee creator Ryan Murphy – co-starring Jessica Lange, among others — and to whose shape-shifting cast of doomed mortals and memory-haunted ghosts Taissa will soon return for season three. Later in 2013, she will play the romantic lead in Jamesy Boy, about a gang veteran turning his life around, along with Mary-Louise Parker and James Woods. Also on the way is Middleton, again beside Vera, but this time playing her college-age daughter. She turned eighteen in Barcelona last summer, while filming Mindscape for producer Jauma Collet-Serra and first-time-feature director Jorge Dorado. Given the complexity of her role as a brilliant but dangerous teenager whose motives — is she a sociopath, or a trauma victim? — drive the mysteries probed by detective Mark Strong, the project is likely to boost her stock even higher. Off camera, she pursues a passion for strenuous outdoorsy play (hiking, snowboarding) and trying new things. Prior to landing in Catalonia, she took lessons in how to drive a stick shift, the better to explore the surrounding country. She once confided to her Twitter followers that, "Skateboarding around in a pair of Toms on my last day of work is probably not the best idea that I've ever had…" But it's unlikely she'll repeat that gaffe, or any others.
One person, dead or alive, who's inspired your work the most: Vera has been a great example for me because of how she's handled her career with such grace.
Flight was a labor of love that took twelve years from conception to completion. Gatins was already a thriving screenwriter (Hard Ball, Coach Carter, Real Steel), Gatins but worried that his tale of a gifted pilot's struggle with his demons came from such a deep, personal place that no one would want it. Backers at DreamWorks and Paramount assured him otherwise. Even so, more years were needed to find the right combination of talents (Robert Zemeckis directing, Denzel Washington in the lead) to make it happen. Two Oscar nominations later — one for himself and one for Washington — Gatins is feeling so energized that he is producing Need for Speed, written by his brother, George Gatins, while continuing to churn out his own material. In addition to Real Steel 2, he's mulling an untitled project he won't discuss because it comes from as deep a place as Flight. He knew early in his Manhattan boyhood that he wanted to be an actor. While studying at Vassar, he fell in with a gang of filmmakers, and the week he graduated, moved to Hollywood, where he acted in sequels to Leprechaun and Witchboard. Writing arose by chance, when a guy sitting next to him in a poker game challenged him to try his hand at a script. The gamble paid off, and then some. The resulting spec script led to writing assignments and, eventually, a directing gig (Dreamer, with Kurt Russell and Dakota Fanning, in 2005). Since the triumph of Flight, the avid sports fan and father of three is soaring higher than ever. But his twenty-four years of experience have taught him to choose his battles. "Great movies aren't born," he says. "They fight their way to life."
Greatest extravagance: I'm a classic car fanatic. I drove up to a late-night newsstand once in my '68 Chevy Toronado and caught the eye of Jay Leno, who came up behind me.
Favorite way to procrastinate: I'm crazy for sports. If there's a Yankee game on, "I can't take that call."
Band you're obsessed with: Fitz and the Tantrums. I also love Bruno Mars and Chet Baker.
GRETA GERWIG
ACTOR-WRITER-DIRECTOR
Porcelain skin, elegant profile: Gerwig's beauty evokes that of Grace Kelly or Catherine Deneuve — when she's standing still. The paradox is that she is always in motion, from the eyes out, and so her presence more explicitly recalls her favorite of Woody Allen's muses, Diane Keaton. Small wonder Allen gave Gerwig a role in To Rome with Love. Smaller wonder still, she has formed a creative partnership with director Noah Baumbach, with whom she lives and has made three films: Greenberg, Frances Ha and their forthcoming Untitled Public School Project. For Baumbach, she serves not only as muse, but co-writer. She is currently working up a fresh solo script for herself to star in and direct. (Her debut as a writer-producer-director-star was in 2008, with Nights and Weekends.) The Sacramento native's first love was dance; she trained early in ballet, but prefers the jazzier, more improvisational aesthetic of modern. A drive to act emerged in her teens and ultimately drew her east to Barnard College, in Manhattan, where she had long dreamed of living, and which is now her home. She began writing to create acting opportunities — she didn't want to sit waiting for roles — and that self-starter work ethic made her a natural for the Mumblecore movement, with its no-frills, naturalistic ethos. In that vein, she made a slew of character-driven, micro-budget features in collaboration with Joe Swanberg (LOL, Hannah Takes the Stairs), Jay and Mark Duplass (Baghead) and higher-budget endeavors of the same freshness, Damsels in Distress for writer-director Whit Stillman, and (her 2012 breakthrough to the big leagues) Lola Versus, co-written by Zoe Lister Jones with director Daryl Wein. Partnerships and external stimuli best feed Gerwig's creativity. She devotes herself entirely to either writing or acting — preferring, if possible, to write when people are around. (She even writes when sitting in the makeup chair on other people's pictures.) She professes no hobbies, but when time permits, loves to binge on reality television. Given the madcap aura of interior channel-surfing she brings to the characters she plays, this is perhaps a prophetic passion.
Book that changed your life: I read and marked up David Mamet's True and False when I was fifteen and later rediscovered it after I'd been acting awhile. I forgot how heavily I annotated my copy. He confirmed something important. He basically advises, "Figure it out, kid. Stay out of school and don't have a fallback plan, otherwise you'll fall back."
Band you're obsessed with: I love Kendrick Lamar. Growing up it was REM, Van Morrison, Bowie, Lou Reed. My favorite song ever is "Lay My Love," by Brian Eno and John Cale.
MARK GILL
PRESIDENT-PRODUCER | MILLENNIUM FILMS
The breakaway success of Olympus Has Fallen reconfirmed Gill as a hands-on executive producer with an eye for strong story, and a thriving track record to go with it. There had been a moment of uncertainty on this point. Following his 2009 smash Law Abiding Citizen — which likewise starred Gerard Butler — Gill's company, The Film Department, found itself in the paradoxical position of having earned $90 million but unable to reinvest any of it, and thus forced to close. (Long story: squirrelly banks, the economic Ice Age of that ghastly year.) He landed on his feet at Millennium, whose team is in happy accord with his own working philosophy of roll the dice and make the movies. The Michigan native's first dream — sparked by the film All the President's Men — was to become an investigative reporter, à la Woodward and Bernstein. A journalism scholarship brought him west to USC. He worked at the Los Angeles Times and Newsweek, but didn't care for it. He crossed over to publicity at Rogers & Cowan, worked his way up through marketing at Columbia Pictures, Miramax and Warner Bros., then shifted to producing in 1998, with Brad Anderson's Next Stop Wonderland. Since then, his credits have balanced artistic ambition and audience savvy: Frida, Under the Tuscan Sun, Laws of Attraction and Around the Bend, at which point he and fellow producer Neil Sacker launched The Film Department. He drew two lessons from the reversal that shuttered this dream. The more private was simply: outwork everybody. (He acquired this ethic from his dad, a military man who coached him to become fluent in German in his teens.) The more general lesson applies to the business at large: There is no such thing as "too big to fail," especially for movies. With so much interesting drama migrating to television, people need a good reason to leave the house. With that in mind, he's confident of two items in his pipeline: Eliza Graves, the Edgar Allan Poe film that reunites him with Brad Anderson, starring Kate Beckinsale and Jim Sturgess, and Criminal, a sci-fi spy thriller from writers Douglas Cook and David Weisberg of The Rock. When he's not outworking everybody, Gill is home relaxing with his wife, writer Hanna Weg (The Beautiful and the Damned) and his son Jack.
Hobbies: I love to winter ski. I've been doing that since I was four years old.
One extravagance you've allowed yourself since you started producing: For a while we owned an apartment in Paris, in the 6th Arrondissement — but we had to let it go. We weren't visiting it enough.
Most unusual place you've found material: There's a romantic dream that you're going to find a good script in some out of the way place — but in my experience, the simple democratic method of finding good things by referral (through an agent, a manager or an enthused talent) is the only true way. Salma Hayek had the most passionate, odds-defying approach when she was pitching Frida. She put a 500-page Frida Kahlo biography in my hand and said, "Read it!"
Most prized office possession: A little sign I bought at the Churchill War Museum in London. It reads: Keep Calm. Carry On.
WILL GLUCK
WRITER-DIRECTOR-PRODUCER
He had already achieved success as a television writer — The John Larroquette Show, Grosse Pointe, Andy Richter Conquers the Universe — but writing, producing and directing the hit films Fired Up and Friends with Benefits elevated Gluck to a level where he jokes that the only thing that makes him anxious is being reminded of how much he's got in the pipeline. There's Annie, for one. This new adaptation of the classic comic strip and hit Broadway musical will star Quvenzhané Wallis (Beasts of the Southern Wild) as a foster-care kid from contemporary Spanish Harlem, adopted as a political ploy by a Bloomberg-like billionaire named Warbucks, who is planning a run for mayor (Justin Timberlake, phone your agent). For another, there's Skyjack: The Hunt for D.B. Cooper, which writer Keith Bunin is adapting from Geoffrey Gray's book for Gluck to direct. Skyjack will not be a period piece — setting it in the present makes better sense — the historical resonance of hijacker-bandit Cooper pulling off the perfect crime mid-air calls for detailed re-creation of the early 1970s, a comparative Age of Innocence in the realm of airport security. As Cooper's identity has never been firmly established, how will Gluck settle it? Freestyle, he answers: the film will follow the three likeliest candidates without weighing the scale in favor of any one, even to the point of cutting from the flight attendant to three different "Coopers" in the real-time dramatization of the robbery. This playful streak is in his bones. Gluck's mother was a professor of Japanese history at Columbia University, so he grew up in Tokyo as well as Manhattan. Storytelling and getting ideas on paper came easily to him: through middle and high school and Cornell University he discovered he could create for credit instead of doing term papers; he also did a lot of acting in school theatricals. Moving west to write for Hollywood was a natural step. As he looks ahead to Annie and Skyjack, he is also developing a slate of comedies: How to Disappear Completely (about a child prodigy: no relation to the Cooper project!); For Richer or For Poorer, about two thieves faking a wedding to steal a diamond; Secretary's Day (think Die Hard, with a young woman taking down the armed intruders); and a pilot for a new NBC comedy starring Michael J. Fox. With so much on his plate professionally, Gluck marvels that he and his wife are able to find time for their two small daughters. Anxieties aside, his motto is: Never Complain. The alternative, he says with a laugh, is far worse!
Digital or film: Digital. It allows me to shoot 45 minutes without a cut. I can step in and talk to the actors. It allows the energy to stay up. Nobody's getting wardrobe or makeup adjusted, nobody's on the phone. We roll.
1:33, 1:85 or 2:39: 2:39 — I tried 1:85 once and swore, never again. With the high quality of television, it makes no sense to shoot in a way that will only be crunched and distorted.
Book you're reading: I work so much in fiction that I relax with nonfiction: Hard Landing, by Thomas Petzinger, about the origins of the airline industry.
NORA GROSSMAN & IDO OSTROWSKY
PRODUCERS
Friends introduced them when both were out of work, and they clicked. Not as a romantic couple — both remain single — but as like-minded producers. Their first collaboration is The Imitation Game, starring Benedict Cumberbatch, directed by Morten Tyldum (see elsewhere on this list) and costarring Keira Knightley. Their next will be an "elevated thriller," as-yet-untitled, in partnership with J.J. Abrams at Bad Robot. What Grossman and Ostrowsky had in common when they got together over coffee at Insomnia Café in 2009 were strong backgrounds in television production and adventurous tastes. She'd assisted executives and knew how to put deals together; he'd worked in development with writers and knew story. While bandying about ideas, they caught a news item: British Prime Minister Gordon Brown apologizing for the mistreatment of Alan Turing after World War II. Who was Alan Turing? They researched and discovered a complex figure — a forefather of computer science, breaker of the Nazi codes and a martyr to bigotry against homosexuals. While chatting excitedly about him at a party, they chanced across an equally passionate Turing enthusiast in screenwriter Graham Moore, who came aboard and wrote the script, which topped the 2011 Black List. Viewed with 20/20 hindsight, Grossman and Ostrowsky's success seems inevitable. But in reality, it involved four years of grunt work, maintaining focus while supporting themselves with TV jobs. Grossman, the daughter of two writers who left the business, was born in L.A. but grew up in North Carolina. She knew early that she wanted to create entertainment, just not as a writer or director, so she majored in television production at Boston University. Ostrowsky was born outside Tel Aviv and arrived in southern California with his parents as a child. He studied at UCLA and followed a trajectory similar to Grossman's — eager to create, but comfortable working with writers rather than needing to write. After The Imitation Game, they will collaborate again with Graham Moore (as well as director Marc Forster) on an untitled TV pilot for Sky Atlantic in the U.K., as well as mount a play — Etan Frankel's Truth and Reconciliation — in Manhattan under the direction of Will Frears. They foresee a feature film in the piece, as well. In their increasingly scarce down time, Grossman enjoys adventure-dining and wine-tasting; Ostrowsky casts his friends' horoscopes.
Daily website visit: The trades, of course — but our guilty pleasure is the site ONTD "Oh No They Didn't."
Favorite vacation destination: Grossman: Anyplace in Europe. I tried Morocco, but won't be hurrying back. Give me Paris, Berlin. I'm a city person. Ostrowsky: Tahiti. I keep trying to convince Nora to give it a try.
One extravagance you've allowed yourself since you started producing: Grossman: A weekly paycheck! Ostrowsky: And we get to eat fancier meals.
Dream project: Ostrowsky: An "elevated" tentpole movie. Our dream would be to create a franchise as popular, and yet as sophisticated, as The Matrix. Grossman: I agree completely with Ido, but in the meantime, we're both perversely fascinated with any and all stories that leak out of North Korea. [Laughs]
KATHLEEN REMINGTON
AGENT | ICM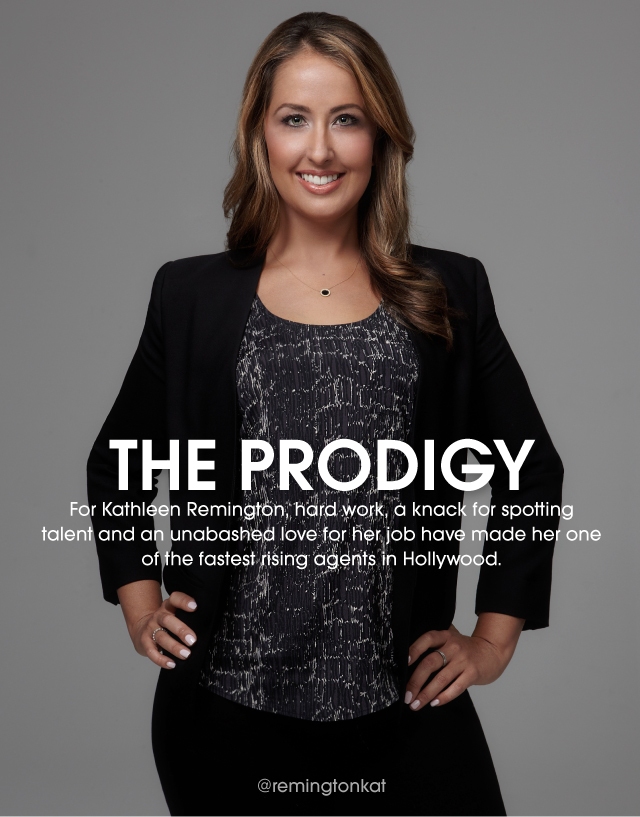 This imaginative, energetic rep has made a stellar career by thinking several chess moves ahead. Remington was so set on working for ICM that she chose to study at Southern California's Chapman University because so many of its previous alumni had landed at the agency — where she began as a trainee in 2005. Since becoming an agent in 2010, she has specialized in spotting hot potential.
She signed writer-director Lee Toland Krieger after chancing across his screenplay The Vicious Kind and has steered him through the hoopla that followed as the film that resulted made a smash at Sundance, and led from there to the 2012 release Celeste and Jesse Forever, directed by Krieger and starring Rashida Jones and Andy Samberg. Remington thrives on thinking out of the box and taking initiative. She also successfully resurrected a set of Topps bubblegum characters — the Garbage Pail Kids — when she discovered that the rights were languishing among a host of others controlled by ICM's Tornante Company. And when she overheard that ICM clients Megan Fox and Zoe Saldana were eager to work together, she coaxed two of her writers, Enzo Mileti and Scott Wilson, to work up a spec. The result is Swindle, a caper comedy from Paramount due out later this year.
What led you to want to be a part of the movie business, and specifically thinking about being an agent? I'm from Naples, Florida. Outside of going to the beach or to the movies or to a bit of theatre, there was nothing to do. I was always fascinated by movies. They shot Gone Fishin' [with Joe Pesci and Danny Glover] in Naples when I was either in middle or elementary school, and I got to go be an extra. That was the first time I'd really been on a set. I loved to see just how they shoot things — the way a conversation isn't just a conversation, it's two cameras, and all that. After that I became even more fascinated with movies. My father gave me the best advice: "Always go to school in the part of the country you may want to live in." The movie business was primarily in Southern California. Even though my family was a bit uneasy about me going too far from home, I came out here. Chapman was close to L.A., down in Orange County, but felt like a small East Coast town, more of a little community.
Their film school's really on the rise. So I went there, studied public relations and advertising. Because it was a film school, we also took all sorts of general film classes. I stayed focused on the sales and marketing side but still learned a lot about film. They have a fall and spring semester at Chapman, but in the middle there's a two-month break at Christmas where you can either take the time off or do a six-week course. I took a class they called "Sundance." After I started interning with ICM at the end of my freshman year, I went back to the festival — first on my own, with a film, while I was still going to school, and later with the agency.
Did you ever think of becoming a writer or director or actress? No, I never desired acting. At Chapman I gravitated toward the writers and directors, and the producers. One kid I met there turned up at Sundance my first visit. We barely knew each other prior to that, but discovered we got along. He said, "Will you produce my film?" I said, "Sure." I had no idea what a producer was. This was four months into my freshman year. We ended up doing it on location in Wisconsin, burning down a barn, with ABC, NBC and CBS news checking us out, along with print coverage. This was awesome in terms of helping us get into festivals and stuff later. I took very naturally to that kind of boots-on-the-ground promotion, as well as just being there, doing whatever was needed. I raised all the money for it based on no experience whatsoever: "Fake it 'til you make it." That was awesome. I'm not proud of the finished product so much as the process.
From the sound of it, the process was the finished product. Exactly, but you don't learn that until after the fact.
How early in your studies at Chapman did you set your sights on becoming an agent? Given what I had done on the film — everything, to make it happen — I knew that being part of this world, and making things happen, were the things I loved to do most. I'd been around agents a little bit by that time. Even prior to interning I'd observed them in action and knew this would be something I wanted to experience. The more I interned, the less I wanted to be at college — I wanted to be at ICM. I ended up graduating in three years, I wanted it so much.
No matter what it is, you always question "What if?" Did I do the right thing? Did I just do it because it was in front of me? I watched some of my friends go into development after Chapman. I thought we shared a common goal and a common view of things — but I saw them get so bored so quickly. I saw them missing the pace and the energy you can feel being involved with many different projects, and many different clients, living inside a whole career trajectory, not just concentrating your efforts on all these one-off projects. This was during the period of the [writers'] strike [2007-08]. Everything was changing in the business. Agents had an opportunity — not that everybody wants this, but the chance was there — to step up and think like a producer, to be really creative. The job was no longer a matter of just booking open assignments. There became no reason for me to ever want to do anything else. Given the range of my interests, I never feel like "I'm going to work." I don't know many people who can really say that.
What's the most unusual place that you've ever found material? Here in the digital era we have access to almost anything. There might be a viral video, or something you find because you've overheard somebody is talented and seek out their work on a hunch. Even when I was an assistant I would stay at the office until wee hours of the morning — Googling things, coming across them. The more I could know and understand the business, the more I understood the breadth and depths of different clients' desires, the more background there was for me to filter. That was always a good place to start. I'd be looking at a specific commercial advertising company, say, and would like what they've done. Then I'd focus on a director who may or may not have ever been approached, but who I could see and sense is capable of telling a story. I've found stuff online; I've found stuff at film festivals. I'd been going to Sundance long, long before I was even an intern at the agency. I went straight from Chapman as a student, where they actually have a class in how to navigate Sundance.
No kidding. To have your company send you to these festivals is great, but if you've never been before, you just won't understand all the ins and outs of the logistics. You won't be able to even think about making a discovery. You won't even know where to be, how to be. Sure, you can look up who is repped where — but there's so much more to it than that. The key is to be a student of the business, and of people, for a really long time, grasping the information and then just taking a step back. The key is not just riding the hamster wheel, but coming to an overview of what it's all about — whether you're looking at a new client or new material or a new way to create jobs.
How do you know who has what it takes and who doesn't? A little bit of it is gut. My clients may not be making millions of dollars — yet — but I identified and signed them early on — even observing some of them from the position of being an assistant. There's no single thing they have in common — not even genre.
Because I'm female, a lot of people will ask, "Oh, are you the romantic comedy girl?" I have a sweet spot for that genre, yes, but I am absolutely not exclusive about it. If anything, I probably judge them much more harshly than other people might — being a woman, and having a fondness for them. Judging "who has it" is more about trusting your inner compass. Not getting caught up in the frenzy of signing that can happen — especially around a festival — when a prospect looks inviting because it's un-repped. Some agents collect clients this way; it is a numbers game. But anything that I work on, I want to be waking up at six a.m., or be working on it late, until four a.m., because I like thinking about that client, and what it's going to take to help that project. I don't want to be doing it otherwise. Choosing prospects is not about who's a good person or bad. I have to be able to really believe in the work.
Describe a few deal making highlights. I don't think in terms of deal highlights. Instead, I look at things that have moved the needles for my clients. For the agency it's been longer, but for me, the last three years have been dramatic, putting everything in motion to have Garbage Pail Kids, as well as this other project we've been developing with Seth Grahame-Smith (author of Abraham Lincoln, Vampire Slayer), and are about to go out and pitch in the next couple weeks. That's going to be a really big deal. Lee Toland Kreiger is somebody I've worked with since I was an assistant. I read an early draft of The Vicious Kind, which went to Sundance in 2009. He was nominated for a few Independent Spirit Awards out of that film. But to then have him do Celeste & Jesse Forever, and see the next things that are in store for him — things everybody else will know about in the next couple months — that's huge, because that's been six years in the making. I'm really excited about some of our filmmakers, like Hannah Fidell. We signed her going into Sundance. Her film premiered in the "Next" section; then she won the "Chicken and the Egg Award" at South by Southwest — which is the same award Lena Dunham won. I love being involved and helping shape her career. A playwright I've been working with a while, Paul Downs Colaizzo, just opened his play [Really Really] in New York, off Broadway, with Zosia Mamet and Matt Lauria, to incredible reviews. We're working on a feature adaptation for that. What excites me is not so much "the deal." If you believe in the creative, the money will come. Fostering it, really being in on the ground level, is how I earmark success — all that blood, sweat and tears alongside the client, all these little victories, lead to the bigger ones down the road.
In terms of the "blood, sweat and tears," it must take a lot of patience. It's all nuance – all of it – even when you start as an assistant. One of my bosses said to me early on, "You're not a monkey. We're not paying you to be a monkey. Anybody can open my mail, answer my telephone. It doesn't matter that you have attention to detail. It has to be attention to the right detail."
Understanding the macro, the big picture — honing in — is key. I represent two horror writers; to each other, they're in competition. And yet, actually, if you know what they each want to do, if you pay attention to what their goals are, there's no real problem. One wants to be a writer-director, the other is more of an action guy, going more for genre. They're not in competition, even though maybe, on occasion, they may go up for the same job. Just knowing the client really well, knowing their deeper aims, and having a clear sense, is what makes it work — that, and always checking in, because those things change all the time.
There are more hyphenates today, more creative people of every type who want to become directors. The boundaries are melting away. How does that affect your ability to interpret your own job? That's exactly why I'm able to take a more [producer-like] approach than before, especially at ICM, because where we're at now is really representing the creator for the creator, and the vision that they have, and what they're capable of doing. There are actors that can write, and maybe prefer not to direct but produce. Some act, direct and produce but don't write. Some do it all. Musicians are crossing over into directing.
My role is to know — just knowing. You don't want to push a client that's a writer, who just wants to be a writer — who likes to work in their own kind of solitary environment — to go direct. That's not going to be the right fit. Knowing their goals, and coaching them on how to get where they aim to go, is why I get to work with people you might not think I would work with otherwise — like actresses that have directed, or actresses that want to produce. I try to find those elements to marry them with, whether they're at our agency or somewhere else, just to make the best creative projects.
What's the toughest part of your job? That it's all encompassing in your life, but I wouldn't change a thing.
What do you do to unwind? I like to sail, and I like to play tennis. I grew up around boats; I love boats, I love the water. That's one thing I didn't realize about Southern California — it's not a boating community like south Florida. There's a beach community, but that's very different. So for the last couple years I've been working on getting my own certification, rather than waiting around for someone to ask me out on a boat. Tennis is something I play for fun, not competitively.
What's the best part of your job? Probably that [it's all encompassing], too. I've been doing this, or been around it, since I was eighteen years old, and wouldn't take a day back. I woke up, and I'm twenty-nine. I don't know how that happened. But I have no regrets. I know where my twenties went! [Laughs] –F.X. Feeney
Hardy is acclaimed as much for the roles he chooses as he is for his superb performances. He's a raw, magnetic chameleon who for the past decade has carved out a career any actor could envy for its sheer diversity: the gay getaway driver in RocknRolla (2008), a Heathcliff who smolders from the marrow out in Wuthering Heights (2009), a shape-shifting expert amid the dream team of Inception (2010), a rogue agent in Tinker, Tailor, Soldier, Spy (2011), the gentlest yet toughest of three criminal brothers in Lawless and, most famously (but least visibly), tearing up Gotham City as Bane, the musclebound, masked super-villain in The Dark Knight Rises (2012). Filmmakers and discerning moviegoers have fallen in love with Hardy's unpredictability. Interviewers, too: the web is rich with wild samples of his arch wit and unfiltered honesty. Born in south London in 1977 — his mother is an artist, his father a writer — he entered drama school in his teens and briefly modeled before landing in HBO's Band of Brothers and Ridley Scott's Black Hawk Down (2001). A demon in his nature left him strung out on booze and drugs in those early years. By 2003 — his first marriage over; himself the father of a small son; waking up in unknown beds with gun-toting strangers — Hardy sought help, straightened out and made his name in what appears with hindsight to be an unbroken path of ascending excellence. Mass audiences may crown him superstar once he comes through this next round. In addition to the title role in Mad Max: Fury Road, the long-awaited rebirth of George Miller's iconic franchise, he's playing the romantic lead opposite Noomi Rapace in Animal Rescue, a crime drama written by Dennis Lehane. He's also filling the shoes a Soviet-era cop tracking a serial killer in Child 44, which likewise costars Rapace, as well as his idol, Gary Oldman, and inhabiting two historical icons — Al Capone in Cicero and Sir Edmund Hillary in Everest. With his pal Leonardo DiCaprio as producer, Hardy will then tackle an as-yet-untitled drama of Africa's illegal hunting and animal trafficking. There is also an untitled '60s biker saga for producer Art Linson, and finally Samarkand, which he will produce and star in, about a recovering Iraq War vet. Not surprisingly, Elton John — exec producing a biopic about his own life — recently offered him that plum lead as well. Hardy would be perfect, but that's not exactly news.
Band or singer you're obsessed with: Sexy tunes of all shapes and sizes: anything defined by true emotion; dirty and sexy and raw and street. Nas, 50 Cent; Beyonce, Jimi Hendrix, John Lennon, Sinatra, Ella.
Pastime or hobby you've taken up between takes: Knitting looks attractive — you see a lot of that on film sets.
STUART HAZELDINE
WRITER-DIRECTOR
Since Hazeldine made his directorial debut with the acclaimed one-room thriller Exam (2009), his star has been rising on two tracks. Although he is primarily in demand as a writer — most often as a dreamer of worlds, in the realms of fantasy and science fiction — his wheelhouse now encompasses more earthbound, if still spectacular, human history. His epic about Moses, Gods and Kings, originally developed for Spielberg, is now being considered by Ang Lee. For eight months of 2012 and '13 Hazeldine worked one-on-one with Michael Mann on Agincourt, about the 1415 battle between Britain and France. (This is Mann's next projected feature after his forthcoming Cyber.) An adaptation of Paradise Lost, Milton's epic poem about Lucifer battling fellow angels, is momentarily in limbo — battling more immediately to keep its budget in the low hundred-millions. Moviemaking has been his goal since early childhood. Son of a computer technician dad and an artist mom, Hazeldine blended their skill sets and pursued his dreams methodically — making short films at the Universities of Kent and Massachusetts at Amherst, then working as a background extra in such crowded '90s productions as Interview with a Vampire, First Knight and Kenneth Branagh's Frankenstein — the better to bump into producers at the craft services table. Soon enough, he sold his first script, Underground, and wrote two attention-getting spec sequels to Alien and Blade Runner. Neither led to production — but both were born out of sincere passion and got him meetings. He became a writer on The Day the Earth Stood Still and Knowing, uncredited efforts that cemented close creative partnerships with directors Scott Derrickson and Alex Proyas. As a believing but not evangelical Christian, he finds Peter Weir's knack for communicating the unseen inspiring. Movies for him are not a medium for preaching, yet his beliefs help him regard even his worst villains with a redemptive empathy. He has many projects afloat in diverse pipelines — including Tripods, from John Christopher's popular novels, and Battle Chasers, a hybrid of wizards and sci-fi he is proud of — but his main focus is the next film he'll direct, All Hallows Eve. It's a ghost story set in London during the Blitz, taken from a novel by Charles Williams — the mentor of C.S. Lewis and J.R.R. Tolkein. Hazeldine admires the fresh juice Chris Nolan wrung out of dreams in Inception, and Rian Johnson squeezed from time travel in Looper. He plans to do the same for ghosts.
Favorite way to procrastinate: I'm a Twitter-holic.
Band you're obsessed with: Radiohead, and a '90s band called Talk Talk, whose album Spirit of Eden I listen to more than might be healthy. For classical, I would say Arvo Pärt, an Estonian, who is our greatest living composer.
Ritual you adhere to once your film's wrapped: I've only made one movie, but the ritual was to go check into the hospital with stress. [Laughs] True: but that was because I wrote, directed, produced and financed it. Wearing the Big Four hats on one head, which I don't really advise, was more than my system could handle.
Number of languages you speak: Regrettably, I only speak English. I am one of those lazy people. But I compensate for that by dating girls who are multi-lingual.
If there's a crown for franchise king, this man is wearing it. The pale eyes, the raspy voice, the jacked physique and Australian passport are assets he shares with pre-Gladiator Russell Crowe and pre-meltdown Mel Gibson. He's Thor, he's the Huntsman in Snow White and the Huntsman, he's Captain Kirk's father — roles he's lately been reprising in various sequels — Star Trek: Into Darkness, the forthcoming Thor: the Dark World, the next Huntsman and Thor's secondary franchise, The Avengers 2. One could easily imagine him contentedly jogging along on the billion-dollar hamster wheel of these cash juggernauts, except that within each role — no matter how iconic — he communicates such authenticity and easy humor that directors in search of more earthbound heroics have taken notice. Michael Mann has cast him in the lead of Cyber, about high-tech crime and terrorists, currently filming in China and Los Angeles. Ron Howard has him locked for two pictures: Rush, a biopic about the odds-defying recovery of 1970s race-car driver Niki Lauda from a nearly fatal crash, and In the Heart of the Sea, an account of the 1820's whaling adventure that formed the factual basis for Melville's Moby Dick. Beyond these, Hemsworth is signed to lead a special ops team in Shadow Runner — no director yet attached — whose writers are the in-demand team of Chris Cantwell and Chris Rogers. Born in Melbourne in 1983, he was raised in the Northern Territories (that's the crocodile-infested outback, Yanks), where his parents herded buffalo and ran the local feed store and post office. He loved to surf and box, even dance — in 2006, he held his own on Australia's Dancing with the Stars, cutting a confident and jubilant figure in Latin numbers — but acting has been the central ambition since his teens. Perhaps the cause is genetic. His older brother Luke is a TV star back home, and his younger brother Liam is coming up fast in Hollywood, as a co-star in the Hunger Games series. The three fought wildly as kids — so much so that their parents would dispatch them to separate relatives for vacations — but are intensely close now. Making peace with volcanic impulses will be the not-so-hidden key to the 6' 3" Chris's quiet stability off camera and the solid warmth of his presence onscreen. These days, he's starting his own family. He has a small daughter with actress Elsa Pataky (Snakes on a Plane, Fast & Furious 6), whom he married in 2010. His fallback profession if acting didn't work out? Mowing lawns.
Band or singer you're obsessed with: Never exactly obsessed, but the very first album I ever owned was Metallica. These days, I enjoy John Mayer.
Pastime or hobby you've taken up between takes: Playing the guitar.
ROB HERTING
AGENT | VERVE
Herting's first passion, ice hockey, has proved excellent preparation for his rise at Verve. Both the job and the sport require aggression, fast reflexes and an ability to think on one's feet. Those traits, along with a friendly self-confidence, have attracted an impressive list of emerging talents that includes six writers featured on the 2012 Black List, including such up-and-coming directors as Daniel Benmayor, of the Spanish action hit Bruc and the upcoming American thriller Tracers; Carl Tibbets, of The Retreat; German-born Aleksander Bach, who is currently prepping Agent 47 for Fox; and writer-director Shawn Christensen, whose short film Curfew just won an Academy Award. It helps that he's the L.A.-born son of a movie distributor. Well prior to studying finance at the University of Connecticut and returning home to begin his climb in the Endeavor mailroom, Herting imbibed talk of grosses and first weekends with his boyhood breakfast cereal. He followed when Verve broke away from Endeavor and in 2010 became a full-fledged agent. Here again, hockey is a handy analogy. His skill set, as he defines it, is a situational understanding of the different players — the things they respond to, placing them in the right situations. When he's not working — you guessed it —he skates on a hockey team, Westside Venice Hockey.
Favorite restaurant to schmooze clients: Tar & Roses in Santa Monica.
Book you're reading: A Hologram for the King by David Eggers.
As Richard Harrow, the facially disfigured war veteran-turned-assassin on the HBO drama Boardwalk Empire, Huston expresses far more with his body than with words, his wound having robbed him not only of his dignity (and, some would say, much of his soul) but his ability to speak clearly behind the tin mask he wears to conceal his wound. After working with Huston in one episode, director Susanna White saw to it he got a flashy cameo in another HBO project, the World War I-era miniseries Parade's End, written by Tom Stoppard. Others have taken notice as well. Although Huston narrowly missed the lead in Marvel's forthcoming Guardians of the Galaxy, David Chase gave him the key role of a turbulent teenage rocker in Not Fade Away. He will soon be seen portraying Jack Kerouac at age 22, when he was a bright, unknown climber, in Kill Your Darlings. Bille August cast him opposite Jeremy Irons, Mélanie Laurent and Lena Olin in Night Train to Lisbon, in which he will age three decades in the role of an inscrutable Portuguese philosopher and resistance fighter. Not a bad run so far. Then again, if biology is destiny, his talent and magnetism were preordained. He is, after all, one of the Hustons: son of screenwriter Tony, great-grandson of Walter, grandson of John, nephew of Anjelica and Danny. But this Hollywood pedigree won him no notice growing up in London, where he was born in 1982. Instead, as the son of Lady Margot Lavinia Cholmondeley, he is recognized in the U.K. as part of a somewhat more vintage aristocracy. He wears both sides of this heritage with lighthearted cheer. The Huston DNA kicked in when he was a small child. His earliest ambition was to be a painter, and he still pursues his passion for art between acting gigs. True to the tradition of his American forebears, he plans to direct. True to an even more venerable tradition, he and model Shannan Click have just become proud parents of a baby girl.
Favorite vacation destination: Brazil. – Brazil's got it all.
Book you're reading: Sunset Park, by Paul Auster. But I just finished A Fraction of the Whole, by Steve Toltz — a brilliant read. Also, Jeannette Walls's memoir, The Glass Castle.
One thing people don't know about you: [Laughs] I'm incredibly loving.
RIAN JOHNSON
WRITER-DIRECTOR
Each of Johnson's three films — Brick, The Brothers Bloom and Looper — has been a fresh departure from its predecessors. Brick imposed a pulse of Raymond Chandler-like meditation on a murder mystery set in an American high school. The Brothers Bloom, part epic, part card trick, follows a pair of con artists at the mercy of a ditzy femme fatale. Looper, Johnson's biggest commercial hit, delivers all the slam-bang beats of a time-travel matinee, yet manages to strike a mournful, existential note worthy of It's a Wonderful Life as its hero confronts not only himself but his own missteps across thirty years. A major body of work is in progress. Johnson sometimes wonders whether he'd be a more richly imaginative filmmaker if he'd ever tried to do anything else with his life, but no such luck — making movies has been his passion since he was eight years old in San Clemente, and his dad brought home a video camera. From there it was a straight shot to USC Film School. Growing up with a passion for reading and writing, he was moved by the way Ray Bradbury would tell personal, emotionally dimensional stories using science fiction serve as a delivery mechanism for deeper feelings. He likewise strives to anchor any element of fantasy or genre in solid human observation. He likes that each new project brings with it unique problems to solve in the writing — that's why each script takes time. Fortunately, he's been just successful enough that each film has bought him the time needed to write and attract backers for the next one. Between features, he sometimes directs television. He recently completed his third episode of Breaking Bad, and like so many other filmmakers, is energized by the opportunities that have opened up in TV over the past decade. Even so, Johnson has no desire to create a series as yet. He is hard-wired to the energizing limit of two hours to tell his tale, he says, and feels only awe toward the sort of imagination that can sustain a set of characters across several years. But ask him if the success of Looper has made it easier to set up his next project, and he chuckles. The only difficulty, as ever, is getting the next one written.
Book that changed your life: Lord of the Flies by William Golding.
Digital or film: Still a film guy.
1:33, 1:85 or 2:39: This will sound like a cop out, but I love them all for different reasons. 1:33.
Ritual you adhere to once your film's wrapped: I get sick. I get the flu — like clockwork. It's a ritual I hate, but I stick to it.
Hidden under the anonymous-sounding Scotch-English name Duncan Jones is a remarkably colorful life history. As the only son of rock icon David Bowie and his first wife, Angie Barnett, Jones was world-famous at birth — known to his father's fans by his middle name, Zowie. He grew up in London, Berlin and Switzerland amid fireworks of wildly contrasting input. Privy to the rock-a-delic storms of his parents' turbulent marriage and divorce, he attended strict boarding schools but was also raised in loving stability by his Scotch nanny, Marion Skene, as well as by his father — who, for all the upheaval of his own life, was devoted and instilled in him the habit of reading for two hours a night. Jones was within reach of a PhD in philosophy at Vanderbilt in Tennessee, but a creative itch nourished by his love for the writings of George Orwell, Philip K. Dick and J.G. Ballard moved him to cross the Atlantic to attend the London Film School. After graduating as a director he took work operating a camera for Tony Scott on the British TV series of The Hunger, and flourished making commercials. He then developed Mute and, ultimately, Moon — which echoed his dad's hit song "Space Oddity," likewise about a lonesome astronaut. The tense, poetic solitude of that film served notice that a gifted new director had arrived. His next, the time-bending fantasy Source Code, established that Jones is not only here to stay, but likely to grow stronger as a storyteller and possibly to become great. The films he is planning at present form a bright range. In addition to Warcraft, a fantasy epic based on the popular game World of Warcraft (scripted by Charles Leavitt of Blood Diamond and K-Pax), which Jones is prepping with an eye to release in 2015, there is an untitled biopic about James Bond creator — and real-life spy — Ian Fleming, paralleling his adventures with what he dreamt in public. Also still in play (though much upstaged by these other colossi) is Mute, a futuristic noir in the Blade Runner mold, set in what he imagines Berlin will become. He co-wrote this prior to Moon with Michael Robert Johnson. Away from work, he's active in promoting breast-cancer awareness with his wife, Rodene, who is a survivor herself.
1:33, 1:85 or 2:39: I shot Moon in 2:39, Source Code in 1:85. With the right subject matter, you could probably shoot a film on an iPhone if you treated it right in post.
Jones has been acting professionally for half her life. The native of Bournville, in the British West Midlands, got her start in the U.K. TV series The Worst Witch, and has kept busy ever since, balancing stage, television and film work with the pursuit of an elite education — she studied English at Oxford. Her feature highlights include starring roles in Julie Taymor's adaptation of Shakespeare's The Tempest and the romantic drama Like Crazy, which grabbed the Grand Jury Prize at Sundance two years ago, and for which she took home a Special Jury Prize for her performance as a British student at a U.S. college who overstays her visa when she falls for an American classmate. Along the way, she played Bill Nighy's judgmental daughter in David Hare's Page Eight, a cheeky athlete in Chalet Girl and the ambivalent bride in Cheerful Weather for the Wedding. This year she re-teams with Crazy writer-director Drake Doremus for Breathe In, co-stars with James Franco and Jonah Hill in the crime drama True Story, and plays an actress who catches the eye of Charles Dickens in The Invisible Woman, costarring and directed by Ralph Fiennes. Then, in 2014, she'll be seen in Amazing Spider-Man 2. Encouraged by her mother, she developed a love for both the theater and film as a child, but for a long time resisted calling herself an actor. At one point, she considered becoming a lawyer, but finally decided she'd be much better playing one. For the rest of her teens she balanced stage and television work with her Oxford studies. Her critical breakthrough came when she played Laurel, the disturbed daughter in a 2008 revival of Enid Bagnold's play The Chalk Garden — a character that haunts her to this day, often invading her thoughts when the curtain goes up on another play. To Jones's credit (and, no doubt, to the consternation of her agents), all those movie offers haven't shaken her loyalty to the stage — so much so that when she was offered the role of Snow White opposite Julia Roberts in Mirror, Mirror, she turned it down to play Friedrich Schiller's Luise Miller onstage at the Donmar Warehouse in London.
One person, dead or alive, who's inspired your work the most: More than one, and for different reasons: Isabelle Huppert's intensity, Helena Bonham Carter's diversity, Katherine Hepburn's timing, Audrey Hepburn's whimsy.
Director you hope to work with one day: Woody Allen.
Band or singer you're obsessed with: Kanye, Kanye, Kanye.
Pastime or hobby you've taken up between takes: Trying not to worry about how the last take went.
ALEX KARPOVSKY
ACTOR-WRITER-DIRECTOR
Fans of HBO's Girls know Karpovsky as Ray, the cranky coffee shop boss who deflowered, and later moved in with, Shoshanna (Zosia Mamet). Not as well known is that, in addition to acting, he's been writing and directing low-budget films for the better part of a decade. His features include The Hole Story, Woodpecker, Rubberneck and Red Flag, the latter two of which were selected for this year's Tribeca Film Festival. Girls has led to some interesting offers, including a role in the Coen Brothers' latest, Inside Llewyn Davis, and Sam Neaves's Almost in Love, a ninety-minute drama costarring Alan Cumming that unfolds in two forty-five-minute takes, with only one cut in the middle of the film — a carefully choreographed, heavily rehearsed work that summoned every bit of theatrical precision he could muster. The son of Russian immigrants, Karpovsky grew up in Newton, Massachusetts — birthplace, he's proud to note, of Amy Poehler and B.J. Novak, not to mention Bette Davis, Jack Lemmon and Matt Damon. Growing up, he thought he'd wind up in academia, like his father, a professor of computer science at Boston University. With that path in mind, he moved to England to study at Oxford, with the intention of becoming an anthropologist. On a whim, he tried his luck at standup, and liked it so much that he took a leave of absence to pursue it full time — and never went back. Later, while performing in karaoke and corporate videos in New York, he trained as an editor to pick up some extra cash, which led to directing. At one point in his perambulations, he ran the Tilt-a-Whirl ride at a carnival. On some level, given the trajectory of his career and the divergent tone of his films — Rubberneck is a thriller about a lab worker who becomes obsessed with a female colleague, Red Flag a comedy about a self-involved indie filmmaker recovering from a bad breakup — one might say he's still at it. When Karpovsky's not shooting Girls or one of his own projects, he can be found shooting hoops around New York.
Digital or film: Digital.
1:33, 1:85 or 2:39: 1:85
Favorite Restaurant in the world: None. Too picky and specific about what I won't eat. Too much lard and fat in restaurant food, for my taste.
Greatest extravagance: Buying DVDs – huge library.
BALTASAR KORMAKUR
ACTOR-DIRECTOR
Being an actor is no guarantee that you'll be a good director, but acting was great preparation for Clint Eastwood, Robert Redford, Barbra Streisand, Kevin Costner, Mel Gibson, Ben Affleck and lots of others. And it certainly helped Kormákur, the Icelander behind last year's action hit Contraband, starring Mark Wahlberg, and the upcoming action comedy 2 Guns, with Wahlberg and Denzel Washington. Kormakur, 47, got his start as a dashing actor in such international art-house favorites as Devil's Island and Angels of the Universe, directed by his mentor Fridrik Thor Fridriksson. His own efforts behind the camera were drew wider acclaim: 101 Reykjavik won Toronto's Discovery award; The Deep was Iceland's submission for the Best Foreign Language Film Oscar; his half-dozen others have been showered with prizes from Istanbul, Kalovy Vary, Locarno and other festivals. A remake of Reykjavik-Rotterdam, a 2008 thriller Kormákur owned — having which he produced and starred in it, but not directed it — became Contraband, which put him on the map in Hollywood. Born in Reykjavik, he was immersed in the arts as the son of a Spanish painter who designed sets for operas. Kormákur himself trained as a dancer, a painter, an actor. Fueled by "this need to be my own boss," he began directing theater while establishing himself as an actor in Iceland. "Film was a natural next step," he says, "and I loved it so much there was no looking back." Even so, he still directs for the stage, which he calls "director's gym." He also owns several thriving companies in Iceland, where his wife, Lilja, breeds and trains horses on their farm. Blue-Eyes Productions is for his own films. True North is a general-services firm to facilitate production in Iceland for other filmmakers. In addition to producing Rocket Man for his countryman Dagur Kari (Noi), Kormákur is currently in Hungary directing The Missionary, a Cold War-themed pilot for HBO. He is also in talks with Christian Bale about a possible film set on Mount Everest — to be on location in the Himalayas — as well as a three-film project he's been planning for over a decade, The Viking Trilogy.
Digital or film: I used to say film, but The Deep opened my eyes to digital. If I shoot on Mount Everest, digital will work best in higher altitudes.
1:33, 1:85 or 2:39: 2:39.
Most unusual place you've found material: A Little Trip to Heaven, with Forrest Whitaker and Julia Stiles, came to me in a dream.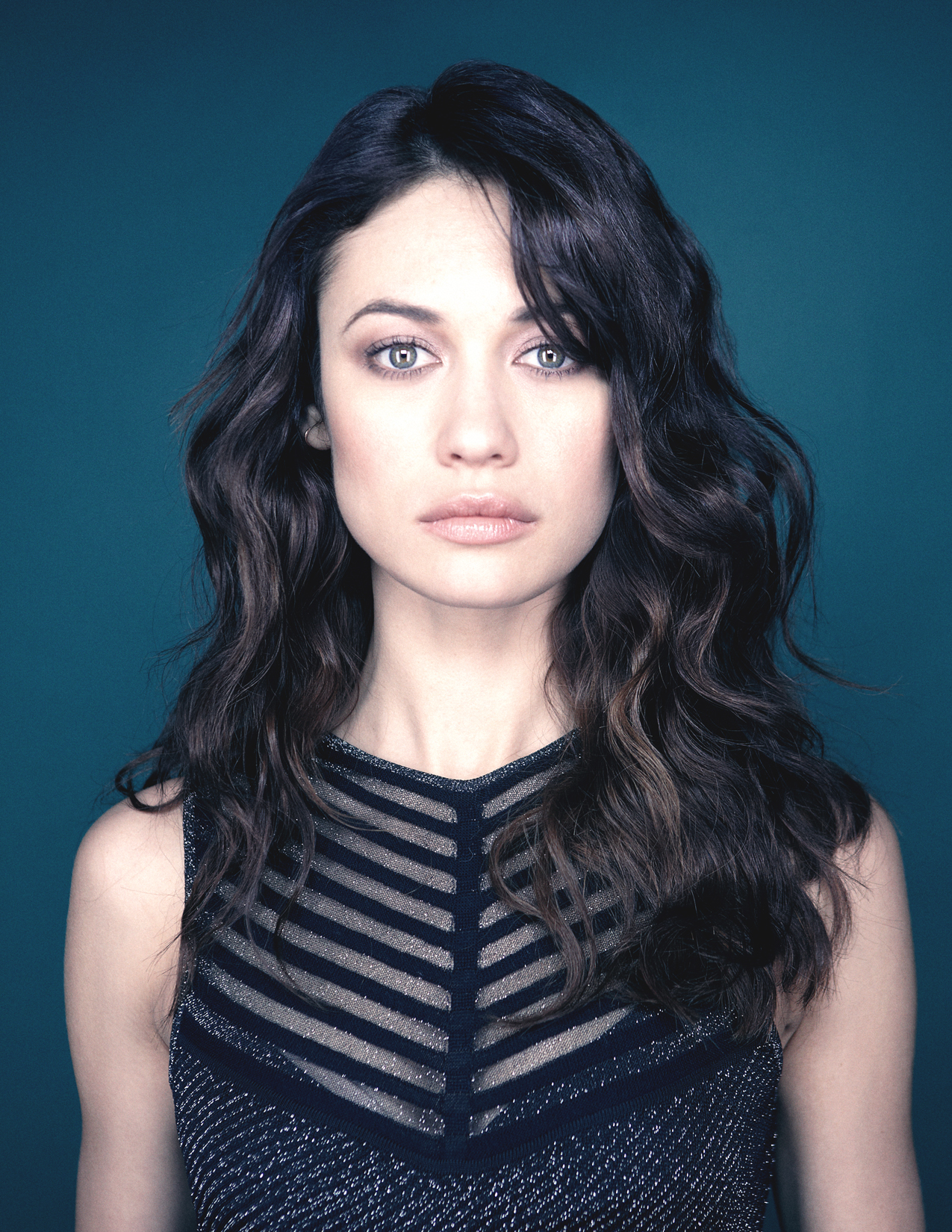 Although she's been operating at a high level since she costarred as 007's rival assassin and eventual ally in Quantum of Solace, Kurylenko has yet to find her limit in star power and critical recognition. She shone opposite Ben Affleck in Terrence Malick's To the Wonder, held her ground with Tom Cruise in Oblivion and continued her lead role in the Starz cable drama Magic City — a part that grows more complex and interesting as creator Mitch Glazer, enthused by her work so far, gives her more to do. Her one misstep was the role of Queen of the Mermaids in Empires of the Deep, a 2010 Chinese production that aspired to rival Avatar for visual wonder but remains submerged like Atlantis beneath the murk of its own post-production. Such woes never trouble Kurylenko. Growing up in dire poverty in the Soviet Ukraine made her flexible and realistic about opportunities. If something doesn't work out? Take it in stride, move on. Six years old when Chernobyl melted down in 1986, forbidden to play in the rain for years thereafter, she was trained by her art teacher mother and physician grandmother to be a bull-headed survivor. Money didn't come until a chance encounter started her modeling and traveling at age 14. A French citizen now, she is based in London — the better to hone her English. Next year she'll be school headmistress in Vampire Academy: Blood Sisters, a Goth fantasy (and likely franchise) with comic undertones from writer Daniel Waters (Heathers) and director Mark Waters (Mean Girls), from the bestselling novels by Richelle Mead. She will be the female lead in November Man, a Cold War espionage-and-assassin thriller from director Roger Donaldson — both a coming-full-circle and step-up in the sense that Kurylenko will co-star with an earlier Bond, Pierce Brosnan, in a spy scenario richer with period interest, psychological layers and double-cross. Single for the moment, not yet fully settled, Kurylenko gives back for all the good fortune that has come her way by supporting a variety of charities, particularly Hopes and Homes, which carefully matches orphaned children with loving parents. Money is good — about this, she has no illusions — but given the strength she got from the women who raised her, she insists love is what matters most.
Director you hope to work with one day: Why stop at one? I'd like to work with Woody Allen, with Martin Scorsese, Lars von Trier, David Lynch — if he ever decides to make another movie! David Cronenberg? My God — the list could be endless. Just say, "And so on!" [Laughs] Pastime or hobby you've taken up between takes: I love learning languages. That, for me, is the great pleasure of travel — which I also do a lot, for work, just as I read a lot for relaxation and watch a lot of films. But if I have a passionate pursuit apart from acting, it is that. If I was to stay in Japan longer, I'd be learning Japanese right now. I just love languages. I could spend my whole day just searching for words. If I had to learn a language for a movie? I would do it! I know that sounds crazy, but I wouldn't hesitate. [Laughs] It's the only thing I'm sure of, in my capabilities!
NIIJA KUYKENDALL
VICE PRESIDENT, PRODUCTION | WARNER BROS
Given her deft people skills and astute story sense, it makes sense that Kukendall's first ambitions combined journalism and anthropology. In her executive role, she wears many hats — consultant, project leader and liaison between filmmaker and the studio, to name a few. Even a bit of a lion tamer, at times: "Each project is unique, its own animal," she says. With the inevitable tension between art and commerce, filmmakers use her as a sounding board and run ideas by her to assess risks. Although some in the industry worry about the studios' increasing focus on tentpoles, Kuykendall is not among them. With the amount of money it takes to make a film, especially on a studio scale, every project is a gamble, but, she says, "Talent minimizes risk." It's a maxim evident in the pictures she has shepherded most recently— Soderbergh's Contagion and Magic Mike, Affleck's Argo, Ruben Fleischer's Gangster Squad. The other crucial piece of insurance is a good story. Of the twenty or more films she is managing now, she is particularly excited about a new adaptation of Stephen King's It, to be directed by Cary Fukunaga; a Hitchcockian thriller called Trust Your Eyes; and Guillermo del Toro's forthcoming take on Beauty and the Beast. With so much going on at work, she doesn't have much time for a personal life, but counts herself lucky that, having grown up in Los Angeles, she is close to her family. Her love for stories began in early childhood, by which time she was already a voracious reader. Growing up, Lord of the Rings and the complete works of Nancy Drew fed her imagination, and Toni Morrison's Beloved invited her to consider reality in a more mythic and imaginative light. In all, an ideal grounding for her immersion in Anthropology and Media Studies at Brown University. And the skills and knowledge she acquired there have helped her each step of the way — from corporate relations at Viacom, to development at Beacon, to a creative executive position at Twentieth Century Fox and, finally, to her present role at Warner Bros. "This job is a surprise," she says, "because it uses everything."
Most prized office possession: I have two, and can't decide which is the more prized. One is a really cool poster of Tupac and Biggie, signed by the artist, Justin Bua. The other is the poster Jude Law carries about with him in Contagion, which reads: "Prophet vs. Profit."
Daily website visit: The Sartorialist.
Favorite vacation destination: Trinidad during Carnaval.
MAX LANDIS
WRITER-DIRECTOR
He's not shy about his quirks: "I do a tremendous amount of writing naked." And he doesn't lack for confidence: "I'm very comfortable with the — maybe fantastical — notion that I could leave some sort of mark on the entertainment industry in the same way that a Joe Dante or John Carpenter or J.J. Abrams or Steven Spielberg has." It's an apt combo for the son of John Landis, director of Animal House, The Blues Brothers, An American Werewolf in London and other idiosyncratic hits. He and his dad even share the same birthday. Twenty-six-year-old Max first made his mark as the writer of Chronicle, although he admits only half in jest that he's tired of talking about it — that was over a year ago, and now he's occupied with a boatload of other prospects. Ironic, considering the University of Miami dropout failed the only screenwriting course he ever took. In addition to his fresh take on Frankenstein — to be directed by Paul (Sherlock) McGuigan — told from the perspective of Igor, to be played by Daniel Radcliffe — several other of his scripts have been bought and are headed for production. Among them: Woogles, an adventure slated for director Timur Bekmambetov; Amnesty, for Universal and Imagine; the action comedy Good Time Gang; a sequel to Chronicle; and a hush-hush project for Disney he's not permitted to name. He has also agreed to direct Me Him Her, a sex-themed, character-driven comedy from his own script. His penchant for writing in the buff notwithstanding, he admits a weakness for loud clothes — rainbow jackets, Mad Max leather slacks — but is otherwise almost comically frugal. He drives a 2005 Honda Civic: literally his grandmother's car. Another quirk, perhaps, but the confidence never wavers. Ask him his career goal, and he is blunt: "I want to be a brand."
Hobbies: I love to watch wrestling. I like quiz shows.
Favorite vacation spot: Hicksville, in Joshua Tree. A very retro trailer park: dirt roads; a bizarre oasis.
Music you listen to while writing: Lately I've been listening to a lot of Electric Light Orchestra. I'm devoted to Taylor Swift. My dream is that we'd have a — quick — dating relationship, and that she writes a really angry song about me.
ADAM LEON
WRITER-DIRECTOR
Leon's debut feature, Gimme the Loot, was a home run well in advance of its release. The edgy, energetic neorealist comedy about two young graffiti artists on a day-long quest to one-up a rival crew debuted in the Directors Fortnight sidebar at the 2012 Cannes Film Festival, then took the Grand Jury Prize at South by Southwest and won earned Leon "Someone to Watch" honors at the 2013 Spirit Awards. Finally — and fittingly, given the movie's upbeat humanity and offbeat observational style — Jonathan Demme lent his name as "presenter" when Sundance Selects released it earlier this year. Leon is grateful, but has not allowed the acclaim to go to his head. Growing up in Greenwich Village, he knew by age five he wanted to be a filmmaker, after being dazzled by Star Wars. The ambition seemed so unlikely that he half-envied those friends who simply wanted to be firemen, or rock stars. But by age eight he was busy with a Fisher-Price camera. He also got busy as a writer — relentlessly getting his ideas on paper through high school and college. After production assistant gigs on the Woody Allen pictures Melinda and Melinda and Hollywood Ending, he co-wrote and co-directed a short, Killer. Which may explain why, despite its urban, low-budget grit, Gimme the Loot has the buoyancy and confidence of a more experienced filmmaker. Now, in addition to planning his next feature, he's developing a series for HBO. He won't discuss it in detail — partly because he's honoring an agreement, but also to keep his options open. Though he confirms that the basic premise begins with characters and situations from Gimme the Loot, his operative principle is: Why impose limits? It's a philosophy that has served him well thus far.
Digital or film: I shot my short on film and thought I would never convert to digital — and yet we were able to achieve a filmic texture for Gimme the Loot that has changed my view entirely.
Ritual adhered to once your film's wrapped: I got a tattoo when we completed Loot. Maybe that will become a ritual?
Favorite way to procrastinate: Smoking weed, listening to music.
JONATHAN LEVINE
WRITER DIRECTOR
"Don't put me in a box" appears to be Levine's motto. Warm Bodies looks like a zombie movie going in, but with a bright somersault becomes a touching, funny, lonely-guy-on-a-date comedy. 50/50, about a young man confronting cancer in his twenties, likewise blindsides any expectation of nobility-achieved-through-grave-illness with a biting, funny intensity and a far more believably upbeat change in its hero. The Wackness and All the Boys Love Mandy Lane also throw curves. As Levine sees it, his job isn't to keep the audience guessing — it's to keep executives and backers guessing, a key to creative freedom. His deeper goal is to keep surprising himself. The desire to make films developed early. At Brown University, he went at it with his intellect, studying Semiotics; he then took a more nuts-and-bolts approach, first working as personal assistant to writer-director Paul Schrader for a year, later in the directing program at AFI, where he made the connections that led to his first feature. From Schrader he picked up work tips: to fight the distractions of the internet, the Taxi Driver scribe would write screenplays on an old word processor; Levine would reconfigure the results into Final Draft. Perhaps even more valuable were the insights he acquired from listening in as Schrader navigated the deal-making end of the business. Now that Warm Bodies has become a life-altering success (after raking in over $100 million) those lessons are even handier — especially the ones about fighting distraction. Many intriguing projects are being touted on the web with Levine's name attached as director: a dystopian-future romance, a crime drama, a murder-mystery. But he says he's more focused on writing — planning a Christmas movie-meets-raucous-party movie, working up a pilot for Showtime set in a film school. Meanwhile, his collaborator on 50/50, Will Reiser, is writing Jamaica, a new comedy that Levine plans to direct, based on Reiser's memories of being booked by mistake into a tropical couples resort with his increasingly disoriented grandmother. For the moment, Levine likes that you don't know what you're going to get from him. "That makes it hard for the marketing departments, but so be it."
Favorite way to procrastinate: The Internet! I'm the kind of guy who has ten windows open at any given time, I'm IM'ing with five different friends — I've turned procrastination into an art form.
Digital or film: Film! That said, I just saw Spring Breakers and was impressed with digital for the first time. Gorgeous.
1:33, 1:85 or 2:39: Depends: I've more often shot widescreen, but on 50/50 we used 1:85 because it was right.
Daily website visit: Fantasy Baseball. What Would Tyler Durden Do? New York Post. Twitter, Facebook… Sorry: These are not making me sound like an intelligent person.
Ritual you adhere to once your film's wrapped: I get really drunk. I'm not sure that's a ritual — more of a lifestyle choice! [Laughs]
DOUG LUCTERHAND
AGENT | WME
A glance at his client list — which includes Joel McHale, Rob Corddry and Rob Riggle —would suggest that Lucterhand specializes in comedy. He doesn't deny this, but prefers instead to look beneath the hood of comedic talent — and what he finds there are self-generators. Just as Woody Allen started out as a gag writer and standup comic before expanding into Broadway plays, film directing and dramatic features, earning critical acclaim and Oscars along the way, Lucterhand is drawn to people who want a say in shaping their own destiny. It so happens that a lot of comedians also share this drive for self-invention. His job, as he sees it, is to help them take what they're best at and develop it. It's a process he likens to alchemy. This can mean steering actor-writer Nick Kroll through a barrage of gigs to star in his own show on Comedy Central; helping Ben Walker to balance writing his own scripts with a lead in Abraham Lincoln: Vampire Slayer, a turn on Broadway opposite Scarlett Johansson in Cat on a Hot Tin Roof and the hosting of a monthly comedy show at New York's Public Theater; or heeding the advice of clients Kroll, writer-actor T.J. Miller and former SNL writer John Mulaney to catch the act of Pete Holmes on a nondescript Montreal stage and from there navigate his trajectory so skillfully that he is about to host his own talk show on TBS, in the post-Conant slot. Lucterhand is also part of actor-mogul Mark Wahlberg's busy team. The Highland Park, Illinois native joined Endeavor shortly after graduating from the University of Wisconsin. From the mailroom he apprenticed for several years at the desks of Ari Emanuel, Tom Strickler and Patrick Whitesell. Their enthusiasm was infectious. Apart from sports — his other passion — no other field has ever stimulated Lucterhand like agenting. It was either succeed at this, he told himself, or move to Chicago and park cars at Bears games. Those cars will have to wait.
Daily website visit: The Sartorialist.
Favorite restaurant to schmooze clients: Kings Road Café (joking — but that's my answer).
Hobbies: Chicago sports, travel with friends. Also, I maintain a sneaker collection: I'd rather not say how big.
ALEX MACE
PRODUCER-EXECUTIVE | APPIAN WAY
Mace's experience as a writer, coupled with his faith in "character first" as the driver of any good story, has made him an excellent fit as a creative exec at Appian Way — the company founded by Leonardo DiCaprio. Their projects either serve the actor's ambitions for his own work (The Wolf of Wall Street, Shutter Island, The Aviator), or his tastes in story, with particular attention to roles that other top actors might want to play. The latter include the forthcoming Out of the Furnace and Runner Runner, which Appian Way partner Jennifer Davisson Killoran and other members of the team are overseeing. Then there are Mace's babies. He wrote the story that inspired Jaume Collet-Serra's 2009 Orphan originated (attracting Vera Farmiga and Peter Sarsgard), he coproduced Catherine Hardwicke's 2011 Red Riding Hood (ditto Amanda Seyfried and Gary Oldman) and now he's concentrating on Home — a supernatural thriller from director Dennis Iliadis and writer Adam Alleca (the duo behind Last House on the Left). This hasn't yet been cast, but the Black Listed script has an intriguing psychological edge: It centers on a man under house arrest in a house haunted by his late father. Mace's story sense has a long history at Appian. He began there as a reader a decade ago, while still a student at UCLA. He majored in American Literature, but much of his energy was devoted to his first passion, music, playing in a rock band called Leroi. Shaping the story for Orphan and placing it with Appian promoted his fortunes within the company and pulled him away from music and into the movies, and he hasn't looked back. Writing the treatment was a means to an end: Mace sees himself as a creative producer; nowadays his work with narrative takes the form of helping filmmakers get their stories told, in optimal form. When he's not working, he's spending time with his wife, Emily Daniels (whom he married in Jamaica in 2010), and their baby daughter. Otherwise his work is so consuming that he almost never picks up a guitar anymore. Beyond Home, he looks forward to developing a live-action version of Akira — a dystopian story based on Katsuhiro Otomo's manga graphic novel — for which Mace and DiCaprio have long shared a passion.
Most prized office possession: A jar of "Dolomite," the substance they use to make fake snow on film sets. We were filming Red Riding Hood in ninety-degree heat, and I remember thinking this was the fakery and the magic that movies are all about.
Daily website visit: What Would Tyler Durden Do.
Most unusual place you've found material: A buddy who has nothing to do with the movie business randomly introduced me to his brother-in-law, a TV writer. We hit it off, stayed in touch over the years, and just got together over an idea of his that is now being set up at HBO.
KELLY MARCEL
SCREENWRITER
Saving Mr. Banks, her comic take on the turbulent partnership between Walt Disney and Mary Poppins creator P.L. Travers, won a place on The Black List, secured Tom Hanks and Emma Thompson for leads and, prior to its release later this year, is already being buzzed about for Oscars. What's more, it landed Marcel the much-coveted assignment of adapting E.L. James's ultra-steamy bestseller Fifty Shades of Grey. To cartwheel from P.L. Travers to E.L. James only sounds like a stretch until you consider the range in Marcel's background. Born to a showbiz family in south London (her father, Terry, is a filmmaker, her younger sister, Rosie, an actress), she began her own career in front of the cameras — at age three she was eaten by an extraterrestrial in Alien Prey, a 1978 picture her dad produced — and continued acting into her late twenties, mostly doing small roles on British TV until 2002, when she decided to get a day job in a video store and teach herself to write. Her musical version of Debbie Does Dallas succeeded on the London stage in 2007. She then script-doctored Bronson for director Nicolas Winding Refn, and that led to a collaborative friendship with the film's star, Tom Hardy, with whom she's formed a company: Bad Dog. Snippets from Candy Chops — a TV pilot they co-created — are afloat on the web, but otherwise both have been too busy to do much together, though Hardy now sports a tattoo that says SKRIBE on his upper arm, with the explanation that the "K" stands for Kelly. Shortly afterward, Marcel was launched in the U.S. when she sold Steven Spielberg her pilot script for the TV series Terra Nova (2011). Now, with the Poppins project wrapped and 50 Shades headed into production, she has now been lured aboard Joe Wright's live-action remake of The Little Mermaid. Her life apart from writing is so devoid of spare time that for the moment her most vociferous extracurricular passions include cake (any kind of cake) and dogs.
Favorite way to procrastinate: I will do anything to get out of starting a script. Washing up suddenly becomes a joy. The blank page is my enemy, and it's not until there is nothing left to procrastinate about that I begin.
JENNY MARYASIS
AGENT | UTA
One ally ambitious talents such as Lena Dunham, writer-director-producer-star of Girls; Young Il Kim, writer of Rodham; and Lauren Miller, writer-producer-star, and Katie Naylon, writer-producer, of For a Good Time Call, have in common is this equally enterprising advocate at their back. Maryasis is first to point out that she's but one of many in the chorus at UTA who make a group effort on behalf of every client. Though a loyal collaborator, she has a knack for locating, assessing and attracting new talent on her own. Born in Brooklyn to Russian parents in the early '80s, she learned at a young age to balance what she calls the dogmatic legacy of the U.S.S.R. — You Are On Your Own — with the spirit of teamwork she discovered in American schools. Her path to Hollywood could not have been more random. Originally aimed at law school, with an eye toward international relations (she speaks four languages, and foresaw careers either at the U.N. or the World Bank), Maryasis took time off from her thesis on U.S./Iranian foreign policy during a year abroad at Oxford to accept a summer internship at the Gersh Agency — which she'd pursued to augment her resume with some real-world negotiating experience. The job proved so kindred to her energy and curiosity that (after an informative stint as production assistant on the Michael Keaton film Game 6) she started in the UTA mailroom the fall after her graduation. Three years later, in 2007, she was promoted to agent. In the year ahead, she is most excited about the prospects for Chilean director Sebastian Silva, who has two new films out — Magic Magic and Crystal Fairy, both of which premiered at Sundance — and writer-director Ned Benson, whose twin features The Disappearance of Eleanor Rigby: His and The Disappearance of Eleanor Rigby: Hers unravel the rashomon of a marriage between James McAvoy and Jessica Chastain from deeply opposed points of view. In potential clients, Maryasis sparks to energy, passion and clear-headed excellence-in-the-room, assuming a unique voice and vision are already evident in the work. When time permits, she loves to travel, and to try the weirdest food she can find. Her latest discovery: a tiny restaurant in Kyoto, Japan, manned by a hunter who serves only what he's killed that week. For Maryasis, this meant imbibing sour moonshine liquor with a dead snake at the bottom of the bottle. She didn't bat an eye.
Fave restaurant to schmooze clients: Osteria Mozza.
Hobbies: Cooking — I love to explore out of the way markets for ingredients.
Secret creative talent: I'm really good at home decor. I help a lot of my friends with ideas for furniture, wallpaper, paint and tile. This is something I heartily enjoy. I can get lost talking about paint color.
Daily website visit: Theatre L.A., Daily Mail in the U.K. I find all of the Mail's stories absurd, and extremist, so as a result, entertaining. They always have their pulse on the best gossip.
CHARLIE McDOWELL
WRITER-DIRECTOR

With his first book coming out and two films going into production, 2013 looks like a big year for McDowell. His full plate is the payoff for years of effort: Fighting Jacob, a romantic comedy about a young boxer battling obsessive-compulsive disorder, written by Justin Lader, was originally announced a year ago, but is now set for December. In the meantime — not content to wait —he'll direct a new Lader script immediately: The One I Love, a comedy about a young married couple and their therapist, starring Elisabeth Moss, Mark Duplass (who is also exec-producing) and McDowell's real-life stepfather, Ted Danson. Like a few others on this list, McDowell was born into the business: his mother is Mary Steenburgen, his father Malcolm McDowell. Growing up, he rebelled as best he could by refusing to become an actor. Growing up in the Shangri-la of Ojai, California, his greatest passion was surfing. One day, a buddy brought an underwater camera to the beach, and Charlie took charge, staging little scenes: first in the water, then on the sand, then in the parking lot. Before the sun had set, he was newly determined to be a director. A restless and contrarian student up to that point — he'd studied Ancient Greek solely to have an impressive marker in his resume, but laughs now that he could kick himself because it's not a language anybody actually speaks — filmmaking gave him new focus. In 2006, a few weeks shy of his twenty-third birthday, in 2006 he became the youngest-ever graduate of the Directing Fellowship at AFI. His thesis short, Bye Bye Benjamin, became his ticket to writing assignments — one of which, an untitled comedy set aboard a cruise ship – he plans to make in the future. During the half-dozen years that McDowell was at work on these projects, he maintained a busy Twitter account that as of this writing has a following of over 93,000. One thread has been a running account of his upstairs neighbors and their high-decibel cell-phone conversations. His descriptions of them, accompanied by droll replies or digressions, proved so popular that they inspired a book of humorous fiction, Dear Girls Above Me: Inspired by a True Story, which was published by Crown in June.
Book that changed your life: I don't know if "life-changing" applies, but I love the work of David Sedaris. His books are filled with a humor that inspires me, and which my book tonally follows.
Favorite vacation destination: Martha's Vineyard.

He entered the arena under exceptionally challenging circumstances — taking over the title role in the Starz series Spartacus after its original lead, Andy Whitfield, fell ill with non-Hodgkin's lymphoma at the end of the first season. McIntyre filled the hero's armor in his own magnetic way. True to the unforced warmth he projects onscreen and in person, he also formed a friendship with Whitfield prior to the actor's death. His fresh take on the part proved so attention-getting that once that show concluded its final run earlier this year, he flew straight to Bulgaria to work with director Renny Harlin on Hercules 3-D, where, despite the comparable armor and combat, the goal is to create a character with a very different back story and bearing than Spartacus. Beyond such rapid-fire opportunities, McIntyre is thinking long range, and has formed his own production company, Ardent Films. Born in Adelaide, Australia, in 1982, he was a plump, self-described dorky kid devoted to videogames and singing, for which he has a trained voice. He discovered acting by his late teens, but studied business at Victoria's Deakin University, which gave him an appreciation for the commercial side of a career in the arts. He went on to rack up stage, short film and TV credits, and drew the attention of Steven Spielberg, who cast McIntyre in the Iwo Jima sequence of his HBO miniseries The Pacific. That, and several other impressive turns — particularly as a Russian mobster in Radev, a short that drew attention on YouTube, and Ektopus, a feature in which he played a starved, rake-thin space-traveler — combined to win him Spartacus, although to secure the part, he had to beef up at gladiator boot camp. McIntyre, who maintains that regime now, has moved to Los Angeles with his fiancée, singer Erin Hasan. He takes great care to stay loyal not only to those he loves, but those who've helped him. Despite being approached by larger agencies, he is resolute in standing by his original team of representatives. Small wonder he does so well in heroic parts. On breaks from acting, he works on scripts for thrillers and romantic comedies, and in his down time, he indulges his other passion, videogames.
One person, dead or alive, who's inspired your work the most: Artistically: Daniel Day-Lewis. Personally: Ben Conway, my step-dad. He's passed now, but embodied respect, care — love — and was the most important influence of my life.
Director you hope to work with one day: P.T. Anderson, David Fincher, Darren Aronofsky — but hold on! Clint Eastwood is someone I would love to work with — indeed, you could put him at the head of the list.
Band or singer you're obsessed with: The Beatles. A strange choice, perhaps, but it's just true. After them? Metallica! An even stranger choice in context, but there you are!
One thing people may not know about you: That I'm not tough! [Laughs] After Spartacus, everybody thinks I'm going to be some sort of badass. But no, I'm a completely boring guy. I've never tasted Coca-Cola. That surprises people. The fact that I've never been drunk surprises people. "Kind of boring!" [Laughs]
David Karp is a leading agent in William Morris Endeavor's motion picture literary department. His client list is a Who's Who that includes at least one legend, Robert Redford, but abounds in solidly established A-list writer-directors still rising toward their apexes — Oren Moverman (Rampart); James Mangold (3:10 to Yuma); Nicolas Winding Refn (Drive); Jay Roach (Game Change) — and a slew of first-rate newcomers, including writer-director David Lowery (Ain't Them Bodies Saints); director Nikolaj Arcel (A Royal Affair); actor Kieran Darcy-Smith (Animal Kingdom); writers Kurt Johnstad (Act of Valor), Max Landis (Chronicle), Kelly Marcel (Saving Mr. Banks); and documentary filmmaker Brett Morgen (Crossfire Hurricane). Born in Marlboro, New Jersey, Karp graduated with a degree in psychology from the University of Michigan and later received his law degree from the Benjamin N. Cardozo School in Manhattan, where he worked as an attorney for several years before joining Endeavor.
How has a degree in psychology influenced your work as an agent? More so than you'd ever expect — surprisingly — though maybe we shouldn't be too surprised in this industry, because a lot of what I do involves psychological relationships. You're always observing people, seeing how they react in groups and one-on-one situations — especially clients, anticipating which way they're going to go based on whatever news you're giving them. I'm actually glad I have this background, because it's very, very helpful.
What led you away from medicine and psychology toward the movie business? I was a psychology major, but didn't want to go to med school. That was too much; I was never a fan of science. I was more interested in how the mind works in a social environment. I didn't need to understand the physical dynamics of the brain. So I switched to law school.
The law would be a logical place to go. Exactly — and when I was little, if you'd asked me what I wanted to be when I grew up, I'd have answered lawyer. That was because I loved to argue as a child. My mom would always end it by saying: "You're going to make a great lawyer." I never went through that career evaluation. I also enjoyed being a student — I was a big reader — so the law was just a logical step. After I graduated college, I became a lawyer in New York City.
What was the inciting incident — if there was one — that led you to say: "I'm going to be an agent?" One is that my first day of work at the law firm was September 11th. If ever there was a sign that I was not doing what I ought to with my life, it was that! The other is that for the two-and-a-half years I stayed on, I was working on a single products liability case that looked like it was going to outlive me. What's interesting about such cases is that, whenever they do go to trial, the parties always settle the day before. I found that prospect — what's the word? — crushing. It's dispiriting to do so much work but have no result to show for your own part. A settlement was good for the client, but for me, it was anti what I was doing. The thought of having to keep doing that was so crushing that I just moved. I actually left without having another job lined up, knowing only that I didn't want to be a lawyer anymore.
What drew you west? I enjoyed reading. Reading has always been a foundation of whatever I've done in my life. Whether it's books or articles, I've just craved information and learning. As I was living in New York, not having any connection to the entertainment industry, I thought about getting into book publishing. It's more prominent there. The publishing industry in turn led me to the book division at William Morris — as it was called then. [This was still years prior to the 2009 merger with Endeavor.] I met with a man there who told me that the more immediate openings were in Los Angeles, where they do screenwriters and directors. If there was ever anything I loved as much as reading, it's going to the movies — so I realized he was describing the ideal job. I came out here to L.A., for a week of meetings with all the agencies — and chose Endeavor, not quite understanding that, as with anywhere else, I'd be starting in the mailroom. There's no textbook that explains that.
Did being a lawyer in any way speed your progress? Everybody I talked to before advised me it takes people four years to become an agent. My rationale once I got to the mailroom was: "I'm a lawyer. This'll take me two years." Right? Cut to four years later, I'm still working as an assistant. But I was so happy to be doing what I was doing that those first two years shot by. I loved pushing the mail cart; everything was perfect. After that, though, you just want to get promoted.
What was some of the ladder that you were climbing in those four years? Was there any information you were absorbing that surprised you? What were the things being a lawyer didn't cover? Growing up, you understand there are exact degrees for which have to study to become a professional. Study exactly this hard, you become a doctor, become a lawyer, and then you keep rising, as a doctor or a lawyer. In the entertainment industry there's not that correlation. No matter how hard you work, it doesn't necessarily mean you'll have success. Luck plays into it, there are relationships at play. There are things you can't anticipate. As an assistant I learned this from observation. Tom Strickler, who ran my department, had a theory that every six months you work for a new boss, so you experience different agency styles. One person would have great taste; one person would be aggressive with materials. You got to pick and choose the pros of each person and build that in. Observing one person can be great, but it doesn't give you diversity in your own approach.
How did you prove yourself as an agent? Even going into my third and fourth year of being an assistant, I took the mental attitude that, "I'm a junior agent now. Even though I don't have the title, I'm just going to start behaving that way." Whenever I worked for someone, I represented them, and represented the agency. I was their agent. This helped. It trained my thinking, as to how you have to behave with clients. I would search out new material in my reading and pass it along to the agents I worked with. As an assistant, you study your boss, do what you see, and the routines can be redundant — mostly administrative chores — but I seized the opportunity to take it for something more at that point.
What has been the key to building up this really impressive roster of clients? Before pursuing or signing a client, I educate myself about that client. I go in knowing how they work, knowing what they've been up to. I learn what has worked for them in the past, what hasn't worked. What I then try to do is give them a clear sense of what I would do if they were represented by me — that I would do X, X and Y — as opposed to disparaging other people. If you look up my clients, see who I represent, those are the careers I helped build. If you say yes, great; if not, that's your choice. I don't take it personally. My strong suit is my work ethic. I don't boast, but make clear that I'm going to out-read and out-work everyone. I always train my assistants to watch as much as possible, just absorb as much as possible. This has been the key to everything in my life — learning and absorbing. I've just focused it on the entertainment industry.
How do you determine who has what it takes and who doesn't? It's all about the voice. When I read a writer, or watch a director's film for the first time, I always look for originality. I avoid duplicates of anything I've already seen out there. "This person is the next so-and-so." That's not how I sell people. I say, "This person has a really unique voice, and you should get to know them because they're going to break out in a particular way." If I'm determining whether I can work with somebody, it's important to meet the person behind the voice. Producers and executives want to see what you're like if they're going to work with you. Some people are better on the phone, others better in person. So much of this job is selling yourself in a room. Writers aren't used to that, but it's become an essential skill. I try to assess in advance what your strengths and weaknesses are.
Describe a few deal-making highlights. One of my clients is Kelly Marcel, a British screenwriter. She has a movie coming out later this year called Saving Mr. Banks, which tells the story of how Walt Disney — played by Tom Hanks — managed to get author P.L. Travers, played by Emma Thompson, to give him the rights to her book Mary Poppins. Disney itself is making the movie. I thought it was a great piece of material. Off of that basically sweet story, I got Kelly an assignment that is the complete opposite — adapting the E.L. James bestseller Fifty Shades of Grey, which is sexy and dark. What I like to do with writers — and some directors — is zig left just when people think you're going to zig right, have her do the direct opposite of what people expect her to do. Because, as a writer, you can do anything. And that's what makes it interesting for her.
The business is transforming: we've got crowd funding, digital web series shorts. What effect does that have on you, this whole environment you just described? I met with Kickstarter this week, which I've had clients use. It's fascinating. Crowd sourcing — people of all kinds investing — first-run releases as Video on Demand — these are potentially great ways to get movies made, as long as the right reasons are behind them. They're the wave of the future. If studios aren't going to make as many films this year, while we have all these people with creative ideas, we have to find an outlet to get them out there. VOD is increasingly becoming as parallel to theatrical release. What we've done — "we" meaning me and my colleagues — is try to figure out, "Okay, we have a movie, what's the best way of getting it out there?" That method has simply changed a bit in the last few years.
Do you find you have to be in command of more knowledge about what's going on? Video games are another venue, and more are on the way. You have to be aware, yeah — you definitely have to be. A few years ago everything was branded — it was superheroes, video games. It's very hard to come up with an original idea. It's extremely time consuming. I try to stay ahead by reading magazines for life rights. If something is an interesting true story, I'll rip it out, send it to a few of my clients and say, "What do you think of this?"
What is the toughest part of your job? I have a hard time with rejecting people. I always feel, "Who am I to tell someone they're not good enough to be represented by me?" But I've found you have to take a decisive point of view, because it's only fair. I don't want to be discouraging to that person. I'm not the end-all, be-all and have never believed that I am. I'm just one opinion, and you should never want to give up just because I say something. The same applies when a client turns in a script that they think it's a great piece of material, while you — in all fairness and honesty — have to be critical of it. I tell them straight out, for their advantage. I get no kicks out of taking anybody down a peg. I do it because they want to build something, and I'm helping with that.
What do you do to unwind? I practice yoga. I play tennis. Despite that the business is entertainment, the job is extremely stressful — so to find a healthy balance and remove the stress, it's vital I find those patches in a week where for two or three hours I can turn off my phone, turn off my email. (Laughs) Oddly enough, I come up with my best ideas for clients when my brain is so removed, either by yoga, or hitting a tennis ball.
Legend has it you don't give out your cell phone number to clients. Is maintaining a private life the key to relaxing? Yes. And — as the East Coast and New Jersey are not connected to this industry — I use my friends from home and from college to keep me grounded. I can get off the phone with an A-list actor or director, and a minute later I'm talking to my friend who knew me in high school. I constantly need that — because I'm not any different than I was growing up. If this job goes away, I will still be that same person. So I work hard to maintain that.
Do you see yourself running a studio or producing films someday? It's inevitable, I suppose — especially in this industry, where people move through jobs quickly. You seldom find people in the same spot longer than five years. And yet where I grew up, people always stayed in the same job, for twenty-five, thirty years, and then retired, right? Having been a lawyer before I did this, I am an agent until I am not an agent! (Laughs) I can't see myself doing anything else. My skill set is more geared toward agent as opposed to a studio chief or producer. I always tell my clients, "I can read maybe two drafts of your script, but then it starts to blur. I'm not good at seeing the distinction." My assets are in terms of picking new material, seeing what I love and knowing that I love it. That is the part of the agent thing I'm still passionate and excited about, and so as long as I'm able to do that, I'm doing that. –F.X. Feeney
SCOOT McNAIRY
ACTOR-PRODUCER
He has proved outstanding not just at playing memorable antagonists in large-scale pictures (Argo, Killing Them Softly) but offbeat protagonists in low-budget indies (In Search of a Midnight Kiss, Monsters), not to mention any number of stubborn, edgy characters in between (Promised Land, Angry White Man). Force McNairy to spin his wheels between acting gigs and he'll turn himself into a producer. That's how Midnight Kiss and Monsters got made: He was throwing back beers with buddies in 2007, restless over doing bit parts in mainstream movies. One buddy, Alex Holdridge, writer-director of Wrong Numbers — McNairy's debut as an actor before they both migrated to L.A. from Austin, Texas — was just as frustrated. Midnight Kiss, Holdridge's notion of a shaggy first-person romance counting down to a New Year's kiss put McNairy on the map as a leading actor, which he cemented in 2010 in partnership with actress (and fellow Texan) Whitney Able — whom he has since married — by collaborating and costarring with her in Monsters, their low-tech but high-energy horror flick, made in Mexico under the direction of Gareth Edwards. Their success has spawned a forthcoming sequel, Monsters: The Dark Continent, in which McNairy, Able and Edwards will not directly take part, but share producing credits. McNairy is so busy as an actor that he'll also take a producer credit on two projects that he's handed off to other stars: Straight A's for Ryan Phillippe, Anna Paquin and Luke Wilson; and Frank & Cindy, not yet cast, which he and Holdridge developed from the acclaimed documentary by G.J. Echternkamp. Producing is an accidental sideline, as McNairy sees it. As of mid-2013, he'll be in five new features, two short films and a TV pilot. The Rover, a post-apocalyptic western from David Michôd, pits him opposite Guy Pearce and Robert Pattinson; Frank, a rock 'n' roll comedy, costars Michael Fassbender and Maggie Gyllenhaal. His projected series, the AMC drama Halt & Catch Fire, is set in the Texas technology boom of the 1980s. If this takes off, he'd be particularly happy — he grew up not far from Dallas (it was his rancher dad who nicknamed him "Scoot"), and he's passionate about his roots. He and Able have just bought a place in Brenham, Texas, and are purchasing cattle. For all of his success, McNairy has remained grounded, and he insists there have been no big breaks in his career — only one long, slow break.
One person, dead or alive, who's inspired your work the most: My father.
Director you hope to work with one day: P.T. Anderson.
Pasttime or hobby you've taken up between takes: I can't do it between takes, but I love woodworking.
Favorite vacation destination: Colorado, or anyplace with mountains and rivers where I can fly-fish.
STEVE McQUEEN
WRITER-DIRECTOR
Just two pictures into his career, he is already destined for greatness. Hunger took on a tragic chapter of contemporary Irish history — the self-starvation of Catholic rebels against British rule in their Belfast prison, late in 1981 — and rendered it in a series of scenes that were unforgettably raw yet quietly stylized, in combinations as dynamic as the best blank verse. Such originality was truer of McQueen's second film, Shame. On the surface, it was a fluid study of a man struggling with sex addiction —a role played by Michael Fassbender, McQueen's great discovery, who starred as Bobby Sands in Hunger. But underneath, the director forged a fresh grammar to reveal people more deeply, in the act of staring into themselves. This has made his next venture, the period drama 12 Years a Slave, a source of intense anticipation. (Its cast will include Fassbender and Brad Pitt as 18th-century slave merchants and Chiwetel Ejiofor as a free man who finds himself mistaken for their property.) Of African and Caribbean descent, McQueen, 43, was born in London and grew up a keen footballer, but made his first mark as a visual artist. He studied fine art at Hammersmith and West London College, and (only briefly) film at New York University's Tisch School. Then he traveled to Iraq on an official commission to document the war. The result was a moving exhibition, Queen and Country — photographs of dead servicemen and women rendered as stamps. McQueen's work has brought him numerous accolades. In 1999, the Tate gallery awarded him the Turner Prize, an annual honor given to an outstanding British artist under age 50. For his contributions to the arts he was awarded the OBE (Order of the British Empire) and a CBE (Commander of the Order of the British Empire). In addition, Hunger won the Camera d'Or, the prize for best first feature, at Cannes in 2008. McQueen lives in Amsterdam, where he is raising a daughter and son with his partner, critic Bianca Stigter. He speaks frankly of himself as an artist and shies away from Hollywood — but to judge by the results of such dedication, that has only made him more attractive. Certainly the most talented actors are flocking to him, which comes as no surprise.
1:33, 1:85 or 2:39: The characters and narrative dictate how I film a scene.
Number of languages you speak: English, Dutch…a bit of Arabic.
NIGEL MEIOJAS
AGENT | ICM
Meiojas has built himself a high-performing list of over two dozen talents ever since ICM first brought him aboard 2009. It's heavy on actors: Alexander Ludwig of The Hunger Games, History Channel's Vikings and Peter Berg's upcoming Afghan adventure Lone Survivor; Ashley Hinshaw of Chronicle, LOL and five forthcoming projects; Genesis Rodriguez of Casa de Mi Padre, The Last Stand and Identity Thief; Ben Medelsohn of The Dark Knight Rises, Killing Them Softly, The Place Beyond the Pines and Ryan Gosling's upcoming directorial debut, How to Catch a Monster. But Meiojas also reps such hot-list hyphenates as writer-director Charlie McDowell, and eminences like actor (and sometime director) Robert Duvall — whose passion project A Night in Old Mexico reunites him with William Wittliff, co-writer of the actor's Emmy-winning miniseries Lonesome Dove. This awards pedigree is a useful selling point in the setup of such a deal, but for Meiojas the key is Duvall's passion. His own approach to the business grew out of a fervor for the movies. Growing up in Los Angeles, the ambition felt natural — though by the time he reached college he had concluded that acting and directing were not in his skill set. But he recognized a knack for creating opportunities — both for himself and for others. He studied political science and public policy at UCLA with an eye toward entering government, but his original dream beckoned after graduation and he entered the beltways of power closer to home. Making the traditional upward climb from the mailroom, he mastered hands-on what he calls the art of putting people together. Knowing where their passions lie: finding them the right avenues to pursue, knowing the market on their behalf, the temperature in relation to the projects they care about most. These days, when he is not busy with all of the above, or co-running the weekly motion picture meeting at ICM, Meiojas is either hiking or on his surfboard — he loves anything that gets him outdoors. He also makes time for checking out museum exhibits and reading, something he does voraciously for his own pleasure.
Favorite restaurant to schmooze clients: Dan Tana's, Craig's. Both great, both small, have a very familial vibe. Out of town? La Scalanatella in Manhattan.
Secret creative talent you possess: None! I wish. I love having such proximity to artists and having a guiding say in their careers. These days, a person in my position can offer more input, in a creative as well as business sense, when making great deals for your client.
ANDREW MIANO
PRODUCER-PRESIDENT | DEPTH OF FIELD
Miano broke into the business "old-school" — in the William Morris mailroom. But rather than becoming an agent, he joined forces with the prolific Weitz brothers — writer-directors Paul and Chris — for whom he has produced or executive produced such varied pictures as American Dreamz, The Golden Compass, Little Fockers and this year's romantic farce Admission, starring Tina Fey and Paul Rudd. On his own, Miano has backed Nick and Norah's Infinite Playlist and Tom Ford's A Single Man. And though he and the Weitzes have been developing both for some time, Miano still has enthusiastic hopes for The Elric Saga, a feature based on the Elric of Melniboné series of fantasy novels by Michael Moorcock, and another based on The Game: Penetrating the Secret Society of Pickup Artists, based on the 2005 book by Neil Strauss. On a different front, he and the Weitzes have a deal with Fox Television Studios, and in February they announced plans to make a TV series of Reamde (pronounced Reem-Dee, he stresses), Neal Stephenson's bestselling hide-and-seek techno-thriller. Growing up in Buffalo, New York, and educated at SUNY Oswego, north of Syracuse, Miano fell in love with movies early, starting with The Godfather, Star Wars and the John Hughes canon. In recent years he has been expanding his film knowledge by screening every classic he can lay his hands on. If there's one passion that rivals his love of movies, it's music in every form. He loves live performances, attends concerts regularly and maintains an ever-growing library. When he was starting out, he even considered pursuing the music biz, but decided against it. Instead, he's kept it as one of his hobbies that he shares, along with TV and movies, with his nine-year-old son Oliver.
Most unusual place you've ever come by a piece of material: I once had a conversation with a stranger on an airplane about an idea I found very intriguing — but nothing came of it.
Favorite vacation destination: Cuttyhunk Island, off Cape Cod, a place I love to visit with my wife and son.
JIM MILLER
EXECUTIVE VICE PRESIDENT | LIONSGATE
The Hunger Games is the emblem of Miller's success —$685 million worldwide, with three sequels to come, would buy anybody bragging rights — but the vision, enthusiasm and foresight that led him to grasp the potential of Suzanne Collins's novels were well established beforehand. Prior to Lionsgate, he co-produced Juno, as well as Harold & Kumar Go to White Castle. Together with Alli Shearmur — who has since shifted to producing — he then guided Lionsgate through several years of uphill battles to its present status as a thriving mini-major at a time when the moviemaking landscape shifts faster than most studios can keep their footing. A Tarzana native and the proud father of an infant daughter, Miller is a onetime football player who switched to theater and law studies at USC. He loves a good story — one that appeals to young viewers in particular, yet is primal and meaningful enough to be enjoyed by all ages. Miller makes it clear that his role is more administrative than creative: he doesn't tell artists how to make their movies; he relies on his gut story sense to choose which projects to support, but matches the talents of others to their best realization. One example that excites him is writer Charlie Kaufman adapting Chaos Walking, from a trilogy of Young Adult novels by Patrick Ness. The Oscar-winning screenwriter of Eternal Sunshine of the Spotless Mind discovered through his daughter, who loved the books, an adventure saga set in a futurized present where a strange plague has made it possible for people to hear one another's thoughts Kaufman's own idiosyncratic story sense is an added virtue — a passionate sensibility akin to what Miller believes writer Danny Strong (of Recount and Game Change) is bringing to the later installments in the Hunger Games franchise, now being scripted for filming in the fall.
Most prized office possession: A comic book that had been a prop in Juno, autographed by the principal talents.
WENTWORTH MILLER
ACTOR-WRITER
He arrived as an actor in 2003 with his outstanding performance as a young black man passing for white in The Human Stain, a success he amplified — along with his fan base — by playing the resourceful, self-sacrificing brother of a man on death row in the Fox series Prison Break. Yet it is as a screenwriter that Wentworth Miller is making his deepest mark on the movies. His script for Stoker — titled in honor of the author of Dracula, but about a family whose bloody interactions are psychological, not supernatural — not only made the 2010 Black List but attracted Nicole Kidman, Mia Wasikowska and director Chan-Wook Park. In the works are a prequel, called Uncle Charlie; The Story of Edgar Sawtelle, a murder mystery based on a novel by David Wrobleski; an original ghost story, The Disappointments Room; Scare Me, based on Richard Parker's novel; and With a Friend Like Harry, an American retelling of Dominik Moll's sinister French hit. Born in 1972 in Oxford, England (where his dad was a Rhodes Scholar), he grew up in Brooklyn, was educated at Princeton, and boasts a United Nations of ancestors: African, Jamaican, Russian, French, Syrian and Native America. Despite a bloodline worthy of a Tolstoy novel and an alma mater in common with F. Scott Fitzgerald, he had neither the nerve nor the motivation to try writing, at first. A desire was there, but acting drew him first, to the initial chagrin of his parents. Success eased their worries — and, as it turns out, lit a spark in Miller himself. Once he tried his hand at playing all the parts on paper, being master of his own little universe, he found writing the most satisfying creative experience of his life. A different kind of caution became his game plan — he sent Stoker around under a pseudonym. Experience has taught him that Hollywood likes nothing better than to put you in a box. He worried that his writing wouldn't be taken seriously if people looked at it and thought, actor. Not that he's quit acting — in October he'll be seen in The Loft, written by Wesley Strick — but for now he's happy to be the new go-to guy for suspense dramas and thrillers. Not afraid to branch out, he's got a historical biopic in the oven, but is mum about its protagonist. He's also cooking up an original spec so personal that he hopes to direct it — the next logical ambition, given his present success rate — and he admits to one slight phobia. Comedy scares him.
Favorite way to procrastinate: What I will admit to doing — when I'm feeling insecure about my writing — is that I'll go and see a movie that I know will be crap. Then I'll sit there eating popcorn thinking, "Well, this got made." And then I'll feel hopeful again. Then I'll go home and write.
Pastime you've taken up between takes: Do naps count as a pastime?
Best place you've found to write: Near the refrigerator.
Band or singer you're obsessed with: Lately I've been listening to a lot of early Françoise Hardy. And the Bird and the Bee. And the Mills Brothers. I love those guys.
RALPH MILLERO
DIRECTOR OF PRODUCTION | 20TH CENTURY FOX ANIMATION
"Warm-hearted" and "executive" are not words often paired in Hollywood, until you meet Millero. He oversaw Wes Anderson's sweet smash Fantastic Mr. Fox, is developing a Mutts feature with the popular comic strip's creator, Patrick McDonnell, and his brother, Robert, and —fueled by a bond forged with the brothers over a shared passion for the work of Charles M. Schulz — has connected with the Schulz estate to arrange for Fox/Blue Sky to become home for a forthcoming Peanuts feature. Growing up in rural Pennsylvania, Millero knew early what he wanted. E.T., the first film he saw in a theatre, made an indelible impression because of the overpowering emotion it provoked, not just in him, but in his parents. That experience shaped his tastes as an adult — he seeks films that work for everyone in the audience. After graduating from Carnegie Mellon (and a brief internship on Mr. Rogers' Neighborhood) Millero worked for producer Scott Rudin on the Pittsburgh set of A Civil Action in 1994, looking after the day-to-day needs of the cast — John Travolta and Robert Duvall, among them. Director Sydney Pollack, who had a role in the film, noticed, and was so impressed by Millero's grace with these big cats that he invited him west. This led to fifteen years of close work not just with Pollack, but with Anthony Minghella, as they partnered to produce The Talented Mr. Ripley, Cold Mountain, Michael Clayton and The Interpreter. When both men suddenly died in 2008, Pollack's son-in-law, Hutch Parker (then president of Fox), invited Millero to meet Vanessa Morrison, president of Fox Animation. He fit in readily, and has flourished ever since. Right now he is working long hours in close concert with the McDonnells, the Schulzes and Peanuts director Steve Martino to hone the respective looks of Mutts and Peanuts that will best serve their casts of characters. (Do you render the characters in pen and ink, in magnification of the comic strip? Do you go the Pixar route and realize the Charlie Brown world in 3-D? No option is left unexamined at this stage.) Weekends are spent at home in Long Beach, where Millero's longtime life partner, Justin Rudd, is locally renowned as "a hyper-activist" devoted to animal rescue, a passion Millero shares.
Hobbies: I would have been a veterinarian if I hadn't gone into the movies, so quite naturally, I sponsor a number of charities devoted to the welfare of animals.
Most prized office possession: I have two: a letter Sydney wrote me, and my E.T. lunchbox from childhood — still with its original thermos.
CHLOË GRACE MORETZ
ACTRESS
At age sixteen, this outstanding young talent has over thirty films to her credit and half-a-dozen more in varying stages of postproduction. In her best work, she flirts with the supernatural – Let Me In, The Amityville Horror (where at age seven, she befriended a ghost), Dark Shadows (a smirky nymphet parody of that role) and most recently Kickass 2 and the upcoming Carrie remake. In her more natural roles, Moretz is so orphaned by circumstance that she mythically stands in for every young female who ever felt lost in a world of predatory males (Texas Killing Fields, Hick and, in 2014, Antoine Fuqua's The Equalizer, in which Denzel Washington will struggle to save her from prostitution at the hands of a Russian mobster). Her comedic chops are no less considerable: in (500) Days of Summer and Martin Scorsese's Oscar-winning Hugo, she made a specialty of sarcastic girls who seem born sophisticated. Perhaps she was. The youngest of five (and the only daughter) born to the churchgoing Atlanta, Georgia, family of a nurse and her plastic surgeon husband. She began performing when her second-eldest brother, Trevor, who was studying acting, had her help him run lines. She proved such a natural that he became her coach, and now (along with her mother), helps her choose her roles. Among the many pending is Laggies, a dark comedy for director Lynn Shelton (Humpday), costarring Keira Knightley and Sam Rockwell. Moretz keeps a strict separation between work and her personal life: friends are not invited to the set or to premieres. She wants to concentrate, then truly relax when home — where she devotes herself to gymnastics, snow skiing, ballet, swimming and videogames and playing with her dogs. Her favorite school subjects are science and math; her favorite music includes Rihanna, Lana Del Rey, Jay-Z, Skrillex and Mac Miller. Her future plans — for the moment — include Columbia University, where she plans to minor in Art History and major in Criminal Psychology. She also plans to continue in filmmaking. Will writing and directing follow? Watch out, world.
One person, dead or alive, who's inspired your work the most: My brother, Trevor. He's an actor, he inspired me to act, and he's my coach. When I was working on Hick, Trevor and I watched Sunset Boulevard together. We focused on Gloria Swanson's line: "I'm still big. It's the pictures that got small." That's such an iconic attitude. We used that to build my character for that film.
Band or singer you're obsessed with: Rihanna: I love her, I want to be her — right now I play "Take Care," sung with Drake.
OREN MOVERMAN
WRITER-DIRECTOR
The solid, sensitive beauty of his directorial debut The Messenger (2009) set a standard he surpassed in Rampart (2011), rewriting a script by James Ellroy. Such success is no surprise. After his subtle adaptation of the Denis Johnson novel Jesus' Son (1999), Moverman secured a reputation as one of the best screenwriters in town. Even at their flashiest extremes, his characters are observed in profoundly logical detail. Having formed Third Mind Pictures with actor Ben Foster (costar of The Messenger), he is positioned to scale still greater heights. He's scripted thrillers driven by current events: For the Dogs, for director Phillip Noyce; the wonderfully titled Terrorist Search Engine, for himself; an untitled directorial debut for Foster; and Queer, from the novel by William S. Burroughs, for Steve Buscemi to direct, starring Foster, Guy Pearce and Kelly Macdonald. (By coincidence, Foster played Burroughs in the recent Beat-era biopic Kill Your Darlings.) The first picture Moverman saw as a boy in Tel Aviv was The Wizard of Oz. He came down with a fever as he watched — which is fitting. Making movies became his ambition as he moved to Brooklyn as a teen, then back to Israel for military service. That Oz had such an impact seems to give his touches of whimsy uncanny force. His 2007 Bob Dylan script I'm Not There so blasted the bounds of the traditional movie bio that director Todd Haynes had to cast half-a-dozen actors as the sphinx-like singer, among them (unforgettably) Cate Blanchett. This made Moverman the go-to guy for dramatizing complicated lives. He wrote This Is Going to Suck about Kurt Cobain – with the support of the Nirvana frontman's widow Courtney Love — to merge with the Cobain project underway at Working Title and Universal but his radical title (and the rebel spirit it expressed) scared them away. Not so Love & Mercy, a psychological duet about Brian Wilson, the troubled Beach Boys genius, with John Cusack and Paul Dano splitting the lead between the singer-songwriter's 1960s and 1980s incarnations — two entirely different people, says Moverman — as Wilson descends into hell, pushed by his jealous father, then struggles his way out with the help of a problematic psychiatrist played by Paul Giamatti. Despite visiting L.A. for the shoot, Moverman is based in New York with his wife and two sons. Ahead, he is planning an as-yet-untitled film about a single larger-than-life day in the larger-than-life life of movie mogul David O. Selznick.
Book that changed your life: In Our Time, by Ernest Hemingway — his Nick Adams stories. I never studied screenwriting, but when I read this book, I thought, "That's what screenwriting is."
Digital or film: Each one is a different discipline. I shot The Messenger on film, but Rampart with the Alexa — the new digital camera at the time. It made sense, for a story that comes out of the "cops caught on tape" era.
Daily website visit: An Israeli newspaper called Haaretz.
Band or singer you're obsessed with: Dirty Three, a band from Australia. Music is really, really important to me — so I have many artists that I admire.
ANDRES MUSCHETTI
WRITER-DIRECTOR

After his family-themed supernatural shocker Mama made over $120 million worldwide in its first weeks of release — to the shock of everybody but its executive producer, Guillermo del Toro — it should come as no surprise that its co-writer and director Andrés ("Andy") Muschietti, is now in big-time demand, or that his next picture will push even further into visionary child's-eye territory. Bird Box, which he is developing from an unpublished novel by Josh Malerman, will chronicle the phantasmagoric odyssey of a woman and two children on a river journey in a post-apocalyptic world. Growing up in Buenos Aires, where he was born in the early 1970s, Muschietti was a shy, introspective child. He and his older sister Barbara — now his producer, and co-writer of Mama — shared a mutual sense of isolation and a passion for movies, the more terrifying and poetic the better. He also developed a talent for drawing, which paved the way to film school and a career directing commercials, both in Argentina and in his adopted city of Barcelona, where he has been living since 2001. A three-minute version of Mama — a teaser that deliberately left many questions unanswered —caught the eye of del Toro after it caused a sensation at Spain's Sitges Fantasy Fest in 2008. Muschietti's decision to make the short had been spontaneous. Being fairly laid-back by nature, he says there was no master plan to attract financing. Instead, when a brief sequence popped into his head one day, he simply followed the impulse. In addition to film, Muschietti's other great passion is music. He owns a guitar, a banjo and three ukuleles, and discovered a fellow uke player in his Mama star, Jessica Chastain — a pastime the pair bonded over on the set.
Digital or film: I used to care about that, back when there was a meaningful difference for me. For most of my career in commercials I did film. A moment came when I couldn't tell the difference. Now the meaning is the same.
1:33, 1:85 or 2:39: Because Mama is a long and tall character, we shot the film at 1:85. For another story I would love to go wider.
Favorite restaurant in the world: Without question, that is Los Immortales, in Buenos Aires.
Number of languages you speak: Five: Spanish, Catalan, English, French, Italian.
JEFF NICHOLS
WRITER-DIRECTOR
Across three critically acclaimed and popularly embraced movies — Shotgun Stories, Take Shelter and Mud — Nichols has carved out fascinating, highly personal territory for himself, all the while displaying an elegant wide-screen eye and an old-school commitment to shooting on film. His stories deal with feuding half-brothers, a man obsessed with a vision of the world's end and two rural boys helping an outlaw on the run who's bared his heart to them. Such concentrated virtues make for well-justified comparisons to such individualists as Terrence Malick and Paul Thomas Anderson. Nichols often carries several story ideas in his head, testing them, talking them through with friends before getting them on paper. This likely gives his films their "body of work" continuity. He wrote Take Shelter and Mud in the same summer but held off on the latter because he could foresee it would involve more complex camera movements and a more intricate production as part of its aesthetic. Born in Arkansas, the youngest of three boys, Nichols credits his mother and father (who owned his own store) for instilling them all with an entrepreneurial spirit. (Ben, his eldest brother, is a successful singer-songwriter with the band Lucero, and has supplied music for each of Jeff's films.) He credits novelist Larry Brown — author of Big Bad Love — for showing him that the creative life is a trade to be worked at as hard as any blue-collar job. He'd met Brown when assisting on a documentary directed by his teacher Gary Hawkins at the University of North Carolina. It was also around this time, when planning Shotgun Stories, that he met actor Michael Shannon (Boardwalk Empire, Man of Steel) with whom he has worked on every film since. Outwardly soft-spoken, stoic and pragmatic, Nichols admits to having a terrible temper inwardly — something that happily only boils up when an opponent is being willfully obtuse, and which Shannon expresses without words, with instinctive ease. Married now and father to a small boy, Nichols is looking forward to Midnight Special — a foray into science fiction, set down to earth and in the present, with a cross-country chase at its heart in the tradition of two favorite movies from his boyhood, Close Encounters of the Third Kind and Starman.
1:33, 1:85 or 2:39: 2:35, without question. Take Shelter was in 2:35, but it was Super 35. The next one will be anamorphic.
Ritual you adhere to once your film's wrapped: I have a dream of a ritual. I have this dream of going to a beach — for like three weeks — after every movie. I've never done it. Maybe on this next film I actually will.
Favorite way to procrastinate: There are so many forms of procrastination, I can't even tell you. Email. I love mowing the lawn. Writing a movie takes so long to gain a sense of accomplishment. I like small, short tasks that you can finish fast and remind yourself what completion feels like.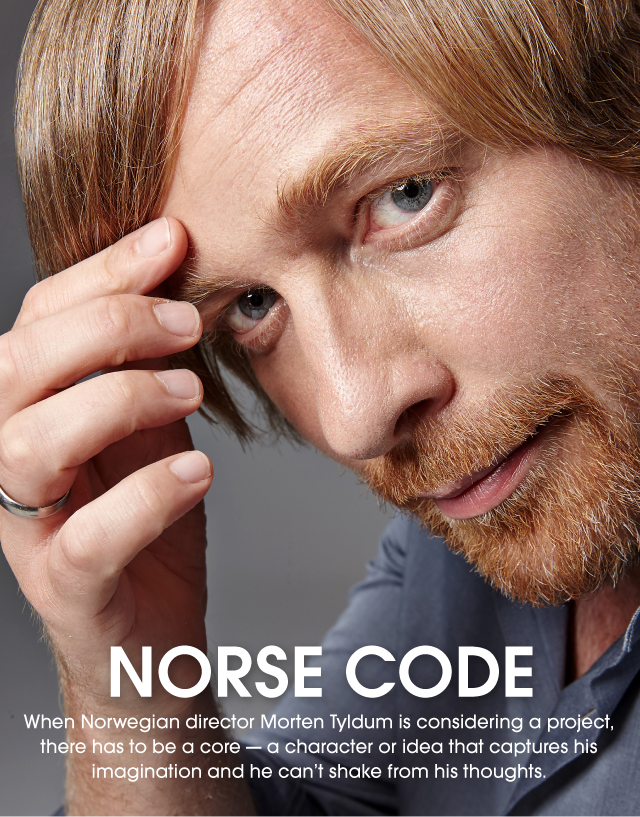 The corporate protagonist of Headhunters leads such a volatile double life that he runs afoul of a relentless government assassin. The suspense was organic, the action breathtaking, and when the film came out of Norway in 2011, it won the devotion of audiences around the world. Hollywood has snapped up the rights to Jo Nesbo's original novel and is currently remaking it. Whatever its quality, a remake can only match, but never quite surpass, the original spell cast by original director Morten Tyldum. Which is precisely why he had no desire to helm the Hollywood version. Instead, he is happy to reap the harvest of offers Headhunters has brought his way.
Born in 1967, Tyldum had a passion for movies early, but in his teens that he was going to be a musician. The boom of film and television production in the 1990s led him to conclude that his first dream was the one to pursue. His first feature, Buddy (2003), is a hilarious — and honest — comedy about a slacker in his twenties, dumped by his girlfriend with good cause, who winds up starring in his own reality TV show. The film's combination of robust energy and exact social observation carried over well into Headhunters. Tyldum has a wide array of projects lined up — so many that when any are mentioned by name, he cautions that he is extremely flexible in each case, attached only to whatever project has the greatest shot at becoming reality. For example, he has just signed with Warner Bros. to direct Ghostman, based on Roger Hobbs' bestselling novel about a fixer who cleans up messes and helps fugitives disappear, only to be pulled into the chaos that follows a casino heist. When we caught up with Tyldum, he was doing preproduction work on The Imitation Game, a fact-based World War II-era drama about code-breaker Alan Turing, to be played by Benedict Cumberbatch.
There's a certain "American" moviemaking aesthetic in Headhunters, because it has such a fast-paced, suspenseful pulse. Yet it also has a very honest, elegant documentary edge that is very European. For example, the moment after the truck has crashed. We and your hero look at the ground-up face of one of the dead passengers, but the moment isn't there to shock or exploit — it's just matter-of-fact. This is simply the reality where your main guy has found himself. I know what you mean. As a Scandinavian, we grow up watching American movies, American TV. I have a big love for these films. Then again, I like to mix in Scandinavian characteristics — primarily that we have leading characters that are more flawed, and perhaps deeper. We have picked up, as you say, the American fetish of the thriller, the action thriller, the adventure movie, but with the twist of our way of looking at it — which is more real, in a way. When I'm planning a movie, I always look at the character first. My aim is always to find a character who does more, is more interesting, troubled — one who has a more complex dilemma — who is far from perfect. I resist this black-and-white idea of the good guys who are perfect and the bad guys who are evil. I'm only interested when both are flawed, both are complex, both are struggling with things.
At the same time, I like a dark sense of humor. That seems to be very appealing to an American audience. That's why Headhunters has been such a success.
Hitchcock used to say he liked to put "an innocent man in jeopardy." You like to jeopardize a man who's already guilty of something. That's attractive, and that's where the humor comes in, because everybody's guilty about something. I don't worry so much if people don't "like" my heroes at the beginning. What matters to me is that you be interested — that you be intrigued by them. You have to be fascinated by them. That's why you want to watch the movie. Then you'll start to love them.
How early did the filmmaking bug bite you? Growing up, did you have other ambitions, other professions you thought you might pursue? I thought I was going to play in a rock band and be a rock star. I've always loved movies — this love has always been a part of who I am — but it's not part of the culture that I come from. I didn't know anybody who was a film director. Making films was something that happened far, far away, over there in Hollywood, USA. So I didn't even think about it. As much as I loved movies, I didn't feel it was reachable to even have that dream.
Which films meant the most to you when you were growing up? Like every kid, seeing Star Wars for the first time was a mind-blowing experience. For my generation of filmmakers, that was the most impactful thing that happened to us. If anything planted the dream, it was that. Just yesterday, I saw the new Star Trek — I almost said Star Wars, but I mean Star Trek — which stars Benedict Cumberbatch, who is amazing in it, and will be in my next movie, The Imitation Game.
What stage are you at? I'm in pre-production, about to head over to London, where I'll stay for five months. That's where we'll be shooting
Your other films have all been contemporary. This re-creates a specific historical period. How are you meeting that challenge? I've always been afraid of period pieces. They put a distance between you and the characters because of the costumes and details of the world you're creating. What appeals to me about The Imitation Game is that it's such a contemporary story — Benedict will be playing such an interesting character, and his predicament is so intense. He was a man outside his times.
We're talking about Alan Turing, who cracked the Nazi code — which guaranteed the allied victory in World War II. Exactly — his ideas were so revolutionary. This guy invented the ancestor of our computer. It only happens to take place during the Second World War.
Given that you're anxious about dealing with period, and you like authentic detail, how do you prepare for that? How do you educate yourself to find the documentary details? You have to really, really research. It's such a fascinating time in terms of what was happening in London — what they went through in the bombing . But I believe the point of a lot of research is to help the audience forget that they're looking at a certain period. The way I want to tell it is with a contemporary visual language. I don't it to be stiff; I want it to be dynamic — as much as was true for the atmosphere we had in Headhunters.
There's a wealth of British movies from that period. Even though you don't want to imitate the filmic style, the ways people talked to each other, the way men and women interacted, are fantastically well documented. Do you study those films for that? Yes. We are very concerned about language in terms of the feel of the movie — but for that I can rely on the writer, Graham More [whose screenplay was on the Black List]. He did tremendous research on how people spoke at that time — yet we want it to be alive, we don't want to literally force "period" down people's throats. Again, I don't want to create a distance. Alan Turing not only broke the Nazi code — he's a man who didn't fit in; he was different.
He was gay. Exactly — and society punished him for this. The film is about the importance of being different, about the need to be different, if one is to think freely — to think greatly.
There have been a couple of other projects you've been attached to. In line with your love for Star Wars, there's a sci-fi picture written by Max Botkin called What Happened to Monday? A group of identical septuplets who've been born at a time when population is under heavy control have an adventure fighting for their lives in that world. How close is that to production? Because of my involvement with Imitation Game, I've freed up the spot for the producers. If they want to move on with a different director, fine. If they want to wait for me, fantastic! It's also a great project. I've been really lucky that I've been sent a lot of solid and exciting scripts — such good stories. Story is the key: I don't ask that scripts be perfect, only that there's a core, a character, whose idea is interesting, which you can then develop.
In that sense, what was the core of Headhunters? A man who doesn't think he is worthy of being loved. That was the core for me: a guy who doesn't think he's good enough. He has to overachieve, he has to overcompensate. That feeling leads him into all these problems. If he'd had confidence in himself from the beginning, none of this would have happened. All his problems explode out of his insecurity. When I'm looking at a possible movie, I ask myself, "What's the core? What's the theme that really kicks me?" The quality of the character's predicament is what's important to me. Once I have that theme, I can build around it and create a really entertaining movie. The actors have to be given, so to speak, a message of substance they can carry forward, and with which the audience can resonate — then the results will be even more fun to watch, because something meaningful is hidden in there. A character's fear of love, or whatever, can be the source of a whole movie.
You've got another picture that looks interesting — The Disciple Program, which you're developing with Mark Wahlberg. Will that happen right after The Imitation Game? That's at Universal, and moving forward like all my other plans — but one thing I've learned in Hollywood is that planning far ahead is really hard. Things change so quickly. But Mark's a great actor, and the project is one I'm particularly excited about: It's a mystery, mixed with a love story, in which a man searches for his missing wife, only to discover nothing is at all what it seems, including how she feels about him. He's opened a Pandora's Box. The story is one that starts intimate, and becomes huge.
In terms of the difference in scale: We recently spoke with Joachim Rønning and Espen Sandberg, the guys who made Kon-Tiki. They made that for $14 million, which was a huge budget for Norway, and now find — with some amusement — they're facing budgets many times that size when considering projects in America. Even with good will all around the meeting table, huge new pressures apply because the scale of expectation is so different. How do you cope with that adjustment? No one I work with will ever make greater demands, or have higher expectations, than I have for myself. I don't think any pressure can beat that pressure!
Okay, I've made pictures for $5 million, now I'm looking at budgets of $60 million: the pressure is still, "make a good movie." You have more days, you have a bigger crew. You have people who do stunts! In the end, you're dealing with the same thing. "Where's the camera going to be?" "Who do you have for actors?" "What's the dialogue going to be?" "What's the scene?" "How are you going to block it?" Those are the only things that really, really matter.
Will you continue to make films in Norway? I would love to, definitely — if it's an interesting project. One of my strengths as a director is my heritage, the Scandinavian "feel" I bring to my work. But there's so much going here for me now, I don't think that will happen for awhile.
Where do you live now? I have a house in Beverly Hills, but maintain a place in Norway. I have a foot in both worlds. L.A. is taking up more and more of my time now, but I'm happy to say I really love it here. My wife and my five-year-old travel with me.
What would you say is the funniest or strangest thing that's happened to you since you gravitated to Hollywood? The one thing that was really a shock was that, even though the industry here is "bigger" — bigger in money, the stars are bigger — the people who are involved in film are open, comfortable and equal with one another. Movies themselves truly are a universal language. It's like working in a region with a trans-national border. Film people are film people everywhere! This was for me a great discovery. It's been really, really easy to adapt. The legend about Hollywood is that people will be rude, and that if English is your second language you're going to feel out of it. But the reality? You go to meetings and find yourself in rooms full of people who are in love with movies and devoted to them.
What do you do for fun when you're not filmmaking? Making movies is such a lifestyle. If I want to relax, I watch movies. [Laughs] Do you still play music? No. I left that behind when I started film school — and that was a lucky choice. Music is very important to me in the sense that I still listen to it. For me, the life beyond film is simply that: life, being with my family, going out to dinner with great friends. If you're really passionate about film, it becomes so much of your life. The work itself is full of thought, feeling and inspiration. I'm so lucky. I never have to unwind from it! My wife is always complaining that I'm hopeless — that I hate holidays!
Is there a dream project you carry around with you? I would love to do a Star Wars movie someday. That would be a dream come true. Otherwise, my dream project is whatever I'm doing at the moment. –F.X. Feeney
When choosing what to do next — and of late, there are lots of offers —Oyelowo considers three P's: the part, the project, the people. It's been an effective litmus test, resulting in the chance to work with Steven Spielberg and Daniel Day-Lewis in Lincoln, with Tom Cruise and writer-director Christopher McQuarrie in Jack Reacher, and with Matthew McConaughey and writer-director Lee Daniels in The Paperboy. Another that passed the test was the role of a kindly bus driver seeking love in Ava DuVernay's The Middle of Nowhere, about a woman who drops out of medical school to advocate on behalf of her imprisoned husband. And in Cynthia Mort's Nina, a biopic starring Zoe Saldana as singer Nina Simone, he plays Clifton Henderson, Simone's manager and nurse in the later years of her life. Oyelowo (pronounced "O-yellow-O") is frankly determined to work with people on challenging projects such that he will emerge the better for it. Born in Oxford, England, where his father was studying, he grew up in London and Nigeria, his family's homeland. He originally thought he would pursue law, but an acting stint with a church youth group was so life-altering that a teacher helped organize his application and scholarship to the London Academy of Music and Dramatic Art. Triumphs on the stage (he was the first black actor to play an English king for the Royal Shakespeare Company) led to films, and his breakout performance opposite Forest Whitaker in The Last King of Scotland. Later this year, he and Whitaker will play father and son in The Butler, an epic and intimate chronicle of the civil-rights movement – written by Danny Strong, an Emmy winner for Game Change, and reuniting him with his Paperboy director Daniels. Butler will also mark the acting debut of Asher Oyelowo, his eldest son with his actress wife, Jessica. They have four children, whom they home-school, ensuring that the family is never apart for more than two weeks, even when Dad is at his busiest and most in-demand. Which lately seems like all the time.
Pastime or hobby you've taken up between takes? Tennis. It's one of the few sports I love to play and watch.
Favorite vacation destination: Maui — but that's recent. Prior to that, Panang, in Maylasia.
Favorite restaurant in the world: Nobu — here in L.A.
When Breaking Bad creator Vince Gilligan hired him, Paul was supposed to be killed off at the end of the first season. But his chemistry with Bryan Cranston proved so compelling that their relationship became the backbone of the series, now in its fifth and final season. The AMC drama is so acclaimed — even ranked above The Sopranos by some —it might be considered a career peak, but Paul is just getting started. He played the lead opposite Mary Elizabeth Winstead in the 2012 Sundance-winning indie Smashed, and is getting ready to star in DreamWorks' Need for Speed, a high-octane summer tentpole — automobile action done without digital effects — that may find him kicking off a franchise in 2014. One could argue that Paul was destined for fame. He arrived a month premature on the floor of his parents' Idaho bathroom in the summer of '79. His minister father was out of town and his mother managed to deliver him on her own. The first photo ever taken of baby Aaron wound up on the front page of the local paper the next morning. Such fighting luck sustained him during the decade it took him to succeed once he moved to Hollywood after high school. The acting bug had bit at thirteen; by his early twenties he was nabbing bit roles on Beverly Hills 90210, Melrose Place and scores of other shows, but supporting himself primarily as a theater usher until a part in Mission: Impossible III and a recurring role in HBO's Big Love put him in reach of his 2008 breakthrough with Breaking Bad. Looking back, he judges that when he started out, he was so green that the long climb made him a better actor, and working with Cranston — their characters literally being student and teacher — definitively sharpened his work. Which is why he hopes to do more TV. He was particularly tempted when offered the lead in HBO's forthcoming Cold War saga The Missionary, scheduled to shoot in Eastern Europe, but thought it had such potential to succeed that he turned it down. Having just moved back to Los Angeles from Breaking Bad's home base in New Mexico to marry activist Lauren Parsekian, he couldn't bear to spend the first years of his marriage out of the country. Need for Speed proved the better fit. As he settles in for what may be a busier career in features, Paul also paints and writes. At the moment, he's particularly hard at work finishing a set of short stories — aimed at adults but disguised as children's tales — and casting about for a publisher.
Hobbies: I'm addicted to Red Box, and movies in general. Outdoors, I hike and snowboard.
Director you hope to work with one day: Omigod, so many! But let's start with P.T. Anderson and Darren Aronofsky.
Band or singer you're obsessed with: Thom Yorke, of Radiohead — and I'm obsessed with Radiohead.
OREN PELI
WRITER-DIRECTOR
Peli's first film, Paranormal Activity, openly took its inspiration from The Blair Witch Project — scary story told in the form of a simple video diary. But he tweaked that formula so effectively that he turned what in other hands would likely have been a one-hit wonder into a hugely successful franchise. At this writing, a fifth installment is in the works. What's more, with Paranormal as a springboard, he has launched several other successful chillers: Insidious, Chernobyl Diaries and The River, the latter a network series he co-created with Michael Perry for ABC. (It only lasted a season but won a devoted cult.) As a tinkerer and re-thinker of movie genres, Peli is something of a tech wizard in the Steve Jobs tradition, which is no coincidence: He left high school at age 16 to start his own software company. In 1989, at 19, he left his native Israel to seek his fortune in New York, where his work had earned him enough of a reputation in the computer industry that he was able to prosper for the next decade and a half as videogame developer. Level-headed practical when it comes to problem-solving, with a broad, self-taught love for movies — every kind of movie; he regards horror as a mere point of entry — he lit upon a personal premise he liked (there were weird noises in his house), devised a story he could shoot simply but for maximum effect, and — presto! — Paranormal Activity. He has no real hobbies other than traveling with his girlfriend and watching movies with even greater enthusiasm than before. Poke around for clues about his next projects, such as the witchcraft-themed Lords of Salem, which he wrote and is producing for Rob Zombie, or Area 51, which he's written for himself to direct, and he refuses to spill. Instead, he maintains a blanket no-comment policy. His motto: Never talk about anything before its time.
Digital or film: I've never worked on film. I don't think I ever will, because I like the immediacy of digital, of shooting something and having instant access to it.
1:33, 1:85, 2:39: That depends on the feeling you want to create. Most of my work has been in 16:9 [or 1:77:1], the standard for digital images. I like it, because it gives a more intimate feeling.
One thing people don't know about you: Because I made Paranormal, they expect me to be weird. I'm not. I like comedies.
SUNIL PERKASH
WRITER-PRODUCER

A creative producer in the classical mold, Perkash defines his job as closely counseling the writers, casting the directors and patiently outlasting any and all opposition when it comes to asserting budgetary needs or production value. Best known for Salt, he has produced a series of idiosyncratic pictures: Blast from the Past, Premonition, Enchanted. He brought off Salt after long years of championing Kurt Wimmer's screenplay — for a time with Tom Cruise attached — by asking an out-of-the-box question: What if the protagonist were instead played by Angelina Jolie? The answer set that movie free and fetched a deluge of profits to the tune of $300 million internationally (Enchanted topped that at $340 million worldwide). As he sees it, big studios have grown too risk-averse. He believes strongly in gambling on a slate of pictures and in taking risks with each film that will offset (and protect) the various, no less unique, risks taken with the others. Born in California, Perkash, is the son of two tradition-minded doctors from India. He dutifully majored in economics and communications at Stanford studying abroad at Oxford, but the dream of making movies took hold at age seven — for which his parents can thank Star Wars and E.T. He set up shop in Hollywood after returning from England in the early 1990s, and his abiding ambition is to make a film that succeeds internationally on the same primal and folkloric scale as those two pictures. Not surprisingly, he and Jolie are moving forward with Salt 2. He's also working on two other Kelly scripts. One, Man 2.0, is in such early stages of development that they are keeping a lid on it. Another, very close to production, is Timeless — a love story with an element of magic realism — about a young grieving widower who devotes the vast fortune his late wife bequeaths him to building a time machine that will reunite them. As an admirer of two other fairytales for all ages, Ghost and Titanic, he is angling to attract comparable lightning here. Philip Noyce is attached to direct, but the picture's backers are so shy of moving forward in a timely manner — the very risk aversion Perkash itches to defy — that he is fighting tooth and nail to hit the magic numbers, as he puts it, and hold the package together. Though irritated by such riptides, he's not worried. With his present reservoir of success to empower him, he's confident he can ultimately outwait and outwit any resistance.
Daily website visit: Rotten Tomatoes.
Dream project: Right now, Timeless. Beyond that? Man 2.0… My dream is to make something that impacts the world the way Star Wars did, or E.T. …
Extravagance you've allowed yourself since you started producing: Outrageously expensive cocktails: I will literally spring $200 dollars for a bottle of Beluga gold-label vodka — the best martini you'll ever have.
If you didn't notice her in 28 Weeks Later or Fright Night or Centurion or Jane Eyre (a distinct possibility, given her ability to disappear into a character) Poots would have been impossible to miss in Yaron Zilberman's superb A Late Quartet, where she held her own in a fiery ensemble with Christopher Walken, Phillip Seymour Hoffman, Catherine Keener and Mark Ivanir. She even achieved a plausible mastery of concert violin, rehearsed under the rigorous tutoring of masters from Juilliard. Her hothouse proficiency let her daydream of becoming a fiddler in a folk band — but she quickly dismissed that fantasy after Michael Winterbottom and Terrence Malick summoned her for their next projects. Even so, such amplifications in knowledge are among the greatest pleasures and rewards of acting. Another is bonding with a place. The London-born Poots believes A Late Quartet and Daniel Algrant's Greetings from Tim Buckley afforded her a more imaginative (and therefore truer) experience of New York City than she might have had any other way. Her education was interrupted at fifteen when she leapt from prep school to a role in V for Vendetta. Poots, twenty-three, is a voracious reader, photographer and lover of poetry — e.e. cummings and Lawrence Ferlinghetti are current favorites. Passionate and curious, she's the type who's not content to simply enjoy reading William Faulkner's New Orleans Sketches — she'll find her way to New Orleans, and the rest of the American south, as well. Working with Winterbottom on The Look of Love — in which she plays the hedonist daughter of a men's-magazine baron — the adventure was to shed inhibitions. Working with Malick on Knight of Cups — about which little is known, and she's not talking — privacy, as opposed to inhibition, would seem to be the mysterious point. Poots is a performer equal to either demand. Currently in production on Peter Bogdanovich's Squirrels to Nuts, produced by Wes Anderson and Noah Baumbauch, Imogen has a bevy of upcoming films, including the romantic comedy Are We Officially Dating, also starring Zac Efron; Filth, a follow up to Trainspotting with James McAvoy and the videogame adaptation Need for Speed in which she stars opposite Aaron Paul.
One thing people don't know about you: I can make an awesome melody with just my hands? That's actually true…
Favorite vacation destination: In Europe? Florence. In America? West Virginia.
For anyone who worried that Les Misérables had peaked with the Act 1 showstoppers sung by Hugh Jackman and Anne Hathaway, along came Redmayne, just after the halfway mark, to restore its operatic heights. The passion and precision he brought to those grace notes were a reminder of his excellence in previous films and a presage of further success. Before Les Miz, he was the tragic, idealistic son of Matt Damon and Angelina Jolie in The Good Shepherd, the schizophrenic, murderous son of Julianne Moore in Savage Grace and the lovestruck, sweet-spirited young companion of Marilyn Monroe in My Week with Marilyn. And he's been third-doublet-from-the-left in so many top costume dramas (Elizabeth: The Golden Age; The Other Boleyn Girl, Black Death and the World War I miniseries Birdsong) that he's begun filling a special drawer at home with period socks. Born in London, he was encouraged in his performing ambitions by his parents —neither of whom works in the arts — and made his stage debut at age twelve playing a workhouse boy in Sam Mendes' 1994 production of Oliver! Of the five kids in his family, he is the only one to pursue show business. The impulse just came naturally to him. Educated at Eton and Trinity College, Cambridge, he studied art history, affording him a frame of reference that no doubt came in handy when he played the assistant who challenges artist Mark Rothko (played by Alfred Molina) in John Logan's play Red — for which performance Redmayne won both an Olivier Award and a Tony in 2010. To the extent that he's been able to conduct a personal life while he travels far and wide, he has spoken of buying a house — if nothing else, for continuity's sake — but for the moment, he's consumed with work. On the way is Jupiter Ascending, an epic interplanetary fantasy opposite Mila Kunis and Channing Tatum, under the direction of the Wachowskis.
Band or singer you're obsessed with: Folk singer Johnny Flynn.
Pastime or hobby you've taken up between takes: I play a lot of tennis with my brothers and mates. Tennis is big in L.A., and it's a good way of passing the time between meetings.
RHETT REESE & PAUL WERNICK
WRITER-PRODUCERS
Ever since their breakout with Zombieland in 2009, Reese and Warnick have not only seized the opportunity in terms of big-ticket assignments (G.I. Joe: The Retaliation, the forthcoming Cowboy Ninja Viking), they have generated original material of great promise. In addition to Epsilon, a futuristic, Kubrick-meets-Cameron fantasy about a young man raised from infancy by robots to destroy the human race, they have created Our Father, a series for HBO about a televangelist and his problematic grownup offspring; the pilot will be directed by Jay Roach. The duo also have been campaigning on behalf of Deadpool, their adaptation based on a Marvel superhero even edgier than Iron Man's Tony Stark — but one, they are certain, with even richer box-office potential. When they write, they work separately and trade drafts back and forth until both are satisfied. Such ease is born out of a lifelong familiarity. They knew one another growing up in Phoenix, Arizona. Three years apart in age, they became friends after Wernick arrived in Los Angeles to study at UCLA and work in network news, while Reese pursued his solo career as a screenwriter (Monsters, Inc., Clifford's Really Big Movie). Their lives followed different tracks for a decade before joining forces. Wernick married animation writer Rita Hsiao. Then, one night ten years ago, when a casual conversation took a whimsical turn, the pair hit upon a premise for a reality TV program, The Joe Schmo Show, which they sold to Spike. Zombieland was another TV idea, which they sold for a time to CBS — where it languished until they turned it into a film.
Favorite way to procrastinate: Both: The Internet!
Best place you've found to write: Rhett: Planes — the one place I can't access the Internet; but that's about to change. Paul: My bed.
Daily website visit: Rhett: IO9 — Eye-Oh-Nine…a Sci-Fi site. Paul: Sneakernews.com and likecool.com.
Dream project: Both: Deadpool, now sitting over at Fox.
ANDREA RISEBOROUGH
ACTRESS
This protean Brit has inhabited roles as varied as a beauty fit to dethrone a king (W.E.), a plain dormouse transfigured by love (Brighton Rock), a no-nonsense police investigator whose braininess is her most seductive trait (Welcome to the Punch), and a vulnerable mother driven by circumstance to become a terrorist (Shadow Dancer). Indeed, a casual viewer may not identify her as the same actress from film to film. But the best filmmakers know who she is, and in increasing numbers. This year Riseborough paired with Tom Cruise in Oblivion, as his confidante in the control tower of a dystopian super-future. Hidden, written and directed by Matt and Ross Duffer, will find her dealing with an apocalypse closer to our own time, caused by an outbreak of plague. In an earthier, more intimate vein, harking back to her roots in the theater, she has been cast as a Broadway actress in Birdman, for director Alejandro González Iñarritu. Riseborough began acting as a child, without even realizing it: she talked to herself incessantly behind closed doors (her parents overheard but were not alarmed); and delighted in mimicking the people, and re-enacting the events, she observed each day. By age 9, she was appearing in school plays, and a teacher encouraged her to study ballet and to audition for a theater group with connections to the Royal Shakespeare Company. She performed onstage and in short films throughout her teens, but true to her penchant for absorbing life through action, she pursued painting and drawing as well, skipped college and worked at jobs as diverse as running a Chinese restaurant and starting her own greeting card company. The eclectic experiences fed her work— from the Royal Academy of Dramatic Art to a role in Mike Leigh's Happy Go Lucky (2008) not long after graduation. Leigh's process of developing characters and story through intensive improvisation was liberating after so much classical training. Looking back, she refers to the experience as her smallest role with her biggest learning curve; her biggest take-away was Leigh's tenacious work ethic: Never, ever lose sight of what you're trying to achieve. It's easy to lose one's inner thread under the daily pressure of filmmaking, but Riseborough has noticed with that this fierce dedication is something Leigh shares with Tom Cruise — and herself, as she continues to make the most of each opportunity.
One person, dead or alive, who's inspired your work the most: Howard Zinn [American historian, civil rights and labor activist, author of You Can't Be Neutral on a Moving Train].
Director you hope to work with one day: There are several: P.T. Anderson, Emir Kusterica, Lynne Ramsay. Above all, Ridley Scott — we're from the same part of the world. I've been in films he's produced, but not yet one he's directed.
Band or singer you're obsessed with: Eugene McDaniel.
Pastime or hobby you've taken up between takes: I've been trying to learn a musical instrument — I've tried several — but have not been able to maintain the practice. I've got five films coming out, and I'm making two! Where do I get the time? How do I fit whatever it is into my luggage?
SARA SCOTT
CREATIVE EXECUTIVE | UNIVERSAL PICTURES
She originally set out to work in the trenches as an assistant director until Peter Cramer — then an exec at New Regency — persuaded her that creative development was the place for her particular passions for reading, analyzing and problem solving. Since then, Scott has flourished: first with Cramer at New Regency and Universal, then at Harpo Films for Oprah Winfrey. Now at Universal again, she has been instrumental in the development and production of Joseph Kosinski's Oblivion, starring Tom Cruise, and Baltasar Kormakur's Two Guns, starring Denzel Washington and Mark Wahlberg. Presently, she is developing producer Joe Roth's Daughter of Smoke and Bone, a Prague-set fantasy based on the novel by Laini Taylor (and part one of a projected trilogy), and a sci-fi adventure for Will Smith based on the prophetic 1970 TV movie Colossus: The Forbin Project. Scott's task on any film is to liaise between the filmmakers and the phalanx of senior executives above her; to watch dailies every day as they come in; and to make notes. Above all, she must master whatever creative language evolves on the fly between the diverse temperaments involved on a project. She realizes, looking back, that she'd been preparing for this role her whole life without realizing it. Philadelphia-born and bred, Scott went to college at University of Pennsylvania, where she majored in theatre — most of her studies involved reading and analyzing plays. For fun, she did some acting, which sharpened her critical sense. Her freshman summer, she interned with a local casting office, where her enthusiasm resulted in a paying job. Positive experiences on various locally shot films (Snake Eyes, Sour Grapes, Edge City) brought her west. Oprah impressed her by working harder than any human being she'd ever met — her own hardworking staff included — and by melding a sense of social justice with drama. This resonated deeply with Scott, who in her spare time supports philanthropic programs in Philly and L.A. that use the arts to help underserved and at-risk young people. The Unusual Suspects Theatre Company, a nonprofit she has been working with for years, works to empower youth in at-risk environments with the means and methods necessary to explore personal and social conflicts and self-esteem, communication and coping skills to make positive life choices and become productive members of the community. Back at her day job, she revels in the tumult of seeing a raw idea become a complex piece of entertainment.
Most prized office possession: A photo taken by my father, circa 1972. It's of his VW bus on the "New York Street" section of the Warner's lot, where he worked for a couple of years at that time.
Self's devotion to reading not only books, but people, is reflected in her client list — Dustin Hoffman, Diablo Cody, Russell Brand, Rebel Wilson, John Krasinski, Anna Faris, Pulitzer Prize-winning playwrights Bryan Yorkey and Tom Kitt, to name a few. It's a roster loaded with multi-talents who either generate their own material, or actors like Hoffman who create character with a literary intensity of detail. The seeds of her passions were sown as a child. As a girl growing up near San Diego, she and her family would pack bags of popcorn to their neighborhood bookstore, where they would munch and read for hours. As a media communications major at Northwestern, her minor was comparative languages, and as a young woman on her own in Manhattan, her favorite pastime was to walk from uptown to downtown, observing and listening: capturing snippets of conversations, bearing momentary witness to fragments of people's lives and their stories. Self jokes that all that time she was preparing to be an agent without realizing it. She trained with Robert Bookman at CAA, and rose through the ranks at Gersh before moving to WME, where her specialty, as she sees it is —big surprise — reading and matching people to people, nurturing proactive creators eager to try it all. Her office is filled with photos of strong women who've inspired her — Lucille Ball, Bette Davis, Marilyn Monroe, Mary Pickford. Asked about the challenges of today's entertainment industry, she brushes the notion aside and substitutes the word opportunity. Ten years ago, she argues, people were far more rigidly categorized — a writer was a writer, an actor an actor, a director a director. Today, if musical artists like her clients Trent Reznor or Jack White want to direct, nobody bats an eye. Self describes the day-to-day creative excitement as a personal Disneyland for all involved. Even the old-school model of an agent schmoozing clients over lunch no longer applies for her — she is always working except in those stray moments of relaxation that she and her husband devote to rescuing dogs.
Favorite restaurant to schmooze clients: I don't "schmooze," but if I had to, I would take them to the Sportsmen's Lodge.
Daily website visit: New York Times — but that's not fun. I also like DListed — celebrity gossip!
Secret creative talent you possess: The ability to shop wisely! I would love to be a stylist. I love design, I love style — I admire people who can express themselves through clothes. And makeup: I would love to own a makeup line.
ADI SHANKAR & SPENCER SILNA
PRODUCERS
In under seven years, this pair has released Joe Carnahan's man-against-nature thriller The Grey, with Liam Neeson; Andrew Dominik's hyper hit-man tragicomedy Killing Them Softly, starring Brad Pitt; Pete Travis' franchise-reboot Dredd; this year's urban-corruption drama Broken City, starring Mark Wahlberg and Russell Crowe. Shankar and Silna call their company 1984 for short. (Silna was born that year, both like the echo of George Orwell in the brand. Though Shankar, for the record, showed up in '85.) The appellation Private Defense Contractors, which they like for its hint of Blackwater and special-ops, provides self-protection with a smile for two guys in their late twenties who came to Hollywood not knowing a soul in the biz. They met studying film theory at Northwestern University. Adi (rhymes with Paddy) grew up in Calcutta, Hong Kong, Singapore and Rhode Island. Spencer, born in L.A. — where he'd been a championship horseback rider— met one or two actors over time, but otherwise had no connections. They shared the delusional confidence of ignorance when they formed their company before graduation in 2007. Once here, they worked the phones, making calls without inhibition to whoever they thought would be helpful, at whatever level. Their naiveté worked against them in some instances, but a focused ability to state their aims overcame most resistance. A 1984 film must: be R-rated, deal in action and violence, be crime-related. You could argue The Grey and their forthcoming Lone Survivor (directed by Peter Berg) are war films — men battling wolves, Americans trapped in Afghanistan — yet heist-like stealth and double-cross are constants that drive the action. The Voices, currently filming in Berlin, is a psychological thriller that hinges on a crime. Shankar will take part as an actor. This is at the invitation of director Marjane Satrapi (Persepolis) — yet acting has been a serious ambition for him, one he pursues in the short films 1984 produces for fun and puts on YouTube. For Silna, building a successful company is a fulfilling end in itself. Elsewhere in the pipeline is an all-female answer to The Expendables, as yet untitled. That is a revealing bit of caution. As with their brand name, Silna and Shankar choose titles carefully. (The Voices will likely be called something else by the time of its release in 2014.) Given the many afterlives of any movie now, whether through video or streaming, they want their own films to be uniquely named, at the very least to avoid being mis-Googled. You have to hand it to two producers who are in conscious competition not just with whatever else is opening this week, but every movie that's available.
Most unusual place you've found material: [Both reply, in overlaps] On the Internet — perhaps — but honestly? The way material is passed around these days, everyone knows about every good script. Showmanship — chance encounters, attention-getting gestures — such things are dinosaurs. These don't matter if it's not a good script
Daily website visit: Collider.com
Smith had a strict idea of what an agent was before she became one, and laughs at how wrong she could be, now that she reps an A-list of rising talents. Among these are David Michôd, writer-director-producer of Animal Kingdom; Miranda July, writer-director-star of The Future; Adam Leon, writer-director of Gimme the Loot; James Ponsoldt, director of The Spectacular Now; and Australian directors Julius Avery, of the forthcoming Son of a Gun, and Garth Davis, co-director of Sundance Channel's Top of the Lake. (A number of her clients, like Smith herself, are from Down Under.) She's also been vital to the financing and sales of such big-ticket items as the Kristen Wiig vehicle Girl Most Likely, writer-director-performer Mike Birbiglia's Sleepwalk with Me (IFC's highest-grossing movie of 2012) and writer-director-producer Jesse Peretz's Our Idiot Brother, starring Paul Rudd. She searches, she says, not just for solid but extraordinary talent, voices that make themselves heard above the general level. Smith grew up 400 miles from Sydney, in the small farm town of Moree. Movies were the lifeline that inspired her to explore the world. At first she traveled as an instructor, teaching English in Vietnam, Thailand and France. Later she trained as a journalist, but realized her passion was for movies, so she made covering them her specialty. She became Australian bureau chief for The Hollywood Reporter and top editor at Inside Film, a journal based in Sydney where her coworkers included Michôd — then just dreaming of making films. Their offices were next door to the mansion where Baz Luhrmann was making Moulin Rouge, and downstairs from the office of Blue-Tongue Films — a collective that includes Nash Edgerton, Joel Edgerton and Kieran Darcy-Smith, multi-talents most currently behind Michôd's new film, The Rover, but who acted in his Oscar-nominated debut, Animal Kingdom, which Smith executive-produced. That sense of a close-knit creative community was what she missed most when she moved to Los Angeles. She has turned that around, partly by enjoying the natural beauty of the place — she and her boyfriend are ardent hikers — but mostly by finding a place for herself at UTA, an exemplar of the collaborative ethos that defines contemporary agenting. When the opportunity was first offered to her, Smith resisted. She saw herself as a creative ally, not a negotiator of contracts. But the job description — traveling the festival circuit; identifying and signing visionary new talent, either for herself or others at the agency; developing expertise at financing films in the non-studio space – meshed so well with her skill sets as a journalist and a producer that she grabbed it with gusto.
Favorite restaurant to schmooze clients: I don't schmooze in restaurants. I love the Soho House, but don't feel a need to dine out except when I'm out and about in Cannes. Here in L.A., the kind of clients I'm drawn to like to come over to my house, where I cook for them.
Hobbies: Getting out in nature. Exploring the canyons here in L.A., or in Ojai. I love hiking out to some remote spot to watch the sun come up.
Secret creative talent you possess: Doing voices and accents. I'll spare you, but my friends know this well. Although I can get along in Japanese and French — I've given up on Thai! — my accents in other languages are always much more functional than my memory for syntax and vocabulary.
TERESA PALMER
ACTRESS | @TEZ_PALMER
Typecasting has stalled many a career, but it won't be a problem for Teresa Palmer, whose greatest gift may be that she is so startlingly natural wherever she's planted. This was most evident in her hit from earlier this year, Warm Bodies, in which she's a tough-cookie survivor, post-zombie apocalypse, in love with a guy with one major drawback — he's one of the undead. Even at a glance — in such unalike pictures as the Adam Sandler comedy Bedtime Stories; or Take Me Home Tonight, opposite Topher Grace; or the extraterrestrial fantasy I Am Number Four — the romance, action and humor are anchored because Palmer is so deeply down-to-earth.
Although she's more in demand than ever – with roles in Love and Honor, a Vietnam-era drama co-starring Liam Hemsworth, Terrence Malick's Knight of Cups, with Christian Bale; again opposite Hemsworth in the thriller Cut Bank; and in Parts Per Billion, an unsettling drama costarring Gena Rowlands – the driven Aussie is keen to generate her own projects, too. They include Track Town, which she co-wrote with costar Tahyna Tozzi, set to film in 2014. More immediately, she is collaborating on The Ever After with her fiancé, director Mark Webber.
So many Australians have succeeded here in Hollywood. Even so, it's a huge risk to come all this way. What made you decide to try? Honestly, I had no plan of attack. I fell into acting. I was taking any opportunity that came my way. One came when I was in Cannes [in 2006] with 2:37, my first big film. American casting directors had seen it at the festival and wanted me to audition. My manager encouraged me. I landed in Los Angeles for what I thought would be a couple of weeks — quite excited by this new adventure — then booked two of the roles I tried out for. It was decided for me, I guess. My life unfolded in that way. I was cast in American movies.
At one point early on, you set out to become a teacher – Yes! Healing and teaching are my two other passions, outside of acting.
What subject would you have taught? Drama and English at a high school. I'm always excited, being in a school environment. Since I've been working, my old high school and college have invited me back —I've taught drama lessons, talked to the kids and hung out with them. I get to play a teaching role in their lives. It's a really inspirational thing to do.
You quit college to pursue acting. Have you ever thought of going back? I've definitely looked into it.
What would you study? I've always been interested in midwifery. All of my friends know me as the little mama-bear. I've always been interested in the process of pregnancy, and service. I've thought about going back to college just to get a degree in this field.I also love psychology. I thought of pursuing the subject at UCLA. I only completed one subject at college in Australia — my concentration was all wrapped up with being in films. It is definitely something I would like to continue some day, and venture in to all sorts of areas.
To be a successful actress, you have to be something of a psychologist on a visceral level. I definitely grew up having to learn to read people. I became very good at that, and it's my favorite thing to do — explore personalities, have deep conversations with people — to discover a spirit. I love doing Carl Jung stuff. The Myers-Briggs personality test? I'm all about that. I love studying up on these sorts of things. They really spark a truth with me, in a helpful way. One of the things I'm very, very passionate about outside of acting is a lot of self-development work, rich in spiritual life. That's where the interest in psychology comes in.
Does that involve meditation, or is it reading and thinking? Reading a lot. Practicing open communication, delving into my psyche and getting close to the core; analyzing where certain feelings and thoughts come from but not placing judgment on that.
Making your own unconscious mind available to you, in a way. What we have to offer is already there, but too often we censor ourselves. Absolutely! I'm focused on being a more conscious person. It's really been very eye-opening. Probably the one subject that I love talking about!
Let's talk about this in terms of the characters you play. You've described Julie in Warm Bodies as "a sassy warrior." It's clear you loved that about her. Are more like her being offered to you? There's been no thick stream of offers, though Warm Bodies has been great for me. There's definitely been more interest in me for these feisty, independent, very spirited roles. Which is great, because I wasn't always seen in that way. But, I'm still at the point in my career where I'm fighting for roles. The difference is that I can be much more selective in terms of what I fight for. I can be choosier, do films I'm passionate about or can feel inspired by.
Do you suffer the pressure to take jobs, as opposed to losing momentum? That is the conversation you have with your team. Do you lower the bar and stay visible? Or do you raise it so that you're not seen as much, but the quality of films you're seen in is of a high standard? That is where my head is typically at. Obviously I need to be more or less available and make sure I'm not being too precious. If you can talk about a film that is coming out when you go in to meet people, it works powerfully in your favor. I follow my instinct; I don't feel like it has been necessary for me to lower the bar just to keep my face out there.
What's the most recent film you've completed? Parts Per Billion. That's with Rosario Dawson, Josh Hartnett and Gena Rowlands. It's a really amazing cast — Frank Langella, Penn Badgley. I was really proud to be a part of that ensemble. I saw a lot of my own journey in this girl I play. She is going through a lot of turmoil. She sees things other people don't necessarily see. At the time I auditioned I was very involved in meditation and developing my intuition, which mirrors the journey that she goes through.I was also very excited to work with Gena Rowlands. I'm so inspired by everything she did with her [late] husband [John Cassavetes]. A beautiful power couple! My partner Mark and I often refer to Cassavetes and Gena Rowlands and the magic that they made together. I got to pick her brain on the set — ask her what it was like shooting with her husband, using all their friends in their films.
You're referring to [actor-writer-director] Mark Webber. Yes. Mark's film The End of Love was playing in Krakow at a festival called OffPlusCamera. It was fun, and exciting to establish a relationship with the film industry in Poland.
You've started your own production company — you must be thinking of finding allies. They have such thriving resources there. Was that on your mind? Absolutely! We even spoke to people about coming over to Krakow and shooting a little film there in those streets. It's just so rich in history and culture. It would look incredible on camera.
How do you navigate the high-wire act of working with somebody you love? How do you foresee balancing that with Mark? It's very dependent upon the person you're working with, the person you're in love with. Mark and I are collaborators first, and honest communicators. That's key. We want what's best for each other. We want to continue to create films together — always. We've managed to strike a balance between our home life and our work life, and it happened in a very organic way.
Did you guys meet when you were working on a film together? Oh, no! I saw his movie — The End of Love.
About a young widower, played by Mark, trying to raise a young son — played by his actual son, Isaac. Exactly. I thought it was so poignant, so beautiful, so grounded in reality. I thought, "I'd love to work with that filmmaker." And — this being a very modern romance — I put it out over Twitter how I felt about his movie. He saw this Tweet. We started following each other. We started writing one another.
That's right out of a Jane Austen novel, but here and now! [Laughs] Yeahhh! An old-fashioned story. We wrote each other for three months before we even met. We got to know each other's spirit through these emails. We fell in love without seeing each other. It was wonderful, and from the start we wrote about working together: how we could collaborate on something very special.
Mark is directing your next film, right? The Ever After? We're in pre-production right now. We have actually shot a segment of it; we went down to Australia and filmed a montage sequence for the beginning of the movie. It's the study of a couple who are dealing with adversities and who've stopped communicating. We explore the notion of monogamy. We touch upon affairs. My character suffers from post-partum depression. It's been an interesting journey for us to act these conflicts and dramas while we're in a relationship so far from this. Yet we know we speak for thousands upon thousands of people in serious long-term relationships. The divorce rate is now at 60 percent. We're asking the questions every couple faces in the daily struggle: Do we fight for it and stay, or is it too far gone? Do we need to leave? The couple we're creating is focused on this decision at a pivotal time in their life.We're going to shoot in Los Angeles.
You've also co-written a script with Tahyna Tozzi called Track Town, which you'll both perform in, while she produces and you direct…We have the script. We're in pre-production, deciding what we're going to do with it, what the budget's going to be — still very much the developmental process, because of both our situations. Tahyna's just got engaged, and I'm working on [The Ever After]. So for the moment, it is slightly on the back burner, but we plan to come together later this year and see it through.
If not Track Town, will you be directing some other project for yourself any time soon? Definitely! I have loved working on The Fun in Forever as a producer and a writer as well as an actor — and just being super hands-on, even though my partner is directing it. I get to shadow him and watch everything he's doing, and have such a say. Mark's encouraging me to direct, and I do dream of doing that; of being a woman with a voice.
You directed a documentary shot in Africa, on the theme of what makes people happy. To turn the tables: What makes you happy? The simple answer is, being surrounded by the people I love. Living as my most evolved self, any way I can. To be open and communicating, healing and teaching. Collaboration with Mark is amazingly therapeutic. To delve into your psyche, to experience emotions and feelings that have been there for twenty-seven years of my life? Really, happiness for me means being brave, shining a bright light on those parts of yourself that are darkest, of accepting and becoming more conscious. This is not to say it hasn't been difficult when things surface, but it has really, really deepened my acting. These things seem to go hand in hand. I'm so grateful I've found a partner in my life who is just as passionate about these things — and with whom I can talk about it for hours and hours. We're going to do daring and wonderful things.
Speaking of which, tell us about your role in Knight of Cups and working with Terrence Malick. I auditioned for the casting director. This was last year. I didn't get the role I tried for, and was very disheartened. Malick is my favorite director by far. I usually don't let auditions get me down, but I'd connected with this material and pictured myself in detail on the set with Terrence Malick. About a month later, literally the night before it was about to shoot, I was offered a small one-day role, that of a woman who talks to Christian Bale about key aspects of his life, especially about not selling out. I didn't know anything else about the role. I just said yes, and arrived on the set. The majority of what we did was improvised. I got to work with Christian Bale. Everybody who knows me knows I believe he's the best male actor of our generation. Yet he's also really humble, very unaffected by his great level of success. That is a refreshing thing to see, as a young upcoming actor. I can't really tell you much more about the film, obviously. Terrence Malick holds his cards very close to his chest.
What's Malick like as a person? How is he different from other directors? How does he address improvisations and problem solving? He really embraces your essence. It's so incredible. I essentially play a version of myself. He was so encouraging of me, and my ideas. It was supposed to be a one-day part, but he kept me on for five. He just really gave me the reins. He let me go off wherever I wanted to veer it. There's such art in that. He's not "controlling," in that sense, at all. He knows the look of the film. He knows the subject that we're talking about. But other than that, he's really allowed us the space to find the breath of his characters, to find the life-force of who this character is. He just embraces and nourishes it. He allows it to be what it is, without manipulating it. I would love to work in that manner on all my films.That's been a fantastic inspiration for The Fun in Forever, and how Mark and I see the scenes. Make it a dance between the actors! Let them find it for themselves. Gently steer, but really, give it over to them. Let it grow from that.
Of all the films you've made thus far, which has helped you the most in terms of getting better scripts? I Am Number Four helped me raise my profile, Warm Bodies even more so. But working with Terrence Malick has — by the way — been a great point of conversation in meetings with directors. Everybody is fascinated by him. Everybody wants to know what he's like. That's been very helpful!
Which of your films taught you the most? Which one had the steepest learning curve? Warm Bodies: I really felt under the gun with that, because I am in the majority of the scenes and have most of the dialogue. I have to do all the talking — I'm acting off of a zombie! My co-star was simply not going to be able to talk back! I knew my energy and my life-force were going to have to drive the plot and felt a huge anxiety in the weeks leading up to shooting the film — yet once I just gave over to the experience and trusted my instincts, confident that I knew my lines cold and had the dialect and the character right, and knew who she was — I let go of the pressure and let it organically grow. Of course, on the Malick film I got to do that tenfold! All you do for Malick is trust your instincts, and go with your gut, and allow yourself to experiment. Both Warm Bodies and Knight of Cups have shaped who I am as an actor, currently. I hope I deepen my work with each passing movie.
Love and Honor and Cut Bank are up next for you. What can we expect in terms of your work? Cut Bank is a great little crime thriller, psychological drama, really fun and interesting. I get to work with John Malkovich again, as well as Liam Hemsworth and Sir Ben Kingsley. I get to be from Cut Bank, Montana, have an accent — a really fun character, with a vibe like that of Patricia Arquette in True Romance, very different from anything I've done before. Love and Honor is with Liam Hemsworth, set in the 1960s. It's a beautiful, bittersweet, romantic movie. I play a strong-willed journalist who's very much anti-war but surprises herself by falling in love with an American soldier — a Vietnam vet who goes AWOL. We shot it in Ann Arbor with a really great crew, and I enjoyed delving into the 1960s era. To feel what it was like to be around those times, and the political issues that young people were dealing with, and how different life was. I'm so far removed from any of those experiences.
And yet — in a certain way — from what you describe of working with Mark, and your own passions and explorations, the 1960s holds up a mirror to what you're attempting and what you strive for. Exactly! There has been a shift toward conscious living today that people were talking about in the 1960s — what love means, of communication. It really has come full circle. –F.X. Feeney
ANDREA SPERLING & JONATHAN SCHWARTZ
PRODUCERS
We've all heard of niche marketing, but Schwartz and Sperling have mastered the unheralded art of niche financing. By working with adventurous, movie-loving investors (such as Minnesota Vikings owners Zygi and Audrey Wilf), by keeping their budgets well under a million and mostly working with directors who've written their own scripts (thereby stacking the odds in favor of passion and vision), they have produced a string of Sundance-selected films — including Like Crazy and Smashed — without losing a dime. More recently, Breathe In, directed by Drake Doremus, won raves at this year's Sundance and will be released in the fall. So many indie companies either go under or lose their way that from the outside, such a track record could seem like a miraculous fluke. But from the inside, their company, Super Crispy Entertainment, has come by its success through a combination of experience and diligence. Schwartz, a former ICM lawyer, made his first mark with Goran Dukic's Wristcutters: A Love Story, Michael Haneke's American remake of his disturbing drama Funny Games and, more recently, Peter Weir's epic The Way Back. Sperling got her start with director Gregg Araki, her former teacher at UC Santa Barbara, producing several of his rebel upstart pictures, including The Living End, Totally Fucked Up and The Doom Generation. She went on to make But I'm a Cheerleader, The Quiet and The Itty-Bitty Titty Committee for director Babbit — with whom she is now raising a family. Schwartz and Sperling had been a mutual-admiration society well before they joined forces. She was particularly taken by his successful grassroots campaign for Wristcutters. He was no less impressed by her prolific output and adventurous taste. A common thread runs through such diverse but high-performing titles as Kaboom, Breaking the Girls, Nobody Walks — each is set in the present, uses simple or available sets, and can (usually) be filmed guerilla-style — but Schwartz and Sperling turn such markers aside. Their low and micro budgets impose certain creative limits, but the keys, they insist, are story and passion. They will back any filmmaker they believe in, and believe firmly that they are not limited to a niche market — but creating films with broad-based and even universal appeal, over time.
Hobbies: Andrea: I'm an avid weightlifter. Jonathan: Sports, politics, traveling.
Extravagance you've allowed yourself since you started producing. Jonathan: I buy Ultra Charmin. Andrea: Once in a while I buy cappuccino instead of regular coffee.
Most unusual place you've found material: Jonathan: The editing room; director Drake Doremus "found the material." He was cutting Spooner (2009) with our editor Andrew Dickler. He suddenly looked at Andrew and decided to make him the star of his next movie — Douchebag (2010), which we made for $30,000. It was nominated for a Grand Jury Prize at Sundance.
Dream project: Jonathan: Mark Twain Remembers, by Thomas Hauser — a book I've always loved about the young Mark Twain. Andrea: The real dream project is the movie that allows you to make more movies.
DANNY STRONG
ACTOR-WRITER
Renowned most recently as the writer of the HBO movies Recount and Game Change (the latter of which scored him two Emmys), Strong got his start as an actor. Born and raised in California's Manhattan Beach, he began performing in school productions at an early age, majored in Theater at USC and from the mid-'90s on found steady work as a TV actor (Saved By the Bell, Buffy the Vampire Slayer, Mad Men). He turned to writing first as a strategic means of writing lead roles for himself, later for the potentially lucrative pleasure. Three unsold spec scripts later, he realized he was aiming at the marketplace instead of trusting his passion. Here again, his theatre training focused him. A 2006 performance of David Hare's Stuff Happens, a nonfiction play about the tragic build-up to the Iraq war, so inspired Strong that literally by the time the curtain fell, he'd hit upon the 2000 Florida recount as a subject. HBO bought his pitch, paired him with director Jay Roach and the rest has been historical themes and history itself, in terms of awards (not just Emmys, but from the Writers Guild and Producers Guild) and critical acclaim. Up next is his first feature, The Butler, an intimate epic of the Civil Rights movement, told from the viewpoint of a sharecropper's son who serves as valet to eight U.S. Presidents. Strong's success has also brought him a pair of big-ticket, mass-market assignments: In addition to adapting The Lost Symbol, Dan Brown's follow-up to The Da Vinci Code, he will transform Suzanne Collins' novel Mockingjay into parts three and four of The Hunger Games. Through it all, the stage remains his passion, one he indulges by making a life in New York City, where he sees at least two Broadway shows a week.
Daily website visit: Politico.
Favorite restaurant in world: I really love Fatty Crab in the Village.
He could have had a career as a singer, to judge by his impassioned interpretation of Beatles songs in Julie Taymor's Across the Universe (2007) or the title song writer-director Philip Ridley composed for Heartless (2009), in which he stars as a tormented, demonically tempted hero. Acting called the young Englishman in his teens, not long after he and friends started a band. Sturgess has balanced the two pursuits ever since, whether singing on camera for Taymor, behind it for Ridley (with whom he cowrote two additional Heartless tracks), or for Wayne Kramer, writer-director of Crossing Over (2009), to which Sturgess and his longtime girlfriend, musician Mickey O'Brien, contributed two songs, "Panic" and "Magic." The couple has a band, Tragic Toys, but it's on a back burner as Sturgess's acting career has caught fire. He has excelled in 21 (2008), with Kevin Spacey; The Other Boleyn Girl (2008), opposite Natalie Portman; One Day (2010), opposite Anne Hathaway; a physically demanding epic like Peter Weir's The Way Back, in which he led a mob of outstanding talents, including Ed Harris and Colin Ferrell, and the Tom Tykwer-Wachowski siblings' Cloud Atlas, in which he played half-a-dozen characters across as many incarnations. His strategy in choosing projects — apart from excitement at a role or a director — is to aim, if he can, in an opposite direction each time. He offset the outdoor challenges of the Weir film with Upside Down, a CGI sci-fi filmed mostly indoors, and with Electric Slide, the forthcoming crime picture from first-time director Tristan Patterson, set in a celebrity-clotted 1980s Los Angeles. At the moment, he's at a 19th-century mental institution in Bulgaria with Kate Beckinsale, Ben Kingsley and David Thewlis, filming an Edgar Allen Poe story, Eliza Graves, for director Brad Anderson. Several other interesting projects beckon. The Big Shoe is a comedy that would costar Kristen Stewart, The Lion's Share an adventure in Somalia that would pair him with Djimon Honsou — but both projects are up in the air at the moment. London Fields, based on the Martin Amis novel, is closer to landing — Sturgess would play Keith Talent, a loutish professional darts player — and he hopes it goes, for selfish reasons. It would be nice to work near home for a change, where he can make music with O'Brien and pursue his newfound but ardent passion for cooking.
One person, dead or alive, who's inspired your work the most: For music, when I was at the right age to be inspired, it was The Stone Roses. Ian Brown, their lead singer, was a huge influence on me. For acting, David Thewlis — his performance in Mike Leigh's Naked made me want to become an actor. That film was like a favorite album. I would come home, and watch it again. What's amazing is now I'm working with David.
Director you hope to work with one day: Spike Jonze.
Band or singer you're obsessed with: The older I get, the more drawn I am to the previous generation of greats: Bob Dylan, Bob Marley, Tom Waits, Nick Cave.
Pastime or hobby you've taken up between takes: Ping Pong. I've become obsessed with it.
AARON TAYLOR-JOHNSON
ACTOR
As a boy, he played a young Charlie Chaplin in Shanghai Knights and a young Edward Norton in The Illusionist. As a man, he's played a young John Lennon in Nowhere Boy — a breakthrough performance for which he was nominated for awards but ultimately took home the director, artist Sam Taylor-Wood, whom he has since married. (They have also adopted part of each other's names. He used to be Aaron Johnson; she now goes by Sam Taylor-Johnson.) Becoming a family man in his early twenties, with a baby daughter of his own and two growing stepdaughters, appears to have brought a maturity to the choices he's made since. On the one hand, he boarded a successful franchise — the super-hero spoof Kick Ass — while on the other, he has inhabited a range of challenging, increasingly rewarding characters in an array of acclaimed pictures. In addition to being one among the many faces blocking the path for Glenn Close in Albert Nobbs, he was a California pot grower fighting Mexican cartels in Oliver Stone's Savages, a depressed teenager wreaking havoc on himself and others in Chatroom and the smoldering seducer Vronsky, who derails the life of Keira Knightley's Anna, in Anna Karenina. Has he ever dreamt of a different life in another profession? Apparently not: his dad was a civil engineer, his mom a housewife, and young Aaron was so taken with acting, so early that he was on stage by age six. By nine he was part of in the West End production of Macbeth with Rufus Sewell, which led to those colorful bits in Shanghai Knights and The Illusionist that won him the lead (and put him on the map) in the teen comedy Angus. More than most, Taylor-Johnson seems born to this. By 2014 he will play the lead in a gargantuan franchise — director Gareth Edwards' reboot of Godzilla, costarring Elizabeth Olsen, Ken Watanabe and Juliette Binoche — and is in talks to play Quicksilver in the Avengers sequel due out in 2015.
One person, dead or alive, who's inspired your work the most: Daniel Day-Lewis.
Director you hope to work with one day: As five of my favorite films are Pulp Fiction, Fight Club, Apocalypse Now, Boogie Nights and The Big Lebowski, I'd be eager to work any time with Tarantino, Fincher, Coppola, Anderson or the Coens.
Band or singer you're obsessed with: Early Beatles, when they're starting out and still have a Buddy Holly feel. Elvis, Velvet Underground, The Doors, The Who. I don't listen to new music. I've only heard of Lady Gaga because she's all over the fucking place.
Her vivid turns in Notes on a Scandal (2006) and Atonement (2007), when she was still in her teens, put Temple on the map for filmmakers, after which she became third-ingenue-from-the-left in a half-dozen romances, comedies and period dramas (The Other Boleyn Girl, Year One, Glorious 39, Greenberg). An eye-catching performance in Gregg Araki's Kaboom, where she was part of a madcap ensemble of apocalypse cultists, and a sensational lead performance as a fugitive high-schooler escaping Oklahoma in Abe Sylvia's Dirty Girl, redefined her as a lead in 2010. Since then, whether as the Queen of France in the 3-D Musketeers or Catwoman's pal in The Dark Knight, she has tended to specialize in characters who are uncannily sure of themselves. Case in point: her spooky, lethal seductress in Killer Joe. Such moxie comes through even when their actions invite downfall, like her reckless Lily in Little Birds, or possible doom, like her jeopardized houseguest in Magic Magic. The bedrock of Temple's self-confidence is her family background. She's the daughter of a producer-director team: Amanda (First Love, Last Rites) and Julien Temple (Absolute Beginners, Joe Strummer — The Future is Unwritten). During a trip to the Grand Canyon when she was still in the womb, her parents found themselves standing atop a butte called the Juno Temple, hence her name. At age four, while she was suffering with the flu, her dad showed her Cocteau's Beauty and the Beast. Not only was the corridor of candelabra shaped like human arms in the film exactly like that in their house (a bit of cinematic homage on Dad's part), the moment when Beauty's costume changes from rags to finery in the arms of the Beast so thrilled her that, on the spot, she decided to be an actress and hatched a lifelong passion for fancy lingerie, which to this day she indulges whenever she catches a break. But with her forthcoming films Horns, with Daniel Radcliffe; Maleficent, with Angelina Jolie; a sequel to Sin City; and a rumored role in Thomas Vinterberg's adaptation of Hardy's Far from the Madding Crowd, thrift-store opportunities will be fewer and farther between.
One person, dead or alive, who's inspired your work the most: Sissy Spacek in Badlands is flawless — that movie really affected me quite deeply, and I cried at the end. I based the character I played in Killer Joe on Sissy Spacek in that movie.
Director you hope to work with one day: Terrence Malick — and my dad.
Band or singer you're obsessed with: Blink-182 — their 2011 album Neighborhoods. Other favorites include Nirvana, Smashing Pumpkins, Tom Petty, David Bowie, Bob Dylan. I also like The Slits and Sonic Youth.
Traue cheerfully admits she felt no prior emotional connection to Superman — she was born an Iron Curtained world away from American comic books. This may prove a victorious advantage. Her interpretation of Faora — the warrior at the right hand of Michael Shannon's Zod in Man of Steel — owes nothing to Ursa, the leather-dominatrix from the 1980's Superman II. Instead, she is armored and ultra-muscular, like the rest of the Kryptonians battling in the skies over Metropolis. She, Shannon and Henry (Superman) Cavill had to train ultra-hard for four months in advance of production — the quest to be "cut" was exhausting but a valuable bond that fed their interplay on camera. As for character nuance, director Zack Snyder advised her to think of the way a dog reacts when threatened: no second-guessing, no remorse. Otherwise, Traue thought back to her experiences as a child in East Germany, to the regimented May Day school marches and other memories of life under dictatorship, especially its corrosive effect on the grownups around her. She was eight when the Berlin Wall fell. Gymnastics and guitar were early passions, which she fused by moving to Munich at sixteen, joining a theater company and touring the world for four years with a musical play, West End Opera. That ended in New York, where Traue fell in love with the city and the English language, for which she has developed a subtle conversational mastery. Attracted to acting in movies and anxious to master the craft, she made films back in Germany before getting breaks here, first opposite Dennis Quaid and Ben Foster in the 2009 sci-fi thriller Pandorum, then in director Renny Harlin's Five Days of War, as a photographer dodging Russian bullets. Those pictures not only landed her Man of Steel, but Sergey Bodrov's The Seventh Son (a supernatural thriller costarring Jeff Bridges and Julianne Moore), and Suspiria, David Gordon Green's pending remake of the Dario Argento chiller. Although Traue is actively aiming to play a more layered psychological part, she loves these larger-than-life characters because they are offered to her not just despite, but because she is still relatively unknown. For herself, she wrote Elisa — recently filmed in Berlin, under the direction of Roman Kuhn — though for the moment the project has become a source of tragic frustration, because the footage was stolen from the producer's basement, blocking completion — apart from an intriguing few minutes that have turned up on YouTube without permission. But she is undaunted by this: there will be other scripts. Writing is a deep and abiding drive, coupled with a newfound passion for photography, sparked when she handled a camera on the Harlin film.
Director you hope to work with one day: Derek Cianfrance.
Band or singer you're obsessed with: Angus and Julia — as well as a Canadian singer called Feist.
Born in London and raised in Seattle, Fresno and San Diego, Trinh is a self-described nomad with a love for deal making and problem-solving. He studied computer science and business at UCLA before graduating with a degree in physiology, but after two years in real estate suffered a crisis and found work as a male nanny. He was so good at babysitting — not just the kids, but their parents — that more than one of his clients, several of whom were in the movie business, told him that with his deft people skills and head for business, he should become an agent. He joined ICM as a trainee in 2004 and has been proving them right ever since. Since then, he has established himself as an agile and productive rep specializing in international and independent film. In the last year alone, he and ICM department chief Jessica Lacy have in close collaboration brokered eighteen distribution deals, among them: Metro Manila, written and directed by Sean Ellis, and Chad Hartigan's This Is Martin Bonner, both of which won audience awards at the 2013 Sundance Festival; Robot and Frank, with Frank Langella; the Duplass Brothers' Safety Not Guaranteed; Ryan O'Nan's Brooklyn Brothers Beat the Best; Chris Colfer and Brian Dannelly's Struck by Lightning; the Australian box-office smash Red Dog; Waiting for Lightning — the Bandito Brothers film that was voted audience favorite at South by Southwest last year — and Passion, a Brian De Palma thriller starring Rachel McAdams and Noomi Rapace. Work touched Trinh's life a few years ago when his involvement in the packaging and sale of Hachi: A Dog's Tale — the story of a dog's devotion to its master, even after the man's death — inspired him to adopt Pilot, a Shiba Inu, the breed of pup shown in the film. When Trinh's not working, he hits the beach to surf. His assistant keeps telling him to buy a waterproof phone but Trinh's keeping his only means of escape sacred.
One thing people don't know about you: I look fairly young. When I'm on panels people think I'm 22 or 23, but I'm much older.
Favorite restaurant to schmooze talent: Banderas. Avalon Hotel for drinks. Everleigh for drinks. I'm not a creature of habit — I love trying new places.
BRIAN TUCKER
SCREENWRITER
Broken City, his shadowy, hardboiled study of high corruption, put Tucker on the map as a Black List screenwriter well before it became a film starring Mark Wahlberg and Russell Crowe. On the strength of that script, Tucker has made a productive name for himself as the go-to guy for contemporary film noir. In addition to The Arrangement, about a love triangle with hidden sides that will be directed by Philip Noyce, there's Sympathy for Mr. Vengeance, an English language remake of the ultra-dark Korean actioner by Chan-wook Park and Expiration, about a hired assassin forced to solve his own murder, a state-of-the-art jazz riff on the theme of the 1950 drama D.O.A., a favorite classic of Tucker's. What he loves most about noir is its immediate narrative pressure — characters have no time to get to know one another; they're thrown into relationship by circumstance and can only reveal themselves in action. As a boy, Tucker dreamed of playing basketball for his hometown team, the Chicago Bulls, but he stopped growing at age 16; by 19, New York beckoned, and with it a two-year fellowship at the Juilliard Playwrights Program. The recently engaged scribe jokes that his hobby is drinking, only to say seriously that it's the martial art jiu-jitsu, a pursuit sparked by a long-held fear of picking an argument with the wrong person. From the outside this sounds like an ideal roster of aspirations and apprehensions ideal for dreaming up noir-ish mayhem.
Daily website visit: Politico and ESPN.com — and I despise both. One treats politics like sports, the other treats sports like politics.
Favorite way to procrastinate: Browsing real estate listings for homes I can't afford. Also re-reading my own stuff. I'm one of those guys who obsesses over details to a crippling degree.
Best place you've found to write: Bathroom or closet, where you can't escape.
His first two spec scripts made the Black List, and a short he wrote went viral, so Uziel lives in a whirlwind at the moment. Not only is he signed to write the next installments of both the Men in Black and 21 Jump Street franchises; he's putting a final polish on The God Particle, a sci-fi thriller for director Julius Onah and producer J.J. Abrams at Insurge, Paramount's upstart micro-budget branch. Forgotten, which Uziel adapted from Cat Patrick's popular novel about a girl who sees the future but can't remember her past, is in limbo, if only for the moment, while a more recent assignment, Downtown Owl — from Chuck Klosterman's dryly twisted novel about a North Dakota town — will move forward when he catches his breath. Uziel takes in stride the vagaries of projects in limbo, as well as the paradox that $10 million is considered a "micro-budget." He was more amused than surprised to realize that when studios bring up the budget, they're inevitably talking about the script — but is willing to roll with any cuts needed, if they don't harm the heart of the story. His love for movies sparked when his mom first took him to Mel Brooks' History of the World: Part I. This may explain why — though he gravitates toward suspense and drama — Uziel's observations about the biz are peppered with punchy, funny ironies. That's the recipe of his work: think up the most outlandish situations possible and plunk ordinary people in the middle of them, preferably with their senses of humor intact. Writing bloomed late among his ambitions. After graduating from Northwestern, he returned to his native New York City, where he worked for several years as a corporate attorney. On a year-long case in Cleveland, marooned in a warehouse amid countless boxes of documents, he daydreamt a heist picture that would unfold in broken-time — working backward to the robbery itself — a tribute to the way he saw most crime films on TV as a boy, arriving mid-story as he channel surfed and figuring out the plots from there. This brainstorm became Shimmer Lake, Black Listed in 2009. The Kitchen Sink (so called because he threw in everything but pitting teens against zombies) made the 2010 list and is going before the cameras in July 2013 directed by Robbie Pickering. The heat from these projects attracted the reboot of Mortal Kombat his way — but when that fell apart before he could write it, he and director Kevin Tancharoan retaliated by producing an eight-minute teaser for their take on the material that's had five million views on YouTube and secured a new Mortal Kombat feature deal for them both. Does Uziel plan to direct? He will, in time — but now, with scripts serving as opportunities, he plans to observe and learn all he can.
Book that changed your life: High Fidelity, by Nick Hornby. His writing made me feel maybeI could be a writer. Not that I could write High Fidelity, or even write like him! But I read it right around the time I thought I should try writing. What got to me was his voice, much more than the specifics of what he was writing about. I found that inspiring.
Best place you've found to write: Upstate New York: I've been going up there since I was a kid.My grandmother had these two bungalows that were connected by a screened in porch. No heat or anything, very rustic, but I've continued to go up long after that house fell down. We've started renting a house. Upstate, I can really write. Last summer my wife and two daughters left me up there without a car. I just spent a couple of weeks alone in the woods, and I got a lot done.
Band you're obsessed with: When I need to do the opposite of procrastination, I put on Led Zeppelin II.I have a pact with myself that when I put that on, I have to work from beginning to end. That started when I was stuck on a science fair project in high school. I put Led Zeppelin II on, got a lot done, and ever since it's been my go-to. I've listened to it so much that I don't even hear it anymore. There's also a great M.I.A. song called "Space" that I put on whenever I'm stuck on The God Particle.
With a delicate brunette beauty that makes her a good fit for any number of nationalities, and a brainy sensitivity that gives her a mature force well beyond her twenty-four years, it's no surprise that Vikander has ascended so quickly through various Swedish, Danish and British productions. She spent nine years at the Swedish Royal Ballet School before opting to act. She attacks each role — such as Kitty in Tom Stoppard and Joe Wright's remarkably under-celebrated Anna Karenina — with a rigorous work ethic born of her training, as well as a flair for languages. She learned Danish from the ground up to play the tragic young queen in A Royal Affair, and she speaks English with no trace of an accent. There was no single spark that led her to acting, only a dawning recognition. Her mother is an accomplished stage actress, her father a psychiatrist — a good mix, she notes with amusement. From early childhood, growing up in the world of theater, she liked that grownups backstage treated children with respect, honestly interested in their opinions of what they'd seen. The feeling of being at home in that world pulled at her over the years, and her decision at age eighteen to leave dance was the most painful of her life, yet she has never regretted it. Six years later, her horizons are wide open. Coming out this year is The Fifth Estate, in which she plays Anke, computer programmer and wife of Daniel Domscheit-Berg, co-founder of Wikileaks. Apart from mastering a German accent, she felt able to interpret this real-life figure with greater creative freedom than co-star Benedict Cumberbatch, who was obliged to nail the mannerisms of widely known Julian Assange. With so many opportunities flooding her way (In May, she was offered the female lead in The Man From U.N.C.L.E.), how does she determine what to say yes to? She has two methods. One is to trust the falling-in-love feeling she must have, either for the character or for some exciting, unprecedented experience built into the project. The other is to rely on the counsel of her parents, to whom she is still close and shows every script. They live in Stockholm, but she is a nomad and hasn't had a base in two-and-a-half years. Even so, she is an able and inventive chef, in the frequent habit of raiding friends' kitchens to stage homey dinner parties.
One person, dead or alive, who's inspired your work the most: As I get older it becomes clear that it's been my Mom and my Dad I rely on to read the scripts that I'm interested in. They're also the people that I listen to the most.
Director you hope to work with one day: Michael Haneke.
Band or singer you're obsessed with: Ohhhh… The Rolling Stones. Noomi Rapace got to do a music video with them. If I could do that with them one day, it would be the greatest thing ever.
Pastime or hobby you've taken up between takes: I always have a pack of cards or Yahtzee in my bag. I'm starting to get very good at poker.
If ever someone seemed destined to be a Hollywood mover and shaker, it is this heir to the brand of grandfather Darryl F. Zanuck (1902-1979), who headed 20th Century Fox and made possible the earliest and often best films of John Ford and Elia Kazan; and his father Richard D. Zanuck (1934-2012), who also ran Fox before becoming a producer of such landmarks as Jaws, Driving Miss Daisy and Road to Perdition. (His mom, Linda Harrison, was the love interest of Charlton Heston in the original Planet of the Apes.) The adventurous tastes and audience smarts of his forebears are fully alive in Dean. It was he who brought the Perdition graphic novel to his father's attention. By then he'd been in the business eight years, having started as a production assistant on Apollo 13 the Monday after graduating from the University of Colorado at Boulder with a history degree. Once launched as a producer, he started Zanuck Independent to concentrate on offbeat pictures against the grain of studio sensibilities — the first was Get Low (2009), starring Robert Duvall, Sissy Spacek and Bill Murray. Next, after years of nurturing a spec script by Pat Rushin, is The Zero Theorem, directed by Terry Gilliam, and starring Matt Damon and Christoph Waltz, who plays a brainy hermit decoding life's meaning. Ahead are Voice from a Stone, a slow-burn psychological thriller that echoes Rebecca and The Others, set in 1950s Tuscany; Nefertiti's Diaries, an epic of Egypt in the 18th Dynasty (1300 BC), whose theological battles and military industrial complexities mirror America today. (Zanuck is weighing whether to pursue a single feature or premium-cable series.) Dearest to his personal worldview is Weight of a Butterfly, which he describes as Moby Dick set on an Italian mountaintop, about a poacher and his pet goat. Did any other profession ever call out to him when he was growing up? Surfing, he admits. He even took his board with him and surfed Encinitas while at the latest Comic-Con. He hasn't inspired such passion for the waves in his wife Marisa, son Jack or daughter Darryl — though they all love to ski. His next adventure will be to direct a film, a long-held ambition he has closely guarded until now. He has a script in hand: an untitled drama that combines themes and atmospheres of Cool Hand Luke, One Flew Over the Cuckoo's Nest and The Shawshank Redemption.
One thing most people don't know about you: People are always surprised when they discover I'm not actually stoned all the time! I'm extremely laid-back, because I grew up on a beach.
One extravagance you've allowed yourself since you started producing: I don't splurge. Certainly not on myself. If I'm extravagant, it's with everybody else in my life. I still drive the same truck I did when I was sixteen, an '89 Toyota Land Cruiser.
Most unusual place you've ever found material: There is no "usual" place. I'm always open to good stories — however they find their way to me. The script for The Zero Theorem reached me out of the blue. Road to Perdition was the third try by somebody who'd been trying to get me interested in several stories. None of the others had worked out — but then, here was this graphic novel. I'm not into graphic novels, but this one got hold of me. I showed it to my dad; he was bowled over and showed it to Spielberg, who read it right away, and before the weekend everything came together at once. That was rare, but I work hard to stay open. We're all throwing darts.
YARON ZILBERMAN
WRITER-DIRECTOR
Filmmaking came as a virtual accident for this Israeli-born New Yorker, but it has proved a fulfilling one — especially as movie lovers have warmed to A Late Quartet. This literal chamber piece centers on the intimate warfare between musicians (Christopher Walken, Philip Seymour Hoffman, Catherine Keener, Imogen Poots, Mark Ivanir) who love and depend one another, as played out in a suite of profound, life-wrenching quarrels. Growing up in Haifa and Tel Aviv in the 1970s, Zilberman had always loved art, storytelling, poetry and music — he plays the cello, but has never considered himself a musician. But ironically, in retrospect, he had never quite associated movies with such heights of achievement. After completing his military service in Israel, he moved to Boston to study at M.I.T., where he earned bachelor's and master's degrees in physics and operations research. He then worked on Wall Street, and for various Internet companies through the 1990s. One day, a friend asked him to help in the making of a documentary. This proved to be a spark that ignited a major shift in his life: by 2004, he had made an acclaimed documentary of his own, Watermarks, about a female Jewish swim team of the 1930s and its survival of the Holocaust. Organizing and staging the journey of these women back to Vienna led Zilberman to conclude that he might be more at home as a dramatist than as a documentarian, and so together with his wife, Tamar Sela (who eventually produced), and co-writer Seth Grossman, he developed and realized A Late Quartet. His background in the cello and his vast real world experience gave the film a lived-in feeling that was especially cherished by the late Roger Ebert. Spurred by the response, Zilberman is now pondering a variety of exciting options. One is a science-fiction film set in the near future, the other a political story involving a contemporary threat of genocide. He is loath to discuss either of these until they are firmly locked, but a third possibility centers on the true story of Rudolf Vrba, who, together with his boyhood friend Alfred Wetzler, escaped Auschwitz in 1944, bearing detailed evidence of the Nazi gas chambers and crematoria — a feat which derailed Hungary's deportation of its Jews and saved close to 200,000 lives. The escape and subsequent journey will form the spine of that film. Even so, Zilberman considers it organically continuous in theme with both Watermarks and Late Quartet because Vrba and Wetzler don't escape the camp to save their own skins. They're motivated by the need to save and serve others, and only survive by teamwork. He didn't plan this through line in his work, but trusts where it's leading him.
1:33, 1:85 or 2:39: 2:39, of course!
Favorite way to procrastinate: Research.
Band you're obsessed with: Classical? Quartetto Italiano. Rock? Led Zeppelin.
Ritual you adhere to once your film's wrapped: I shave!
---
Teresa Palmer
stylist Annabelle Harron hair: Rob Talty make-up: Joe Baker
cover: suit: Oscar de La Renta Top: Jill Stuart skirt: Shakuhachi ring: Baccarat B Mania Crystal Flower Ring
Logan Lerman
stylist: Jenny Ricker groomer: Johnny D.
Beau Willimon
groomer: Kathleen Ty
Kathleen Remington
hair/make up: Kathleen Ty
Olga Kurylenko
stylist: Annabelle Harron top: Missoni
David Karp
groomer: Kathleen Ty